Lake Managua, Leon & Managua, Nicaragua
Lake Locations:
Also known as:  Lago de Managua, Lake Xolotlan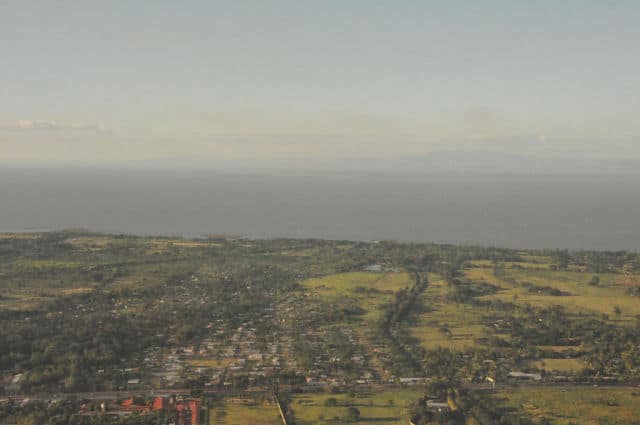 Deep blue lagoons, rumbling volcanos, a bustling city and the pull of the ocean not far from the shores of Nicaragua's Lake Managua are what make this lake one adventure after another. Also known as Lake Xolotlan or Lago de Managua, it is the second largest lake in Nicaragua, its surface area reaching across 253,035 acres. Travelers come for both the city's bright lights and the wild tropical forests surrounding this large body of water.
Set within a rift valley known for its volcanic activity, which in turn is used for geothermal energy, Lake Managua sits about 128 feet above sea level and a few miles from the Pacific Ocean. Water levels rise and fall due to evaporation; the lake's maximum depth reaches 65 feet while it has an average depth of 31 feet. Numerous and scattered streams feed into the lake while its output is drained by the Tipitapa River at its southeastern shore. This water then flows into Lake Nicaragua, the largest lake in Central America.
The fish in Lake Managua are similar to those found in Lake Nicaragua, including rainbow fish, bass, trout, and mahi mahi. Sharks, which inhabit the latter lake, are not found in Lake Managua. However, consuming fish and swimming within the lake are not recommended, as there have been high levels of mercury and other contaminants found in its depths. Attempts to decontaminate the lake have begun.
Lake Managua grew nearly 20,000 acres from 2010-2012, forcing the relocation of a thousand families. That growth is attributed by the government to 14 years of increased rainfall in the catchment basin that includes Lake Managua and Lake Nicaragua.
Lakeside vacation rentals and real estate opportunities abound at Lake Managua, where its proximity to Nicaragua's capital, Mangagua, along its southern tip, makes for easy access to the area's activities. Over one million people inhabit the city, which flourishes throughout the year with its warm climate. The city is steeped in history and sites are easy to visit during the daytime — check out the Musuem of Acahualinca, where 2,100-year-old footprints of early inhabitants were preserved in volcanic mud. The Old Cathedral of Managua is also a frequently visited site, though due to earthquakes which damaged its structure in the 1970s, the building's beauty can only be viewed from the outside.
Outside the city limits and surrounding Lake Managua's shoreline are deep, exotic tropical forests. Along the lake's northwestern edge rests Momotombo Volcano, which reaches up to a 4,200-foot elevation. Scattered a bit further away from Managua, but still within city limits, are four lagoons. The Asososca Lagoon is the city's main drinking water, so access is restricted, but canopy tours — or ziplining across the forest at adrenaline-racing speeds — are given at one of the most popular lagoons known as Tiscapa Lagoon. Other lagoons are hidden and can only be found by hiking trails.
While exploring the forests surrounding Lake Managua, keep your binoculars handy for viewing exotic wildlife. The Montibelli Nature Reserve offers hiking trails ranging in length and difficulty level that give visitors access to tropical sights. Birds species range from flighty hummingbirds to parrots, hawks, and the country's national bird, the motmot. Howler monkeys can be heard in the distance during these treks, while bats, deer, squirrels and snakes make quieter paths through this habitat.
Whether you're looking for a quiet, tropical escape along the more scenic sections of Lake Managua or a festive weekend in the city, the area will not disappoint. Spend the evening exploring a brightly-lit night club or attending an emotion-evoking ballet at the National Theater. For quieter types, take in the lush landscapes from your lakeside vacation rental and listen to a different opera, that of the night's visitors coming awake. Check out what this superb area has to offer.
Things to do at Lake Managua
Vacation Rentals
Fishing
Hiking
Wildlife Viewing
Birding
Fish species found at Lake Managua
---
Lake Managua Photo Gallery
Lake Managua Statistics & Helpful Links
Spread the word! Share our Lake Managua article with your fellow Lake Lubbers!