Lake Nicaragua
Lake Locations:
Nicaragua - Boaco - Chontales - Granada - Rio San Juan - Rivas -
Also known as:  Lake Cocibolca, Lake Granada, Lago Cocibolca, Lago Granada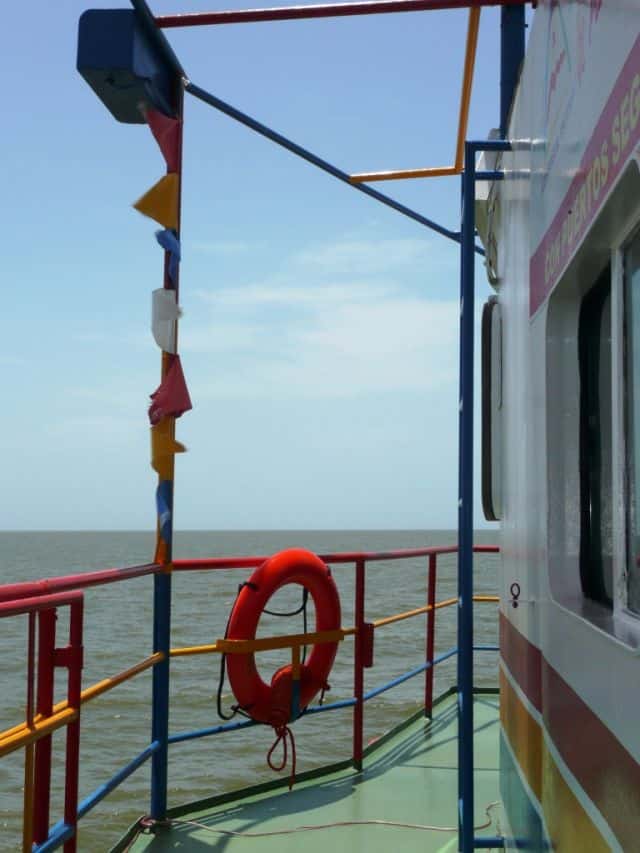 Lake Nicaragua, the largest lake in Central America, is so large that it has many sea or ocean characteristics. Lago Cocibolca, the native name for the freshwater lake that means "sweet sea," boasts large waves, heavy storms that cause navigation problems, nothing but more water at its horizon, and sharks! Archaeologists believe that it was once a large bay along the Pacific Ocean, but volcanic eruptions over thousands of years filled in the land with lava forming the lake. With four main port cities on the shores of Lake Nicaragua — Granada, San Carlos, San Jorge, and San Miguelito — there is always something to do here.
The San Juan River connects Lake Nicaragua to the Caribbean Sea. It was through this route that the first Spanish conquerors discovered the area and established the first Nicaraguan city, Granada, in 1524 located on the northwestern shore, which has a rich and colorful history of marauding pirates and their hideouts. Residents of this first city sometimes still call the body of water Lake Granada. It is also through this route that sharks enter or leave the lake. The sharks can jump along the rapids of the San Juan River, almost like salmon, to complete their journey in as little as seven days. At one time, there were plans to use this passageway to build a canal, but the Panama Canal was built instead.
A volcanic chain runs through Lake Nicaragua and as a result of volcanic eruptions over the years, there are many beautiful and exotic islands in the lake. Located on the western side of the lake is the famous island of Ometepe, which is composed of two volcanoes: El Maderas, which is dormant, and El Concepcion, which is still active. El Concepcion is a rigorous climb and only suggested to the most physically fit climbers, but the view at the top of the crater is worth the effort. El Maderas is a much easier climb and goes through a thick tropical jungle with monkeys, boas, and jaguars and the reward for the climb is the mysterious, cold-water lagoon in the crater. Both of these hikes are provided with local guides for your protection from the elements and to prevent visitors from getting lost in the jungle. Cars, bikes, horses, kayaks and boats can be rented on the island that also boasts surfing and swimming along its beautiful Lake Nicaragua beaches.
Another volcanic island in Lake Nicaragua is Zapatera, which has few settlements and is relatively undeveloped. Thousands of artifacts and pre-Columbian statues have been found on this island and are currently on display in museums around the world. To allow visitors to enjoy the stunning beauty of this untouched paradise with its panoramic views, basic lodging and vacation rentals that resemble the rustic lifestyle of the inhabitants are available.
One of Lake Nicaragua's great attractions is the Granada Islets, which are 365 islets that vary significantly in size. A whole community lives among these small islands including schools, shops, luxury hotels, restaurants, homes, and vacation homes located on their own smaller private islet. Transportation by boat is a must to get around these destinations and can be rented by tourists for cruising around among the palm covered shores.
Other islands located in Lake Nicaragua range from privately owned retreats, nature preserves, rustic communities and artist communes. Nature lovers will enjoy the many species of birds that live in the jungles and shorelines, from wading birds like egrets and herons to large hunting birds like cormorants. Wildlife is abundant and seen often as the animals come to the lake to drink and laze about in the warm sunshine.
Lake Nicaragua is a fishing paradise. Many of the locals make their living by fishing in the water of Lago Cocibolca. Bass, trout, rainbow fish, mahi mahi, guapote (rainbow bass), tuna, shark and sawfish are among the many species of fish that are available to patient anglers. Fishing charters are available with experienced crew members, along with bait and tackle to make your fishing adventure a memorable catch.
Cities around Lake Nicaragua offer old churches and historical architecture to explore, local markets to shop, colorful festivals to enjoy, and local cuisine made with locally grown ingredients to tempt your taste buds. With a wide range of vacation rentals available from rustic island accommodations to private island resorts, every visitor will be able to choose their perfect vacation spot.
There is so much to enjoy that words fall short of describing Lake Nicaragua. Locals boast that their "jewel of nature" continuously surprises visitors with the never-ending list of things to do, see, enjoy, and experience. Isn't it time you were surprised? Visit Lake Nicaragua soon!
Things to do at Lake Nicaragua
Vacation Rentals
Fishing
Boating
Swimming
Beach
Kayaking
Hiking
Horseback Riding
Hunting
Wildlife Viewing
Birding
Museum
Fish species found at Lake Nicaragua
Bass
Rainbow Bass
Salmon
Trout
---
Lake Nicaragua Photo Gallery
Lake Nicaragua Statistics & Helpful Links
Spread the word! Share our Lake Nicaragua article with your fellow Lake Lubbers!