Lake Macbride, Iowa, USA
Welcome to the ultimate guide for history, statistics, local fun facts and the best things to do at Lake Macbride.
If you're considering Lake Macbride vacation rentals, we've made it super easy to explore accommodations and nearby hotels using the interactive map below. Simply click on a listing to compare similar properties, best rates and availability for your dates. Or keep scrolling to read our Lake Macbride guide!
Lake Macbride visitor and community guide
One of east central Iowa's best recreation lakes is Lake Macbride. Construction of the lake was first recommended in 1932, with the project adopted by the State Conservation Board. A $50,000 federal grant was secured to pay for the dam, with labor provided by the Civilian Conservation Corps. The State Conservation Board aided in development of what became Lake Macbride State Park, with the land donated to the state once it was completed. The new 200-acre lake opened in 1937.
The building of the Coralville Dam and Reservoir in the late 1950s for flood control along the nearby Iowa River forever changed Lake Macbride. Originally, the US Army Corps of Engineers' (USACE) plan called for making Lake Macbride a part of larger Coralville Lake, but the State of Iowa wasn't in favor of losing their lake and park. It was necessary to raise the height of the Lake Macbride Dam to keep the two lakes separated. In doing so, the USACE raised the lake level by 28 feet, enlarged Lake Macbride to 812 acres, and reconfigured the popular state park to accommodate the new shoreline. The USACE purchased the additional land to expand the lake and donated the surrounding acreage to the state. Most of the shoreline of the new, larger lake is part of the state park. The new lake was full by early 1960.
Lake Macbride offers a full complement of water-based activities along its two long 'arms'. The 2,180-acre Lake Macbride State Park provides a swimming beach, picnic areas, playgrounds, two camping areas and seven boat launch locations. Picnic shelters are located around the park, some built by the Civilian Conservation Corps before the original park opened. A boat rental concession rents pontoons, motorized boats, canoes, kayaks and paddleboats to visitors. The park is divided into two units. The North Unit on the Mill Creek arm has the beach, modern campsites, boat launch, boat rental and park office. The South Unit along the Jordan Creek arm has a primitive campground with fewer amenities, boat ramp, picnic areas and a Frisbee Golf course. A Day Use Lodge is available by reservation for group events, as is a group camping area.
Sailing has long been a favorite at Lake Macbride. Several sailboat shelters can be reserved along the shoreline, with restrooms nearby. The University of Iowa Sailing Club has called Lake Macbride home since 1961. The club's facilities and docks are located within the University of Iowa's Macbride Nature and Recreation Area along the south arm of the lake. The lake has a 10-horsepower speed limit, making it pleasant for non-motorized craft to maneuver the water safely. The pontoon rental facilities are also immensely popular, and dry storage space can be rented for privately-owned sailboats and pontoons. Lake Macbride is separated from Coralville Lake only by the dam and a narrow spit of land, so the park also adjoins the neighboring reservoir. A boat ramp accommodates those wishing to boat Coralville Reservoir.
Fishing is always a big part of the action on Lake Macbride. Channel catfish, muskie and walleye are stocked annually. Crappie and bluegill are abundant, and this is likely the only Iowa lake where the Kentucky spotted bass may take the bait. A stocking program several years ago planted the prized fish, and they are reproducing naturally. With seven boat launch sites, there is never a problem with access. Proper fishing licenses must be obtained and all regulations followed. The lake regularly gains enough ice for ice fishing in the winter months, but because there are sometime winter draw-downs for construction purposes, it is best to check for warnings on the Lake Macbride State Park website before venturing onto the ice.
The Macbride Nature and Recreation Area holds a third small campground amid its many nature trails. Over 10 miles of trails within the Nature Center focus on the flora and songbirds native to the area. A hummingbird garden, birdwatching blind and prairie exhibit make a visit to the Nature Center enjoyable for all ages. Affiliated with the Nature and Recreation Area, the Raptor Center rehabilitates injured birds of prey, which are generally released once they are in good condition. Picnic areas and the University's programs for children-a Day Camp and Macbride Wildlife Camp-are also included. Two competition archery ranges are located near the entrance. The Lake Macbride State Park Trail along the south side can also be accessed from the Recreation Area.
Seventeen miles of trails are located in Lake Macbride State Park. The trails are popular year round, with cross-country skiers and snowmobilers enjoying the trails in winter. A five-mile trail leads from the park entrance along the lake to Solon. The limestone-surfaced trail is very popular with cyclists and walkers. A mile-and-a-half pedestrian trail facilitates travel between the beach and the dam. The popular trail system makes Lake Macbride State Park an easy-access jogging and hiking destination from the nearby towns. Iowa City is less than 25 miles away-an easy drive on a hot summer day.
Those not interested in camping will find plenty of other activities nearby. Iowa City is home to the University of Iowa, and this college town has a full complement of cultural and entertainment venues. The Iowa Avenue Literary Walk features a series of bronze insets containing the words of famed authors with a connection to Iowa. An annual Jazz Festival, arts festival, free concerts and summer outdoor movies mean there is usually some special event. Nearby, the famous Devonian Fossil Gorge with its thousands of fossils embedded in limestone will delight children and adults alike. Long known for its fossilized past, and the reason Coralville received its name, Devonian Fossil Gorge was discovered in 1993 when flood waters eroded the surface. The newly-exposed gorge revealed a huge collection of 375 million year old fossils of sea creatures-inhabitants of the shallow sea that once covered much of the Midwest.
Iowa City, Coralville and the surrounding areas hold plenty of lodgings, with facilities such as hotels, inns, bed & breakfasts and guest cottages. Private rentals may be found near the shore of Lake Macbride, with an occasional property on the lakefront offered for short-term rental. Real estate is sometimes found for sale at the lake, with other offerings in the nearby area. The area holds a number of commercial campgrounds and RV parks, with restaurants, cafes and shopping galore in historic downtown Iowa City. So, come wet a line or dip a paddle in Lake MacBride.
Custom Lake Macbride house decor
Read our full review of these personalized lake house signs.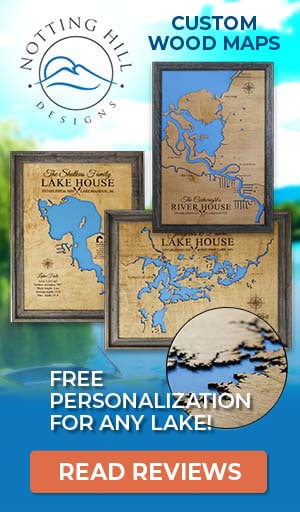 Things to do at Lake Macbride
Vacation Rentals
Fishing
Ice Fishing
Boating
Sailing
Swimming
Beach
Canoeing
Kayaking
Golf
Camping
Campground
Picnicking
Hiking
Cross-Country Skiing
Wildlife Viewing
Birding
State Park
Playground
Shopping
Fish species found at Lake Macbride
Bass
Black Bass
Bluegill
Catfish
Channel Catfish
Crappie
Muskellunge
Perch
Pike
Spotted Bass
Sunfish
Walleye
---
Best hotels and vacation rentals at Lake Macbride
The Lake Macbride map shown above is a simple and stress-free way to search for trip accommodations. But if you want to take a deeper dive to find the ideal waterfront home, cabin, condo, hotel or resort, visit our favorite lodging partners by clicking the buttons below.
Note: These are affiliate links so we may earn a small commission if you book through them. While there is no extra cost to you, it helps provide resources to keep our site running (thank you)! You can read our full disclosure policy here.
---
Lake Macbride photo gallery
New photos coming soon!
Lake Macbride statistics & helpful links
We strive to keep the information on LakeLubbers as accurate as possible. However, if you've found something in this article that needs updating, we'd certainly love to hear from you! Please fill out our Content Correction form.
Advertise your Lake Macbride vacation rental
LakeLubbers will soon offer homeowners and property managers the opportunity to to showcase their vacation rentals to the thousands of lake lovers searching our site daily for accommodations. If you'd like additional details, please contact our advertising team here.
Looking for the Lake Macbride forum?
LakeLubbers previously offered visitors the ability to create accounts and participate in lake forums. When we overhauled the site's content management system in 2021 we had to disable those features. We're evaluating options and welcome your comments and feedback here.
We also encourage you to join our lake-lovin' community on Facebook and Instagram!
Spread the word! Share our Lake Macbride article with your fellow Lake Lubbers!