Lake Kaweah, California, USA
Lake Locations:
USA - West - California - Central Valley -
Also known as:  Kaweah Lake, Kaweah Reservoir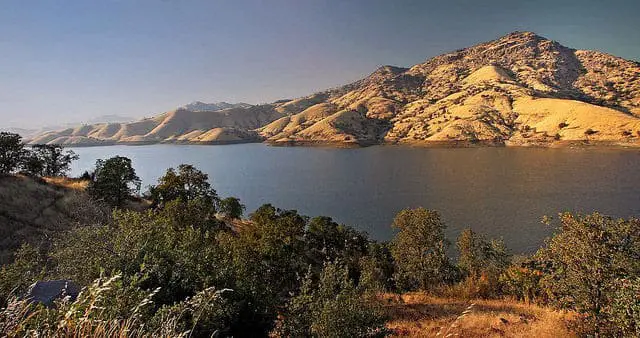 Lake Kaweah, located about halfway between the City of Visalia and Sequoia National Park in California's Central Valley region, is an engineering marvel and an enigma to many casual observers. The reservoir, created behind Terminus Dam on the Kaweah River, covers 1,945 acres of water when full. However, the lake is seldom full; the size allows for water storage in the event of floods which might take place once in 75 years. The typical situation is to have around 1,000 surface acres between the time of the spring thaw in the Sierra Nevada Mountains and mid-July when incoming water slows to a trickle. Later in summer, the water levels drop dramatically as water is drawn down for irrigation and supply needs. So, the unaware observer may only see a 'full' lake once in awhile, and a nearly dry lakebed at other times.
During early summer, Lake Kaweah is a popular spot for boating and fishing. A marina concession offers docking slips by the season or annually. A variety of boats can be rented here, including pontoons, fishing boats and water bikes. So popular are pontoon rentals that reservations are required. The marina also sells bait and tackle, snacks, convenience foods, ice and gas. Smaller houseboats, canoes and kayaks enjoy the long, narrow lake with its many coves and branches along the 22-mile shoreline. Jet skis and water skiers often enjoy the long reach of the lake when it is at its peak, and water sports fans engage in sailing, wakeboarding, wind surfing, tubing and flyboarding. Swimming is allowed, but there are no designated swim areas, and swimming is prohibited in some designated areas. When water levels are low, boaters should stay in deep water and watch for exposed rocks.
Kaweah Lake is a prime bass fishing destination. Once overrun with white bass, a project of California Fish and Wildlife exterminated the white bass and replanted largemouth bass which have made a remarkable recovery. Special limits are placed on the bass taken from Kaweah Lake except during tournaments which receive exemptions. The lake also holds a healthy supply of channel catfish, crappies and bluegills. Early in the spring, 10-12-inch rainbow trout are stocked, drawing trout fishermen like a magnet to the still-cool waters. A California fishing license is required, and special regulations for both fishing and boating should always be followed.
One campground at Lake Kaweah offers temporary lakeside living for up to 80 campers. Operated by the US Army Corps of Engineers, the non-electric sites include four spaces specifically designated for equestrian camping. During times of high water, some campsites are inaccessible except by boat, and reservations for space are limited. The campground has picnic tables, grills, showers and flush toilets. An RV dump station and drinking water are available. Fishing docks are supplied, and the great views are free. A visitor center-ranger station is located near the campground, surrounded by interpretive trails and plenty of trails for hiking. Other picnic areas are located at the day-use areas at Kaweah Recreation Area, Slick Rock Recreation Area and Lemon Hill Recreation Area. All three have boat ramps. Cobble Knoll Day-Use Area also has multi-purpose trails for hiking and cycling. A small fee is charged for access to the day use areas, or a seasonal pass may be purchased to cover all Corps locations. Campsites have an additional charge.
Lake Kaweah is the perfect accompaniment to a visit to Sequoia National Park. Entrance to the 'park of the big trees' is only about ten miles up the road near the town of Three Rivers. Many vacationers like to camp at Kaweah Lake and tour various sections of Sequoia National Park during the day. Those not particularly fond of nights without electric amenities can usually secure lodgings in one of several motels and resorts along the road to the park. Lemon Cove to the west of Lake Kaweah and Three Rivers to the east both have bed & breakfast lodgings available, while Three Rivers is a full-service resort village with plenty of restaurants, major hotels, guest lodges and vacation cabins. Whitewater rafting is available on the Kaweah River, and the Three Rivers area hosts a variety of art exhibitions, local craft shops and one-of-a-kind shopping opportunities.
Kaweah Lake is far more than a fine spot to enjoy the water on a hot summer's day. The lake and the dam that formed it provide several valuable services to residents downstream. Although originally built in 1962 for flood control, irrigation and water supply were quickly utilized by several communities, including Visalia. The reservoir provides water to many citrus groves in the Central Valley. In 1992, the dam was retrofitted for hydroelectric energy. And, because the High Sierra snows that feed the Kaweah River are unpredictable, it was soon realized that more flood capacity would likely be needed in the near future. In 2004, the storage capacity was enlarged to handle what would be expected in a record 75-year flood. A new kind of water escape system called a fusegate was installed as a cost-saving measure.
By storing spring snow melt and flood water, the Terminus Dam has saved hundreds of millions of dollars in costs to those living downstream. The ecological tradeoff has been that this dam and three others along the waterway have resulted in the loss of the historic Tulare Lake wetlands. And, several years of record drought and little snowfall in the Sierra Nevada Mountains have provided a dwindling amount of water to the Kaweah River. So, currently (2014), the lake remains very low and water levels are minimal-about 80 feet below the ultimate high-water elevation. But the bass are still there, and the campgrounds are high and dry. Lake Kaweah is open for business, and it's a great place to stop on the way to Sequoia National Park.
*Statistics shown are for ultimate full pool at Lake Kaweah only. There is no standard maintenance water level.
Things to do at Lake Kaweah
Vacation Rentals
Fishing
Boating
Sailing
Swimming
Canoeing
Kayaking
Whitewater Rafting
Jet Skiing
Water Skiing
Wakeboarding
Wind Surfing
Tubing
Camping
Campground
Picnicking
Cabin Rentals
Hiking
Biking
Horseback Riding
Wildlife Viewing
National Park
Shopping
Fish species found at Lake Kaweah
Bass
Black Bass
Bluegill
Catfish
Channel Catfish
Crappie
Largemouth Bass
Rainbow Trout
Trout
White Bass
---
Lake Kaweah Photo Gallery
Lake Kaweah Statistics & Helpful Links
At LakeLubbers.com, we strive to keep our information as accurate and up-to-date as possible, but if you've found something in this article that needs updating, we'd certainly love to hear from you!
Please let us know about it on our Content Correction form.
Spread the word! Share our Lake Kaweah article with your fellow Lake Lubbers!