Lake Josephine, Montana, USA
Lake Locations:
USA - West - Montana - Glacier Country -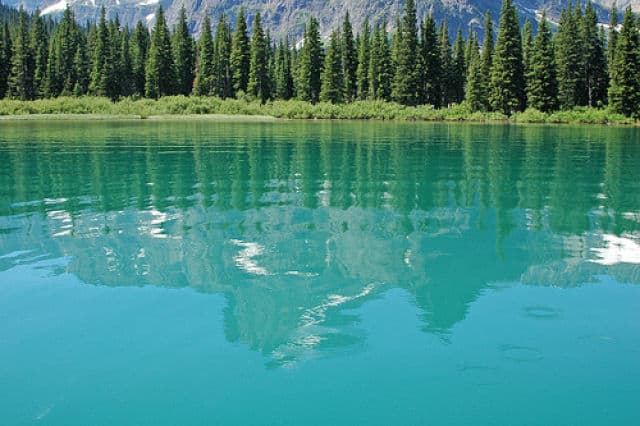 One of the prettiest lakes in Many Glaciers Valley is Lake Josephine. This glacier-fed lake covers 137 acres upstream from better-known Swiftcurrent Lake and receives numerous visitors over the course of a year. A highlight of any trip to the east side of Glacier National Park, Lake Josephine takes a bit of effort to reach. The lake is termed a 'back country lake' because it it not accessible by car. A short boat trip across Swiftcurrent Lake and a short walk rewards visitors with spectacular views. Allen Mountain, Mount Gould, and Grinnell Point tower above the lake. Both Allen Mountain and Mount Gould reach over a mile towards the clouds.
Boat tours on Lake Josephine are also available and offer different views of the surrounding mountains and glaciers. The relative ease of getting to Lake Josephine makes this lake particularly attractive to those who are unable to hike longer distances. Lake Josephine is the perfect place to sit and rest while enjoying the beautiful scenery and abundant wildlife that Glacier National Park offers.
Lake Josephine can also be reached by a short hike of about a mile in length. Several backcountry campsites are located near the lake and are popular with those trying out their primitive camping skills. The Park campground near the hotel fills quickly, so many people come to Lake Josephine for a last-minute camping spot. All information is available when picking up a Glacier Park pass. One thing the rangers will make prospective campers aware of is the high population of bears, both grizzly and black bears, in the park. Although they are seldom a danger, particularly to day hikers and groups, all precautions should be observed and bear spray carried.
In late summer, the meadows are ablaze with alpine wildflowers, and in August the huckleberries are ripening (which the bears know and love so maybe it's best to leave them to the bears). The lake holds brook trout, not big but fat and tasty. A few kokanee salmon are occasionally caught. The lake is ideal for fly-casting from a float tube or canoe. Canoes can also be carried in on the Swiftcurrent tour boat for an additional fee, but getting it the 300 yards over to Lake Josephine will be the responsibility of the owner.
The trail to Lake Josephine skirts Swiftcurrent Lake and continues on past Lake Josephine to the Grinnell Lakes and beyond. Visitors can walk around Lake Josephine; the trail is relatively flat. The trail between Swiftcurrent Lake and Lake Josephine roughly parallels Cataract Creek which holds a tiny lake usually called Stump Lake. Stump Lake is occasionally used for fishing but is little more than a wide spot in the creek, which is also a good trout stream. Numerous hiking trails in the area allow hikers to choose long or short hikes, most of which become increasingly difficult when venturing farther into the Park. Some trails connect with advanced trails along the Continental Divide. One of the shorter trails leads to Grinnell Lakes three-and-a-half miles away. Although considered an 'easy' trail, the elevation gain is about 1600 feet. Visitors who actually want to stand on a glacier can take this trail to a point where the glacier is reachable. Ranger-led tours are common to the location and filled with good information about the park and its history.
Most visitors to this east side of Glacier National Park will stop at the historic 1915-era Many Glaciers Hotel for lunch. The boat dock for the tour boat on Swiftcurrent Lake leaves from here. Ranger-led tours can also be accessed near the hotel and visitor center. Snacks and souvenirs are for sale, and visitors can even mail a post card; Many Glaciers Hotel even has its own Post Office. The hotel, built by the Great Northern Railway, has been carefully maintained to retain its original look and atmosphere as much as possible.
The historic hotel was at one time the starting point for horseback treks to outpost chalets maintained by the railroad and the park system. Two of these chalets are still in use, although neither is accessible by car. One can be reached on foot or horseback from the Swiftcurrent Trail, a distance of seven-and-a-half miles. Services at Granite Park Chalet are limited; visitors may use the kitchen to cook their own breakfast. Several horseback riding, rafting and boating concessions operate in the park. Any Ranger station or Park operation can provide information to locate them.
Lodgings around Glacier National Park are somewhat limited. Swiftcurrent Motor Inn is also operated by Glacier Park Inc., originally formed by Great Northern Railway, and offers both rustic hotel rooms and cabins. Another campground is located nearby. A limited number of motels, guest ranches and other forms of lodgings are located outside of the park on private land with more on the other side of the Continental Divide. Many visitors to the area make it a point to drive the Going To The Sun Road across the park where they can see a large number of glaciers, lakes and scenic mountain views. Some private real estate can be found outside the park, primarily around the small towns in the area.
Even if you thought of Glacier National Park as too strenuous to access, many scenic views in Many Glaciers Valley are accessible to nearly everyone. From the boat tours to the short walking paths to long and arduous treks along the Continental Divide, Glacier National Park offers something for everyone. Most people can manage the short walk to Lake Josephine from the boat landing on Swiftcurrent Lake. Come and marvel at the views nature has provided in this majestic and pristine alpine environment.
Things to do at Lake Josephine
Vacation Rentals
Fishing
Boating
Canoeing
Tubing
Camping
Campground
Cabin Rentals
Hiking
Horseback Riding
Wildlife Viewing
National Park
Fish species found at Lake Josephine
Brook Trout
Kokanee Salmon
Salmon
Trout
---
Lake Josephine Photo Gallery
Lake Josephine Statistics & Helpful Links
Spread the word! Share our Lake Josephine article with your fellow Lake Lubbers!