Lake Hopatcong, New Jersey, USA
Welcome to the ultimate guide for history, statistics, local fun facts and the best things to do at Lake Hopatcong.
If you're considering Lake Hopatcong vacation rentals, we've made it super easy to explore accommodations and nearby hotels using the interactive map below. Simply click on a listing to compare similar properties, best rates and availability for your dates. Or keep scrolling to read our Lake Hopatcong guide!
Lake Hopatcong visitor and community guide
Lake Hopatcong is the largest lake in New Jersey, at about nine miles long with 45 miles of shoreline and covering 2,560 acres. Only 45 miles from New York City, the lake runs between the borders of Sussex and Morris Counties tucked in the mountains in the northern part of New Jersey. Lake Hopatcong provides year-round recreational opportunities. Since the 1880s, the lake has been a popular tourist destination, providing summer breezes and cool water for nearby city dwellers. Today, the shores of the lake still speak to that era, with many residences, restaurants, marinas, pubs and shops peppered along its shoreline.
Fishing is popular all year long, and Lake Hopatcong is considered one of the best freshwater fishing locales on the East Coast. The lake has the largest variety of fish species of any waterway in New Jersey, besides the Delaware River. Lake Hopatcong has both largemouth and smallmouth bass, sunfish, rock bass, pickerel, catfish, crappie, bullhead, carp, and yellow and white perch. Eels have also been caught. Brown, rainbow and brook trout are stocked each year, but they do not usually live through the summers because the lake does not provide the cold, deep, oxygenated pockets they need to survive the heat. Hybrid striped bass, walleye, and muskellunge have all been stocked successfully and are now thriving. Fishing enthusiasts should be aware of the unique underwater geography of Lake Hopatcong. Hundreds of barges crossed the lake in the days of the Morris Canal, and dropped ballast at regular spots. Today, these spots are popular hangouts for hybrid striped bass, as the lake's bottom suddenly rises from 40 to 20 feet under the water.
Lake Hopatcong is also excellent for any kind of boating, from canoes exploring quiet coves to large motor boats, sailboats, sailboards, and jet skis criss-crossing its waters. Boats are available for rent at many private marinas around the lake. Lake Hopatcong is the only lake in New Jersey (besides Greenwood Lake on the New York border) with bars and restaurants accessible directly by boat.
A public boat ramp is available at Hopatcong State Park, and boating is open seven days a week depending on parking availability. There is a $10 daily launch fee, or an annual pass can be purchased for $55. Lee's County Park Marina, maintained by the Morris County Park System, also provides public access, with 110 boat slips, nine moorings and three boat launch ramps. Many restaurants, bait shops, and other businesses are accessible by boat from the lake.
Summer brings swimming, grilling, and sand volleyball to Lake Hopatcong. Hopatcong State Park borders the lake on the southwest end. With 159 acres, the park is one of the busiest in the state's system, hosting nearly 200,000 visitors each summer. Park amenities include a beach, two playgrounds, six half-basketball courts, a large playing field, and several picnic areas. A bathhouse with restrooms, showers, and other amenities is available, as well as a first aid area and concessions. The Lake Hopatcong Historical Museum is also located nearby, which provides exhibits about the history of the area. Lake Hopatcong bursts with activity during the winter, too. Popular winter activities include ice fishing, snowmobiling, ice skating, ice boating, sledding and ice sailing.
Hikers, mountain bikers, equestrians and campers won't want to miss the 3,200 acres of wilderness and 20 miles of multi-use trails available at nearby Mahlon Dickerson Reservation, which is the largest park in the Morris County Park System. Golfers may enjoy visiting the Berkshire Valley Golf Course, a local public course. The Berkshire Valley Wildlife Management Area also provides 1829 acres with fishing and hunting opportunities near the lake.
Lake Hopatcong is part of Hopatcong State Park, which is administered by the Division of Parks and Forestry, part of the New Jersey Department of Environmental Protection. The Division controls Lake Hopatcong's water levels with a dam and gate-type locks, releasing about four million gallons of outflow daily. Lake Hopatcong discharges into the Musconetcong River, a tributary of the Delaware River. A downstream lake, Lake Musconetcong, relies on Lake Hopatcong's discharge. Lake Hopatcong is also an emergency source of drinking water for the State of New Jersey.
Lake Hopatcong is spring-fed with no major tributaries, and was formed by glaciers in prehistoric times. The Division of Parks and Forestry lowers water levels 26 inches in November for flood control purposes, and keeps that level during the winter in anticipation of melting ice and rain in the spring. Every five years the Division lowers water levels 60 inches for lake and dock maintenance. In 2005, the Environmental Protection Agency gave the Lake Hopatcong Commission a federal grant to improve the lake's water quality and prevent phosphorus from entering the lake.
The origins of the unusual name, Hopatcong, are disputed. Some say that the name derives from the Native American Lenni Lenape word "huppakong," meaning "honey waters of many coves." It may also be a derivative of another Lenape word, "hapakonoesson," meaning "pipe stone." Lake Hopatcong is comprised of two natural lakes, originally known as Great Pond to the south and Little Pond to the north. In 1750, a dam was built on the Musconetcong River to provide power for a local iron forge, which raised the water level about six feet and joined the two lakes into one. Another dam was built in 1827 by the Morris Canal and Banking Company, raising the water level by another 11 feet. This created the lake we know today. The Morris Canal was created to transport coal, iron and zinc across the state. The lake was acquired by the state in 1922. The canal was officially abandoned in 1924, as faster railroads took over.
Lake Hopatcong is one of the most beautiful lakes in New Jersey, offering every kind of activity imaginable. From the wild outdoors to big-city access, campfire cooking to wonderful restaurants, Lake Hopatcong has something for everyone.
Custom Lake Hopatcong house decor
Read our full review of these personalized lake house signs.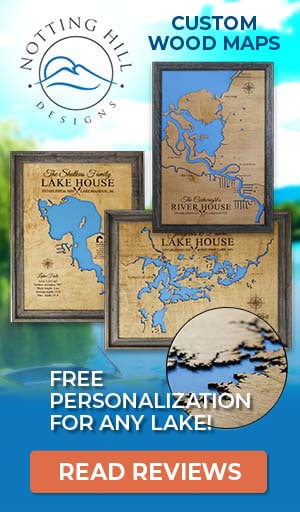 Things to do at Lake Hopatcong
Vacation Rentals
Fishing
Ice Fishing
Boating
Sailing
Swimming
Beach
Canoeing
Jet Skiing
Golf
Camping
Picnicking
Hiking
Ice Skating
Snowmobiling
Horseback Riding
Hunting
Wildlife Viewing
State Park
Museum
Playground
Fish species found at Lake Hopatcong
Bass
Black Bass
Brook Trout
Carp
Catfish
Crappie
Eel
Largemouth Bass
Muskellunge
Perch
Pickerel
Pike
Smallmouth Bass
Striped Bass
Sunfish
Trout
Walleye
White Perch
---
Best hotels and vacation rentals at Lake Hopatcong
The Lake Hopatcong map shown above is a simple and stress-free way to search for trip accommodations. But if you want to take a deeper dive to find the ideal waterfront home, cabin, condo, hotel or resort, visit our favorite lodging partners by clicking the buttons below.
Note: These are affiliate links so we may earn a small commission if you book through them. While there is no extra cost to you, it helps provide resources to keep our site running (thank you)! You can read our full disclosure policy here.
---
Lake Hopatcong photo gallery
New photos coming soon!
Lake Hopatcong statistics & helpful links
We strive to keep the information on LakeLubbers as accurate as possible. However, if you've found something in this article that needs updating, we'd certainly love to hear from you! Please fill out our Content Correction form.
Advertise your Lake Hopatcong vacation rental
LakeLubbers will soon offer homeowners and property managers the opportunity to to showcase their vacation rentals to the thousands of lake lovers searching our site daily for accommodations. If you'd like additional details, please contact our advertising team here.
Looking for the Lake Hopatcong forum?
LakeLubbers previously offered visitors the ability to create accounts and participate in lake forums. When we overhauled the site's content management system in 2021 we had to disable those features. We're evaluating options and welcome your comments and feedback here.
We also encourage you to join our lake-lovin' community on Facebook and Instagram!
Spread the word! Share our Lake Hopatcong article with your fellow Lake Lubbers!