Culver Lake, New Jersey, USA
Lake Locations:
USA - Mid-Atlantic - New Jersey - Skylands -
Also known as:  Culvers Lake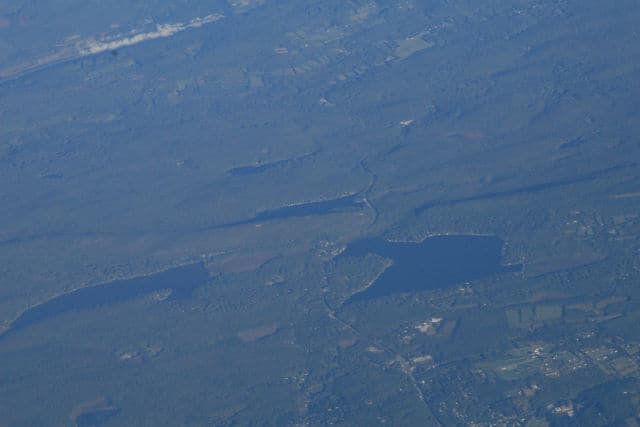 Culver Lake is an exclusive, privately owned body of water located in Sussex County New Jersey. The immaculate 555-acre lake has an average depth of 50 feet, along with seven soft miles of shoreline. Owned and operated by the Normanoch Association, use of the lake is restricted to members and guests only. This association is responsible for managing water quality, controlling Culver Lake Dam, dealing in government affairs, and maintaining on-site recreational facilities. Due to its exclusivity, the Culver Lake area offers desirable real estate and upscale vacation rentals. Convenient services and facilities include full-time life guards and patrolmen, clubhouse, lunch bar, restaurant, boat ramps and a weekly newspaper.
A multitude of activities are available at Culver Lake, including swimming, wind surfing, water skiing, and fishing. Largemouth bass, stripers, and hybrids are the most commonly stocked species of fish. Boating is also popular, and it is not uncommon to see sailboats, sunfish, catamarans, and sloops breezing along these pristine waters on a clear day (jet skis are not permitted). During the winter, the lake freezes over, and snowmobiling, ice boating and ice skating become the most popular local pastimes. New Jersey, also known as the Garden State, is downright stunning during the autumn months, when leaves change from green to vibrant shades of orange, red and yellow before drifting to the ground; there is no better way to spend a crisp fall afternoon than at a nearby apple picking orchard or pumpkin patch. An enormous 10-acre corn maze can be maneuvered on the grounds of a nearby farm, and the Sussex County Agriculture Development Board also offers hay rides, horseback riding, and farm tours.
Stupendous hiking trails are just a short drive from Culver Lake. The Delaware Water Gap National Recreation Area and Middle Delaware National Scenic River feature a number of day waterfall hikes and overnight trails. The best times of year for hiking are undoubtedly during the summer and fall seasons, when weather is most agreeable. Short trails range from the 1.5-mile Cedar Swamp Trail to the 8.6- mile Sussex Branch Trail. Visitors can also tackle the immense Appalachian Trail, which runs from Maine all the way down to Georgia, passing through Sussex County for an impressive 73.4 miles. Dogs are allowed on excursions if restrained by a 6-foot leash. Hunting, camping, canoeing, biking, horseback riding, and cross-country skiing are other popular activities here, along with sport fishing: common catches include smallmouth bass, muskellunge, walleye, panfish, shad, catfish, pickerel, sunfish, and trout.
Also close in proximity to Culver Lake is High Point State Park. This neighboring reserve was established in 1923, and offers 14,193 acres of outdoor fun. Eleven hiking trails trekking through Cedar Swamp and portions of the Appalachian trail are well marked and maintained. The park's 220-foot monument to war veterans should not be missed — located 1,803 feet above sea level, the statue boasts stunning views of the surrounding hills and forests.
Enthusiasts of all types will adore Culver Lake's wide variety of clubs and community activities. Boating enthusiasts should consider joining the Windjammer, a club founded by a group of seafarers in 1976. The Twix Teens Club is aimed at pre-adolescents and young teens, while the First Niters Club is directed toward older teenagers. Both organizations meet weekly to coordinate dances, plays, water carnivals, formal dinners, conservation efforts and more — particularly during the summer months. Also available for young residents aged 4-18, the Culver Lake Swim Team is a fantastic conduit for instilling camaraderie and a sense of sportsmanship in participants — swimming lessons are offered by fully licensed lifeguards. For adults, a Women's Club meets twice weekly for luncheon and coffee, while the Men's Club Fishing Committee, also known as the Fishery Management Committee, is responsible for stocking Culver Lake with fish.
While Culver Lake is oriented toward members, families, and vacationers, the surrounding parks and hiking trails can be enjoyed by everyone. From ice fishing to apple picking and hiking the Appalachian trail, Culver Lake is an exciting year-round destination.
Things to do at Culver Lake
Vacation Rentals
Fishing
Ice Fishing
Boating
Sailing
Swimming
Canoeing
Jet Skiing
Water Skiing
Wind Surfing
Camping
Hiking
Ice Skating
Biking
Cross-Country Skiing
Snowmobiling
Horseback Riding
Hunting
Waterfall
State Park
Fish species found at Culver Lake
Bass
Black Bass
Catfish
Largemouth Bass
Muskellunge
Perch
Pickerel
Pike
Shad
Smallmouth Bass
Sunfish
Trout
Walleye
---
Culver Lake Photo Gallery
Culver Lake Statistics & Helpful Links
Spread the word! Share our Culver Lake article with your fellow Lake Lubbers!