Lake Holly, Virginia, USA
Also known as:  Pitts Pond
Welcome to the ultimate guide for history, statistics, local fun facts and the best things to do at Lake Holly.
If you're considering Lake Holly vacation rentals, we've made it super easy to explore accommodations and nearby hotels using the interactive map below. Simply click on a listing to compare similar properties, best rates and availability for your dates. Or keep scrolling to read our Lake Holly guide!
Lake Holly visitor and community guide
Although Lake Holly is a small lake consisting of only 20 acres, it provides excellent water skiing in scenic Sparta, Virginia which is located in Caroline County. Owned by the Lake Holly Ski Club (LHSC), the lake was purchased by Rick and Jerry Stansberry in 1978 when they transformed Lake Holly into the ski lake that it is today.
Not only is Lake Holly a renowned ski lake, the land that makes up Lake Holly was home to Edmund Pendleton who was one of the signers of the Declaration of Independence and very influential in the early years of America. Edmund Pendleton, along with his two wives and baby, were once buried on the estate known then as Edmundsburg, but they were moved in 1907 to a new location in the Burton Parish Church in Williamsburg. In 1931 Edmund Pendleton's home burned to the ground.
In 1968, Lake Holly was built by the major league baseball player named Clarence "Soup" Campbell who later sold the property. The dam that created Lake Holly is an earth filled embankment that is approximately 20 feet high and 365 feet long.
Lake Holly is a private lake, and membership must be obtained by the Lake Holly Ski Club. Club members help to maintain the buildings located at the lake as well as oversee ski tournaments. Some of the members are seasonal while others are considered full time members. Lake Holly is used solely for waterskiing and hosts several ski tournaments a year, some of which are the Eastern Regional Championships and Virginia State Championships. The first tournament was held in 1979 and was a big success, in spite of the weather and changes to the lake that were not yet complete.
Lake Holly Ski Club offers a surveyed slalom course as well as a new ski boat each year. Members of Lake Holly can also enjoy a large covered pavilion which can be used during tournaments and banquets.
Other features that make Lake Holly a classy lake are found in its nearby surroundings. Lake Holly members and visitors can enjoy historically rich Caroline County which is home to Fort A.P. Hill Military Reservation. About 43,000 acres are available for recreational use at Fort A.P. Hill. With a cooperative agreement with the Virginia Department of Game and Inland Fisheries, Fort A. P. Hill can be enjoyed by wildlife viewers, hunters, and anglers. Deer, turkey, dove, duck, bobwhite quail, rabbit, squirrel and crow are some of the animals that can be hunted on the military reservation. Caroline County offers plentiful residential homes that can be purchased or rented.
North of Lake Holly is First Landing State Park that was established in the 1930s by the Civilian Conservation Corps. First Landing State Park is a recreational haven nestled in Virginia Beach. While the state park borders the Chesapeake Bay, much of First Landing is wooded and gives visitors a feel of what it must have looked like when the members of the Virginia Company fist landed before settling Jamestown. The 2,888 acres provide electric hook-up campsites as well as cabins with access to restrooms and showers. First Landing State Park offers its visitors boating, swimming, biking, picnicking and a boat launch.
With Lake Holly situated in the Virginia Beach area, members of the ski club can enjoy all that the beach life has to offer. They can take a stroll down the Boardwalk or enjoy shopping or dining at one of the many restaurants or stores. The view of the ocean crashing upon the shore while dinning with friends is sure to leave one feeling content.
Lake Holly is a skier's paradise in the midst of a recreational hot spot. After a fun-filled day of water skiing, members of Lake Holly can relax and enjoy the nightlife of the area close by.
Custom Lake Holly house decor
Read our full review of these personalized lake house signs.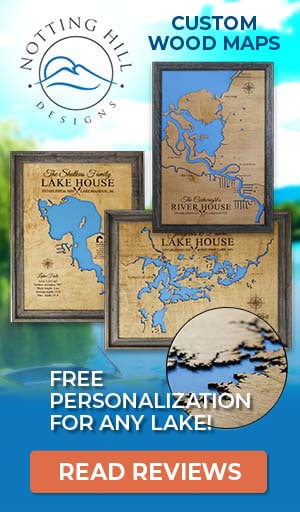 Things to do at Lake Holly
Vacation Rentals
Fishing
Boating
Swimming
Beach
Water Skiing
Camping
Picnicking
Cabin Rentals
Biking
Hunting
Wildlife Viewing
Birding
State Park
Shopping
---
Best hotels and vacation rentals at Lake Holly
The Lake Holly map shown above is a simple and stress-free way to search for trip accommodations. But if you want to take a deeper dive to find the ideal waterfront home, cabin, condo, hotel or resort, visit our favorite lodging partners by clicking the buttons below.
Note: These are affiliate links so we may earn a small commission if you book through them. While there is no extra cost to you, it helps provide resources to keep our site running (thank you)! You can read our full disclosure policy here.
---
Lake Holly photo gallery
New photos coming soon!
Lake Holly statistics & helpful links
We strive to keep the information on LakeLubbers as accurate as possible. However, if you've found something in this article that needs updating, we'd certainly love to hear from you! Please fill out our Content Correction form.
Advertise your Lake Holly vacation rental
LakeLubbers will soon offer homeowners and property managers the opportunity to to showcase their vacation rentals to the thousands of lake lovers searching our site daily for accommodations. If you'd like additional details, please contact our advertising team here.
Looking for the Lake Holly forum?
LakeLubbers previously offered visitors the ability to create accounts and participate in lake forums. When we overhauled the site's content management system in 2021 we had to disable those features. We're evaluating options and welcome your comments and feedback here.
We also encourage you to join our lake-lovin' community on Facebook and Instagram!
Spread the word! Share our Lake Holly article with your fellow Lake Lubbers!