Lake Hefner, Oklahoma, USA
Welcome to the ultimate guide for history, statistics, local fun facts and the best things to do at Lake Hefner.
If you're considering Lake Hefner vacation rentals, we've made it super easy to explore accommodations and nearby hotels using the interactive map below. Simply click on a listing to compare similar properties, best rates and availability for your dates. Or keep scrolling to read our Lake Hefner guide!
Lake Hefner visitor and community guide
The Hefner Dam was completed in 1947, creating a lake with a surface area of 2,500 acres and an 18 mile long shoreline. Located in northwest Oklahoma City, Lake Hefner was built to increase the water supply for Oklahoma City. It was named after Robert A. Hefner, who served as the city's mayor from 1939 to 1947. Lake Hefner has become a major recreational hot spot known for its excellent sailing, picnicking, and fishing. The lake hosts weekend sailboat races and is also known for its incredible jogging and biking trails which circle the entire lake.
Recreation is the main feature of this beautiful body of water locaed in the Frontier Country tourism region. The Lake Hefner trails take bikers, walkers or runners for a nine mile scenic journey around the lake. The trails are flat, 12 feet wide and paved. Six foot wide trails on the east side of the lake are designated for pedestrians only.
Although Lake Hefner has no lakefront residential development, there are residential areas to the north, west, and east. The Lake Hefner Dam stretches across the northern side of the lake. The Lake Hefner Parkway borders the east side of the lake. The south side is the least developed, retaining the original forest and habitat along much of the shore. The lake's deepest point is approximately 94 feet with an average depth of 29 feet.
From April to October, the Oklahoma City Boat Club holds weekend sailboat races. The lake has docks as well as dry storage for boats. Boat permits are required. Waterskiing, jet-skiing and swimming are prohibited, but kite surfing and wind surfing are allowed. Because Lake Hefner is a water supply reservoir, there are times when the water level may be too low for pleasure boating. Marinas on the lake will post signs if this occurs.
Playgrounds and picnic areas can be found all around Lake Hefner. Fishing is a popular sport, but you must have a city fishing permit. You can fish from shore or off any public pier, many of which are covered. There is an enclosed and heated fishing dock which is a favorite spot for anglers, especially during the winter months. Fish found in Lake Hefner include largemouth bass, smallmouth bass, white bass, striped bass, black crappie, channel catfish, walleye and a few types of bluegills. The lake is stocked annually with walleye and smallmouth bass.
First time anglers should try fishing off piers or docks or from a boat. Access to Lake Hefner is limited slightly on the east side, but there is good bass fishing near the rip rap rocks and the dam. Shore access along the south part of the lake offers a good place to catch bluegills and bass. The lake has several fish attractor reefs that lure in the larger sport fish for the more experienced angler, many within casting distance from shore.
On the southeast side of Lake Hefner is the Stars and Stripes Park, home to the annual Turkey Trot Classic footrace as well as a number of other recreational events from team sports to biking. The park offers walking trails, playgrounds and of course fishing.
Of special interest to bird watchers is Prairie Dog Point, located at the southwest corner of Lake Hefner. Birders from across Oklahoma visit this location during spring and fall migration, as well as during the winter months when sightings of rare birds are often reported. The lake is also a gathering place for gulls, grebes, and ducks from fall through winter and during early spring migrations. In early fall and again in spring, gulls may number in the thousands.
Located on the southwest side of Lake Hefner, just off Northwest Expressway, the Lake Hefner Golf Course features a north and a south course. The north course is nearly 7,000 yards in total length while the south course is a bit smaller at 6,300 yards. Both of these golf courses are dotted by water hazards as well as bunkered fairways and greens. There is a driving range, putting green, restaurant, golf shop and rentals.
South of the golf course are the Oklahoma City docks, commonly known as the city-side docks, the largest marina on Lake Hefner.
On the south side of Lake Hefner is the YMCA Sailing Center which offers sailing instruction for all ages.
In the 1990s, Oklahoma City formed a partnership with a local developer to turn a portion of the east side of Lake Hefner into an upscale commercial and recreational area. This area now features restaurants, an office building, jogging path, playground, marina and a lighthouse. Probably the most well known feature on Lake Hefner is the East Wharf Lighthouse. The working lighthouse stands 40 feet tall, has a red light with a two-second on/off pattern, and is on from dusk till dawn. The lighthouse has been the backdrop for many weddings and has been featured in a number of magazines.
If you're a dog owner, you'll want to check out OKC PawPark which is a leashless dog park in Lake Hefner Park. The two-acre section has two fenced-in play areas, water stations, trees, benches, and lots of room for your dog to run, play and swim. Yes, it's okay for your dog to swim in the designated area called the "Duck Pond."
Nearby Oklahoma City, the state capital, has a number of museums, theaters, a zoo, a water park, a baseball park, and several golf courses. There is also shopping, fine dining and plenty of entertainment. You can even take a water taxi along the Bricktown Canal. The boats can be boarded to go in either direction every 10 to 15 minutes. The water taxi works like a regular taxi and will stop at any of the shops or restaurants on the canal. The most popular stop is the front door of Bass Pro Shops Outdoor World, one of the world's largest suppliers of hunting and fishing gear.
A seven mile portion of the North Canadian River flowing through Oklahoma City was renamed the Oklahoma River in 2004. This portion has several locks that have created a series of small lakes in which rowing, kayaking, and canoeing regattas take place. 13 miles of multiuse, asphalt trails line the north and south banks of the river. Cruises take passengers the entire length of the river, one way or round trip.
With its well-maintained trails, invigorating breezes coming off the water, and plenty of fishing and boating facilities for the entire family (including Fido), Lake Hefner and nearby Oklahoma City are about as perfect as it gets for an afternoon or weekend of fun and relaxation.
Custom Lake Hefner house decor
Read our full review of these personalized lake house signs.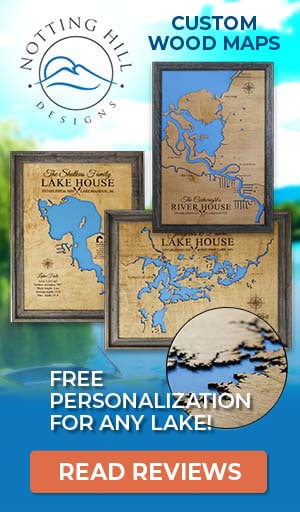 Things to do at Lake Hefner
Vacation Rentals
Fishing
Boating
Sailing
Swimming
Canoeing
Kayaking
Jet Skiing
Water Skiing
Kite Surfing
Wind Surfing
Golf
Picnicking
Hiking
Biking
Hunting
Birding
Museum
Playground
Shopping
Fish species found at Lake Hefner
Bass
Black Bass
Black Crappie
Bluegill
Catfish
Channel Catfish
Crappie
Largemouth Bass
Perch
Smallmouth Bass
Striped Bass
Walleye
White Bass
---
Best hotels and vacation rentals at Lake Hefner
The Lake Hefner map shown above is a simple and stress-free way to search for trip accommodations. But if you want to take a deeper dive to find the ideal waterfront home, cabin, condo, hotel or resort, visit our favorite lodging partners by clicking the buttons below.
Note: These are affiliate links so we may earn a small commission if you book through them. While there is no extra cost to you, it helps provide resources to keep our site running (thank you)! You can read our full disclosure policy here.
---
Lake Hefner photo gallery
New photos coming soon!
Lake Hefner statistics & helpful links
We strive to keep the information on LakeLubbers as accurate as possible. However, if you've found something in this article that needs updating, we'd certainly love to hear from you! Please fill out our Content Correction form.
Advertise your Lake Hefner vacation rental
LakeLubbers will soon offer homeowners and property managers the opportunity to to showcase their vacation rentals to the thousands of lake lovers searching our site daily for accommodations. If you'd like additional details, please contact our advertising team here.
Looking for the Lake Hefner forum?
LakeLubbers previously offered visitors the ability to create accounts and participate in lake forums. When we overhauled the site's content management system in 2021 we had to disable those features. We're evaluating options and welcome your comments and feedback here.
We also encourage you to join our lake-lovin' community on Facebook and Instagram!
Spread the word! Share our Lake Hefner article with your fellow Lake Lubbers!