Lake Groton, Vermont, USA
Lake Locations:
USA - New England - Vermont - Northeast Kingdom -
Also known as:  Groton Pond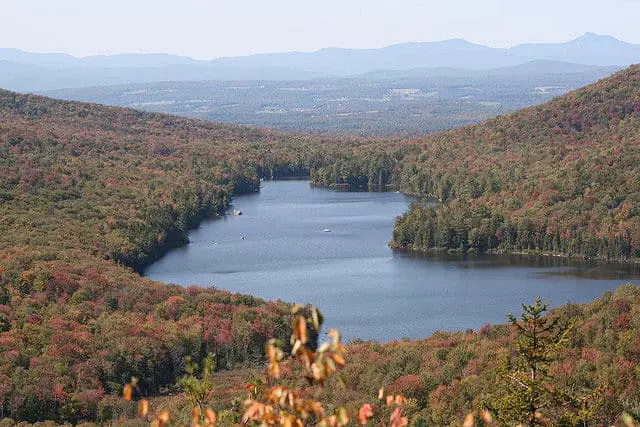 Nestled snugly among heavily forested mountains, Lake Groton has been a favorite summer getaway for generations of 'camp' owners. Over 400 acres of water enclosed within nearly six miles of rocky shoreline make Groton Pond, as it is also known, the ideal hideaway for a summer cottage or hunting camp. The historic pond grew naturally into its reputation as one of Central Vermont's best places to enjoy lakeside living. The area has a long history of logging, followed by railway access and even a few small steamships, mostly built to facilitate logging but soon carrying 'campers'-summer residents who could access their cottages by water only.
Lake Groton is a fine body of water for swimming, boating, fishing and nature observation. Residents waterski, enjoy tubing, sailing, jet-skiing, pontooning, canoeing and kayaking. Few visitors can access the lake with larger boats, however, as only two small public boat launches exist-both on state land. Boulder Beach State Park, a day-use-only facility, allows carry-in boats to launch. A small boat ramp at Stillwater State Park on the west shore permits boat launching by registered campground visitors. The state parks close in September, so there is no general public access the rest of the year. Visitors who utilize Lake Groton regularly for canoeing and kayaking often purchase a Green Mountain Passport which allows for annual park access. Both of these state parks offer a swim area-the only public swim beaches on Lake Groton. The Lake Groton Association works with volunteers to monitor water quality and to educate lake users about invasive species and pollution prevention. The Association also produces an annual 4th of July Boat Parade. (2015 update: The Association is monitoring the spread of the invasive Purple Bladderwort plant around the lake's shoreline. The Association is considering harvesting and chemical treatment to control the plant.)
Fishermen prize Lake Groton for the several species of panfish, largemouth bass, smallmouth bass, chain pickerel and yellow perch. About half of the lakeshore is located within Groton State Forest, so many campers arrive at the four state parks which have campgrounds within the forest to take advantage of fishing on Lake Groton and other lakes, including Ricker Pond just downstream along the Wells River, and several inflowing brooks that hold numerous brook trout. The 25,000+-acre Groton State Forest holds white-tailed deer, black bear, fox, moose, wild turkey, snowshoe hare, coyote, bobcat, porcupine and a variety of small mammals. At the south end of Lake Groton near the dam, a wetland area holds a loon nesting ground, and the loons with their young chicks are often seen on the water. Groton State Forest has a wealth of trails for accessing some of the best areas for nature watching.
Access to trails for hiking and mountain biking around Lake Groton is easy, with many trails beginning near the Nature Center at the north end of the pond. Trail maps can be obtained here with the center showcasing exhibits of mounted birds and animals, pictorial history of the area and the logging era, geology exhibits and informative displays about the Peacham Bog nearby. The trails at the Nature Center are open for cross-country skiing, and the parking lots are open and cleared in winter. The trek to Owls Head, a local rocky outcropping, is an easy hike for those with average endurance. The views over the forest and Groton Pond are spectacular, particularly when autumn colors paint the landscape with scarlet and gold.
Although road access is now available to nearly all areas of the lakeshore, the traditional 'camps' in the area carry two different addresses: the street address and the 'camp' address-a number posted on the waterside using an old numbering system that begins at the dam on the south end of the lake. Early summer residents arrived by rail to 'flag stops' located along the lakeshore and had to carry their provisions to their cabins if they couldn't take advantage of the few small steamboats that carried residents and logging crews to locations on the lake. The old railroad bed is now part of the Cross Vermont Trail system. Most long-term residents refer to their homes by the camp number and proudly assert they own Camp 37 or some other number.
Lake Groton has been known by several names, beginning with Big Lund, named for early property owner Silas Lund. It later became Long Pond, and eventually Wells River Pond. Finally it was called Groton Pond, named for the town along its southern shore that was incorporated in the late 18th century. The dam was rebuilt in 1968 but was preceded by earlier dams which seem to have left little record. The outflow forms the headwaters of the Wells River that eventually empties into the Connecticut River. The river and nearby lakes were used, with many portages, as a partial water route across the state by early Native Americans, fur trappers and explorers.
Lake Groton was the site of heavy logging and sawmill industry beginning soon after the first permanent settlers arrived after the Revolutionary War. Although a few settlers from Massachusetts, Connecticut and New Hampshire had arrived years earlier-and brought the name Groton with them from their old towns-the land here was steep and rocky, less than perfect for farming. Further, land ownership was in dispute between wealthy speculators in New York who were given land grants by the British king and those who wished to carve out a second colony from neighboring New Hampshire. Few know that famed Ethan Allen and his Green Mountain Boys were originally formed to dispute land ownership claims (the extended Allen family had large New Hampshire land claims on the area). The Green Mountain militia was fighting a guerrilla war long before war against England was declared; the militia slid naturally into a key role in Revolutionary fighting. Many old land deeds in the area show the original properties being purchased from Ethan or Ira Allen, and Vermont is still known as the Green Mountain State. Vermonters are understandably proud of their independent spirit, demonstrated early by the fact that the 'Vermont Republic' resisted joining the new United States for 14 years after independence was declared.
Those who crave the kind of wild and scenic mountain backdrop against a freshwater lake can often find a vacation rental among the private camps along the shoreline. Several campgrounds in the area offer access to either Lake Groton or one of the other large ponds. Groton Pond is only about 30 miles from St. Johnsbury and Montpelier, both of which hold a number of major hotels and a variety of dining and entertainment fare. Local bed & breakfasts, small inns, farm markets and unique shops can be found in the surrounding area. Come and enjoy the independent spirit of Vermont and the scenic surroundings of Lake Groton.
Things to do at Lake Groton
Vacation Rentals
Fishing
Boating
Sailing
Swimming
Beach
Canoeing
Kayaking
Jet Skiing
Water Skiing
Tubing
Camping
Campground
Cabin Rentals
Hiking
Biking
Cross-Country Skiing
Snowshoeing
Hunting
Wildlife Viewing
Birding
State Park
State Forest
Fish species found at Lake Groton
Bass
Black Bass
Brook Trout
Chain Pickerel
Largemouth Bass
Perch
Pickerel
Pike
Smallmouth Bass
Trout
Yellow Perch
---
Lake Groton Photo Gallery
Lake Groton Statistics & Helpful Links
Spread the word! Share our Lake Groton article with your fellow Lake Lubbers!