Lake Greifensee, Zurich, Switzerland
Also known as:  Lake Greifen, Greifensee
Welcome to the ultimate guide for history, statistics, local fun facts and the best things to do at Lake Greifensee.
If you're considering Lake Greifensee vacation rentals, we've made it super easy to explore accommodations and nearby hotels using the interactive map below. Simply click on a listing to compare similar properties, best rates and availability for your dates. Or keep scrolling to read our Lake Greifensee guide!
Lake Greifensee visitor and community guide
Only 7 miles southeast of Zurich, Lake Greifensee has become a favored destination for holidays away from the big city. Located in the Canton of Zurich, Lake Greifensee has escaped the fate of becoming a commuter suburb of Zurich because the shoreline is protected land. Access to the shore is limited to only a few public places, giving Lake Greifensee a nearly unbroken natural shoreline. A nature reserve along the shoreline protects over 400 species of plants and 120 species of migratory bird among the moors and reed beds. A number of lake-viewing and bathing spots are located along the profusion of walking trails throughout the reserve.
The lake's protected status doesn't mean that the waters can't be used by holiday-makers. Several resort hotels, campgrounds and boat launch facilities make Lake Greifensee a popular spot to engage in all sorts of water sports. Sailing is a particular favorite with more than one sailing club headquartered at the lake. The sailing clubs offer sailing lessons and organize regular racing schedules for their members. Swimming, canoeing, kayaking, diving, rowing and wind-surfing are also popular on Lake Greifensee. Fishing permits are available by the day, but fishing areas and fish species are regulated. The would-be angler would be wise to consult local officials as to how to obtain the correct permit before arriving at the lake. Boats are available for rent along the roads near the shore.
The paved walkways around Lake Greifensee draw large numbers of in-line skaters who meet to tour the lake via roller skates. Others enjoy the many miles of walking and cycling trails in the nature reserve and those found in the hills between Lake Greifensee and Lake Zurich. Called the Pfannenstiel, or Panhandle, the area is pure Swiss countryside and perfect for mountain-biking. Roads and trails among green fields are interrupted by individual farmhouses and small villages where one can often stop for a bite to eat. Visitors come for a day, a weekend or an entire holiday to spend their leisure time enjoying the sun and the lovely landscape. Once they arrive at Lake Greifensee, holiday-makers may leave their cars behind and load their bicycles onto one of several cruise boats on the lake. The boats act as transportation between shore points and allow passengers to explore distant portions of the network of paths without the initial long trek. Several cruise schedules offer culinary cruises while some specialize in sightseeing. The oldest steamship in Switzerland, the 'Grief', dates from 1895; it was refurbished in the 1980s and is in service on the lake. These ships provide water transportation to landing points near towns near the shoreline.
The old city of Greifensee is the only settlement directly along the lakeshore. The old walled city features the imposing Greifensee Castle. Built in the 13th century, the castle was home to the Counts of Rapperswil, later belonging to the Counts of Toggenburg. At one time, the castle was home and offices to the Bailiff of Zurich. After changing hands several times, the castle was renovated in 1995 and became a cultural center for Greifensee. The attached 15th-century triangular church is a popular wedding location. Greifensee has every amenity the holiday visitor would want, with many small shops and eateries in an authentic medieval setting. Greifensee is the scene of the Greifensee-Lauf, a semi-marathon around the lake held every year. A number of hotels, gasthauses, and bed-and-breakfasts offer holiday lodgings near the shore. Nearby, the city of Uster offers larger arts venues and cultural activities. Travel between the two is easily accomplished by train. Other villages near the shore offer holiday lodgings, chalets, chateaus and campgrounds to suit every visitor's needs.
Fed by the Aabach River, Lake Greifensee is drained by the Glatt River. A tributary to the Rhine, the Glatt River has been repeatedly diverted and channelized, beginning in the 1500s. The fertile Glatt Valley contributed to excess nutrient run-off and for many years, the Glatt was seriously polluted. Recent efforts have improved water conditions considerably; the Glatt is once again a scenic river teeming with wildlife. The lake itself was created when the last glacier receded from the area. Evidence of settlement around the north end of the lake shows human activity as early as 4000 BC. In 1975, a Neolithic stilt house village located near the northern shore was discovered by recreational divers. Scientific dives revealed the remains of a village with 24 huts, along with such relics as ceramics, lavishly decorated pots and bowls, weaving spindles made of clay, tools, needles and fishing hooks from bronze, charred wild apples, cereals and simple, large food tanks. Dating of the well-preserved timber revealed a date of 1051 B.C.
For the visitor to Zurich, the short train ride to Lake Greifensee is worth an afternoon's visit. Regular business visitors to Zurich often join families on holiday to swim in the cool waters and enjoy a leisurely stroll through the nature reserve. Holiday rentals are numerous and varied. Real estate may be more difficult to find. A visit of any length will be enjoyed mightily. Come and experience Lake Greifensee. You'll want to return often.
Custom Lake Greifensee house decor
Read our full review of these personalized lake house signs.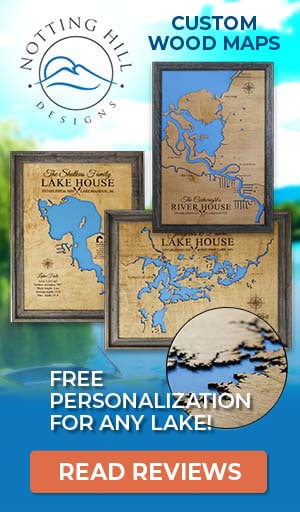 Things to do at Lake Greifensee
Vacation Rentals
Fishing
Boating
Sailing
Swimming
Canoeing
Kayaking
Wind Surfing
Camping
Campground
Hiking
Biking
Wildlife Viewing
---
Best hotels and vacation rentals at Lake Greifensee
The Lake Greifensee map shown above is a simple and stress-free way to search for trip accommodations. But if you want to take a deeper dive to find the ideal waterfront home, cabin, condo, hotel or resort, visit our favorite lodging partners by clicking the buttons below.
Note: These are affiliate links so we may earn a small commission if you book through them. While there is no extra cost to you, it helps provide resources to keep our site running (thank you)! You can read our full disclosure policy here.
---
Lake Greifensee photo gallery
New photos coming soon!
Lake Greifensee statistics & helpful links
We strive to keep the information on LakeLubbers as accurate as possible. However, if you've found something in this article that needs updating, we'd certainly love to hear from you! Please fill out our Content Correction form.
Advertise your Lake Greifensee vacation rental
LakeLubbers will soon offer homeowners and property managers the opportunity to to showcase their vacation rentals to the thousands of lake lovers searching our site daily for accommodations. If you'd like additional details, please contact our advertising team here.
Looking for the Lake Greifensee forum?
LakeLubbers previously offered visitors the ability to create accounts and participate in lake forums. When we overhauled the site's content management system in 2021 we had to disable those features. We're evaluating options and welcome your comments and feedback here.
We also encourage you to join our lake-lovin' community on Facebook and Instagram!
Spread the word! Share our Lake Greifensee article with your fellow Lake Lubbers!