Lake Geneva, France & Switzerland
Also known as:  Lac Leman
Welcome to the ultimate guide for history, statistics, local fun facts and the best things to do at Lake Geneva FRA.
If you're considering Lake Geneva FRA vacation rentals, we've made it super easy to explore accommodations and nearby hotels using the interactive map below. Simply click on a listing to compare similar properties, best rates and availability for your dates. Or keep scrolling to read our Lake Geneva FRA guide!
Lake Geneva FRA visitor and community guide
Shaped like a crescent moon, Lake Geneva is cradled in the Alps Mountain Range with two-thirds of its 104 shoreline miles in Switzerland and the other third in France. Lake Geneva is known as Lac Leman in France. Flanked by the majestic Matterhorn, possibly the most famous peak in the Alps, the largest freshwater lake in Western Europe is postcard-picturesque. Because the crescent-shaped lake narrows at its western end, the western part of Lake Geneva is known as the "Petit Lac" (Small Lake), and the larger eastern side is "Grand Lac" (Large Lake). The City of Geneva is located at the southwestern tip of the lake. Its famous Geneva Harbor Fountain (Jet d'Eau) is the city's emblem.
Lake Geneva lies along the shores of the Rhone River, fed by the Rhone Glacier, indicating its origins as a glacial lake. Julius Caesar and his Roman army claimed the area for a base by 58 B.C. and founded the modern cities of Geneva, Avenches, and Lausanne. Perhaps as a testament to its rich history, Lake Geneva's name has changed many times: in Roman times, it was called Lacus Lemannus, later to be renamed Lacus Lausonius. In the Middle Ages, the lake changed to the French Lac de Lausanne, and finally to Lac de Geneve. Curiously, the French name changed to Lac Leman in the 18th century, though English has stuck with Lake Geneva, and some maps insist on calling it Lac d'Ouchy after one of its ports. Regardless of its name, Lake Geneva holds rich beauty and amazing vistas that one can enjoy in any language.
The Rhone River originates high in the Alps, flows through Lake Geneva and exits at the City of Geneva, flowing through France on its way to the Mediterranean. The Seujet Dam, completed in 1985, controls lake levels, prevents flooding, and generates hydroelectric power. Downriver about seven miles, the Verbois Dam, completed in 1943, is a major source of hydroelectric power for the city. A fish ladder is placed around both dams to allow fish to migrate upstream.
Due to Lake Geneva's large size, extending over 144,000 acres, it's necessary to pick a base camp from which to travel. Most popular is Montreux, Switzerland, a scenic resort on the eastern shore that juts out into the lake on a small, round peninsula, protected from northern and eastern winds. The town is spotted with old villas and palaces that have been converted to hotels, restaurants, and single family residences. It is the perfect starting point for your lake visit.
Lake Geneva offers many opportunities to enjoy the beautiful outdoors. Land lubbers can indulge in horseback riding, mountain biking, mountain climbing (alpinism), golf, and hiking during warmer months. Hiking provides unique vantage points, with birds-eye views of the lake and quaint Alpine towns below. As you trek over the region's Discovery Trails, you'll meander by old villas, traverse steep ridges, pass though old vineyards, and find yourself in the midst of towering forests. The diversity of this area is soon recognized, and if you take your camera along, it will soon be full of amazing views and historic snapshots.
When you get back to Lake Geneva, plenty will be waiting. Consider hang-gliding, a horse-drawn carriage ride, or a hot-air balloon ride. Rent a powerboat and head out to explore this glacial lake. It's impossible to see it all, so your best bet is to grab a map and focus on one area, investigating its shores and enjoying the amazing scenery around you. To slow down the pace, hop into one of the lake's canoes, kayaks, or pedalos (pedal boats) and enjoy the lake a bit at a time. Grab your fishing line and throw it in the boat to enjoy some fishing, as well. Just make sure you have a Swiss fishing permit first.
In winter, Lake Geneva transforms into one of the most beautiful regions in the world. Nothing is as beautiful as mountains blanketed in snow, and the lake area simply comes alive with activity. Scratch your adrenaline itch and indulge in both alpine and nordic skiing – several area resorts offer runs. Snowboarders will love the halfpipes and snowboard parks that dot the mountainside, as well. For a bit of family fun, take a turn on a toboggan trail or take an afternoon to go snowshoeing. Like hiking, all mountain activities will provide you with some of the most stunning scenery your eyes have ever beheld.
Despite how it may seem, Lake Geneva does not start and end with its outdoor offerings. In fact, this region is home to some of the most delicious cuisine on the planet, calling upon its unique influences from several surrounding countries. Bite into the typical "papet vaudois", a leek and potato stew usually accompanied by "saucisse aux choux", a cabbage-stuffed sausage. Gobble down local-caught fish, visit a delicious Italian restaurant, and tickle your taste buds with a host of local flavors. Make sure to order a bottle of Swiss wine, as well, and your Lake Geneva meal will be one that is hard to forget.
Stunning scenery meets nature lovers' paradise here in the Lake Geneva region. Catering to almost every taste and pleasure, the region is high on the fun factor, offering a bit of everything for you to try. Your only challenge will be whether you can fit everything into a stay that will seem far too short.
Custom Lake Geneva FRA house decor
Read our full review of these personalized lake house signs.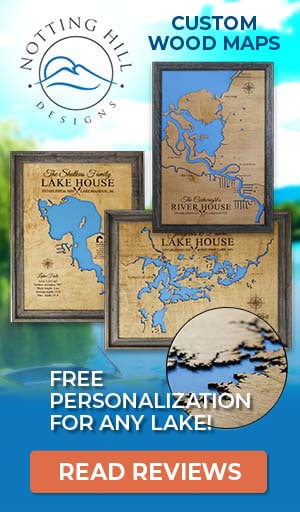 Things to do at Lake Geneva FRA
Vacation Rentals
Fishing
Boating
Canoeing
Kayaking
Golf
Camping
Hiking
Mountain Climbing
Biking
Snowshoeing
Tobogganing
Horseback Riding
Birding
---
Best hotels and vacation rentals at Lake Geneva FRA
The Lake Geneva FRA map shown above is a simple and stress-free way to search for trip accommodations. But if you want to take a deeper dive to find the ideal waterfront home, cabin, condo, hotel or resort, visit our favorite lodging partners by clicking the buttons below.
Note: These are affiliate links so we may earn a small commission if you book through them. While there is no extra cost to you, it helps provide resources to keep our site running (thank you)! You can read our full disclosure policy here.
---
Lake Geneva FRA photo gallery
New photos coming soon!
Lake Geneva FRA statistics & helpful links
We strive to keep the information on LakeLubbers as accurate as possible. However, if you've found something in this article that needs updating, we'd certainly love to hear from you! Please fill out our Content Correction form.
Advertise your Lake Geneva FRA vacation rental
LakeLubbers will soon offer homeowners and property managers the opportunity to to showcase their vacation rentals to the thousands of lake lovers searching our site daily for accommodations. If you'd like additional details, please contact our advertising team here.
Looking for the Lake Geneva FRA forum?
LakeLubbers previously offered visitors the ability to create accounts and participate in lake forums. When we overhauled the site's content management system in 2021 we had to disable those features. We're evaluating options and welcome your comments and feedback here.
We also encourage you to join our lake-lovin' community on Facebook and Instagram!
Spread the word! Share our Lake Geneva FRA article with your fellow Lake Lubbers!