Lac de Joux, Vaud, Switzerland
Welcome to the ultimate guide for history, statistics, local fun facts and the best things to do at Lac de Joux.
If you're considering Lac de Joux vacation rentals, we've made it super easy to explore accommodations and nearby hotels using the interactive map below. Simply click on a listing to compare similar properties, best rates and availability for your dates. Or keep scrolling to read our Lac de Joux guide!
Lac de Joux visitor and community guide
Switzerland's Lac de Joux is located high up in the Jura Mountains in the Canton of Vaud. Located at an altitude of nearly 3300 feet, Lac du Joux is ideally suited for a mountain holiday. Lying near the high ridge that designates the border with France, Lac de Joux is ideally suited for both mountain and water sports. Only 30 miles from the city of Lausanne, a trip to Lac de Joux is a valued weekend break from work in the canton's capital city.
Visitors come to Lac de Joux to sail, yacht, windsurf, row, water ski and wakeboard. The wind conditions around the lake are particularly appreciated by windsurfers. Only a few small villages dot the shoreline, but a great many private cottages and homes overlook the beautiful lake. Much of the shoreline is wooded, adding a natural alpine atmosphere against the backdrop of the Jura Mountains. Several natural sandy beaches draw swimmers and sun bathers. A sailing school teaches the art of sailing during the summer months. In winter, Lac de Joux turns into a huge ice skating arena. Walking and cycling paths are numerous in the vicinity, and bicycles and boats can be rented to enhance the holiday-maker's enjoyment. Lake levels vary according to precipitation.
Less of a tourist attraction than many of the better-known Swiss lakes, Lac de Joux still attracts thousands of visitors every summer. Many come to canoe the shallows, fly-fish for trout and otherwise enjoy the green canopy of the Jura Mountains. In winter, skating, downhill skiing, snowboarding, sledding and snowshoeing draw visitors to the nearby slopes. The entire Vallee de Joux contains many miles of cross-country skiing trails. Excursions for winter snowshoe camping and dog sled tours can be arranged. Anglers enjoy fishing for whitefish, perch, pike, carp, tench, dace, chub, varro, roach and burbot in the lake. Day fishing permits can be obtained at Le Pont. Hot air ballooning tours over the lake can be arranged, and hiking on the many forest trails offers views of conifer forests, stands of hardwood and birch and the occasionally surprising alpine meadow. A golf course is nearby. Boat tours are available from the sole shipping company on the lake. The boat, leaving from Le Pont, makes a round trip every day in July and August, with weekend-only service in June and September. Passenger train service runs along the north side of the lake with many scheduled stops.
There are few hotels and resorts on Lac de Joux' shoreline, but a variety of guest houses, chateaus, holiday houses and guest inns assure that vacation rentals are always available. There are some limited camping grounds near the shore, and access to the water is always possible at the public beaches at Le Pont and L'Abbaye. Lac de Joux is not a location with a lot of nightlife; more popular are visits to such attractions as the Watch Museum. Vallee de Joux is a watch-making center, and a small museum in Le Sentier near the west end of the lake offers an interesting look at the history of one of Switzerland's best-known products. The Mont d'Orzeires Juraparc, a short distance from the east end of the lake, offers viewing of bison, wolves, bears, lynx and other wild animals in a semi-natural habitat. Near the Juraparc, the town of Vallorbe holds Vallorbe Forge. The forge and smithy offer visitors the chance to forge their own commemorative medal. The forge also houses the Iron and Railway Museum.
Lac de Joux has one main water source: the Orbe River. Originating in France, the Orbe meanders through the Jura Mountains to Lac de Joux – and disappears. There is no visible outlet to Lac de Joux or its two small companion lakes, Lac Brenet and Lac Ter. Excess water from all three lakes seeps through the lakebed to form an underground river that surfaces a few miles away. In 1961, the entrance to the underground watercourse was discovered. Open to the public since 1974, visitors can tour a series of underground caverns. The underground river course includes waterfalls, siphons, vast halls with surprising shapes, stalactites and stalagmites. The Fairy Treasure Trove section of the two-mile long cavern trail contains a collection of 250 minerals. The river erupts above ground near Vallorbe and continues east to join Lake Neuchatel where it becomes the River Thielle.
If visiting Lausanne, Lac de Joux makes an excellent weekend side trip. For skiing in the Jura, a ski chalet or chateau the Vallee de Joux makes a great home base. Holiday rentals are numerous; real estate for purchase less so. No visit to the great lakes of Switzerland would be complete without a visit to Lac de Joux. Imagine watching the sun come up over the peaks of the Jura and painting the water with streaks of pink and gold. Nowhere can you feel more a part of nature than Lac de Joux.
Custom Lac de Joux house decor
Read our full review of these personalized lake house signs.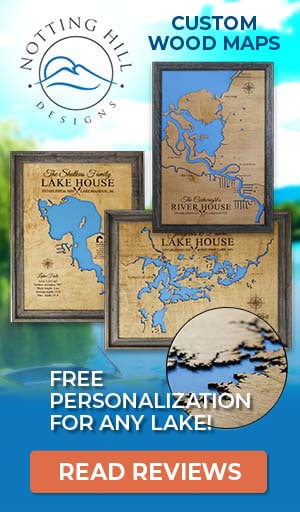 Things to do at Lac de Joux
Vacation Rentals
Fishing
Boating
Sailing
Swimming
Beach
Canoeing
Water Skiing
Wakeboarding
Golf
Camping
Hiking
Ice Skating
Biking
Downhill Skiing
Snowboarding
Cross-Country Skiing
Dog Sledding
Waterfall
Wildlife Viewing
Museum
Fish species found at Lac de Joux
Burbot
Carp
Perch
Pike
Roach
Tench
Trout
Whitefish
---
Best hotels and vacation rentals at Lac de Joux
The Lac de Joux map shown above is a simple and stress-free way to search for trip accommodations. But if you want to take a deeper dive to find the ideal waterfront home, cabin, condo, hotel or resort, visit our favorite lodging partners by clicking the buttons below.
Note: These are affiliate links so we may earn a small commission if you book through them. While there is no extra cost to you, it helps provide resources to keep our site running (thank you)! You can read our full disclosure policy here.
---
Lac de Joux photo gallery
New photos coming soon!
Lac de Joux statistics & helpful links
We strive to keep the information on LakeLubbers as accurate as possible. However, if you've found something in this article that needs updating, we'd certainly love to hear from you! Please fill out our Content Correction form.
Advertise your Lac de Joux vacation rental
LakeLubbers will soon offer homeowners and property managers the opportunity to to showcase their vacation rentals to the thousands of lake lovers searching our site daily for accommodations. If you'd like additional details, please contact our advertising team here.
Looking for the Lac de Joux forum?
LakeLubbers previously offered visitors the ability to create accounts and participate in lake forums. When we overhauled the site's content management system in 2021 we had to disable those features. We're evaluating options and welcome your comments and feedback here.
We also encourage you to join our lake-lovin' community on Facebook and Instagram!
Spread the word! Share our Lac de Joux article with your fellow Lake Lubbers!