Lake Biel-Bienne, Bern & Neuchatel, Switzerland
Also known as:  Lake Biel, Bielersee, Lac de Bienne
Welcome to the ultimate guide for history, statistics, local fun facts and the best things to do at Lake Biel-Bienne.
If you're considering Lake Biel-Bienne vacation rentals, we've made it super easy to explore accommodations and nearby hotels using the interactive map below. Simply click on a listing to compare similar properties, best rates and availability for your dates. Or keep scrolling to read our Lake Biel-Bienne guide!
Lake Biel-Bienne visitor and community guide
Lake Biel-Bienne leads the parade of three lakes at the foot of the Jura Mountains region of Switzerland. Located in the Bern and Neuchatel cantons (states) of West Switzerland, Lake Biel-Bienne reflects its shared French-German history in its very name. Called by either name individually, Lake Biel or Lake Bienne, the large lake's inhabitants usually speak both languages fluently and are well-prepared for international visitors. Known as a center of Swiss watch-making, the cities around the lake are a hub for cutting-edge technology. The region mixes the very old with the very new in a delightful mix of Swiss precision and medieval architecture. From the vineyards growing along its northern shore to the cruise ships taking tourists and residents from town to town and on to Lake Neuchatel and Lake Murten, Lake Biel-Bienne is quintessentially Switzerland.
Although Lake Biel-Bienne reaches depths of 243 feet, it is the shallowest of the three connected lakes. All three lakes are the result of melting ice left from the last glacial age, but Lake Biel-Bienne has received far more sediment from the Aare River. The shallower depth makes Lake Biel-Bienne the more productive fishery and also a warmer body of water. All types of water sports draw holiday-makers to the lake: sailing, kayaking, rowing, diving, swimming, water skiing and wind-surfing are favorite activities. Fishermen take advantage of the shallow lake margins to fish for carp, catfish, brook trout, lake trout, brown trout, pike, perch and zander. Boats and equipment can be rented in several places along the shore. Most towns have boat launch facilities, and there are several full-service marinas for launching larger boats.
Numerous resorts and holiday lodgings dot the shoreline, while those wishing to experience nature on a closer basis can avail themselves of space in a campground or caravan park. As is common in Swiss resort areas, sports of all types are well-represented, with hiking, cycling and mountain biking trails in large numbers. The City of Biel holds no less than 100 sports venues and facilities, including an ice stadium where curling takes place. Sailboat racing occurs here on a regular basis, and mountain bike racing is becoming ever more popular. Winter is nearly as busy as summer for outdoor activities, with guided night snowshoeing tours, cross-country skiing and skating. The nearby Jura Mountains provide several convenient downhill skiing locations, making the hostels and gasthaus facilities along the lake popular ski quarters.
Lake Biel-Bienne has been the site of human habitation for a very long time. Luscherz on the south shore is home to the Museum of The Crannog which portrays the typical lives of ancient peoples who lived on the shore of the lake from 4000 BC until about 800 AD. The City of Biel/Bienne's Schwab Museum also presents exhibits of prehistoric and archeological subjects from the immediate region. Neuhaus Museum in Biel/Bienne documents the history of the industrial arts in the Lake Biel-Bienne area, along with art exhibits and objects of interest. Philosopher Jean-Jacques Rousseau spent much time on Sankt Petersinsal (St Peters Island), a detached peninsula jutting from the western end of the lake. His former residence now houses an inn and restaurant. And the north shoreline has long been home to many vineyards; the Vintage Museum in Luscherz explores in detail the growing of wine grapes. Other settlements along the shore offer interesting historic ruins and exquisite examples of medieval architecture. Once past the gleaming modern towers of Biel/Bienne's modern technology and communications industry, the well-preserved Old Town clings to the hillside as it has for hundreds of years. Here, residences look remarkably like they did in the 16th and 17th centuries. Biel/Bienne also contains many arts venues, music and concert halls, and plenty of nightlife to keep the visitor happy.
Deed recordings for the Nidau Castle go back as far as 1196, evidence of Lake Biel-Bienne's importance to the area. The small city of Nidau on the northeast shoreline stood on one of the major early east-west trade routes, from the south of France and Savoy via Geneva and Lausanne, across the cantons of Aargau and Zurich, leading to the Rhine. The Nidau ports on Lake Biel and Thielle River remained of great importance until the 19th Century. The castle now serves as a water-related museum: the massive water project known as the Jura Water Correction completely changed the face of the formerly-marshy lands of the Swiss Plateau. Much of the Aare River was dredged, channeled and re-directed, beginning in the 1800s. Where the Aare had once entered Lake Biel-Bienne, a delta had formed and was often blocked by sediment, flooding the surrounding land and diverting the river. A permanent channel was dug to Lake Biel-Bienne and an outflow channel was dug near Nidau to drain water out of the area lakes. The Thielle River was channelized between Lake Biel-Bienne and Lake Neuchatel. The new channel allowed shipping to Lake Neuchatel and beyond to Lake Murten. The outflow channel of the Thielle River has a water control structure near the city of Port which controls water levels on all three lakes. These improvements in drainage opened thousands of acres to agriculture and are considered some of Switzerland's most important water projects. The Nidau Castle Museum details this important effort to control the hydrology and the economic future of Switzerland. Improvements are continually being made to protect the environment – an effort that has paid off with the international recognition of the small town of Altreu as a European Stork City. Tours to view the storks nesting on the village rooftops are a popular excursion.
Whether for business or pleasure, a trip to Lake Biel-Bienne will provide many hours of enjoyment and pleasure. Vacation rentals such as holiday houses, chateaus, farm holiday rentals and chalets are always available. Real estate is sometimes available for purchase in the area and, as the region becomes more popular for tourism, often is quickly sold. A holiday at Lake Biel-Bienne will quickly convince the first-time visitor that Lake Biel-Bienne is worthy of elevation to 'favorite' status. Make Lake Biel-Bienne your home-away-from-home.
Custom Lake Biel-Bienne house decor
Read our full review of these personalized lake house signs.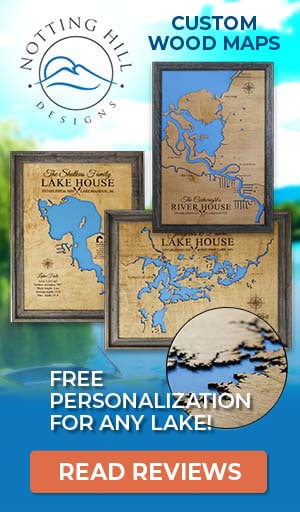 Things to do at Lake Biel-Bienne
Vacation Rentals
Fishing
Boating
Sailing
Swimming
Kayaking
Water Skiing
Wind Surfing
Camping
Campground
Hiking
Biking
Downhill Skiing
Cross-Country Skiing
Museum
Ruins
Fish species found at Lake Biel-Bienne
Brook Trout
Brown Trout
Carp
Catfish
Lake Trout
Perch
Pike
Trout
Zander
---
Best hotels and vacation rentals at Lake Biel-Bienne
The Lake Biel-Bienne map shown above is a simple and stress-free way to search for trip accommodations. But if you want to take a deeper dive to find the ideal waterfront home, cabin, condo, hotel or resort, visit our favorite lodging partners by clicking the buttons below.
Note: These are affiliate links so we may earn a small commission if you book through them. While there is no extra cost to you, it helps provide resources to keep our site running (thank you)! You can read our full disclosure policy here.
---
Lake Biel-Bienne photo gallery
New photos coming soon!
Lake Biel-Bienne statistics & helpful links
We strive to keep the information on LakeLubbers as accurate as possible. However, if you've found something in this article that needs updating, we'd certainly love to hear from you! Please fill out our Content Correction form.
Advertise your Lake Biel-Bienne vacation rental
LakeLubbers will soon offer homeowners and property managers the opportunity to to showcase their vacation rentals to the thousands of lake lovers searching our site daily for accommodations. If you'd like additional details, please contact our advertising team here.
Looking for the Lake Biel-Bienne forum?
LakeLubbers previously offered visitors the ability to create accounts and participate in lake forums. When we overhauled the site's content management system in 2021 we had to disable those features. We're evaluating options and welcome your comments and feedback here.
We also encourage you to join our lake-lovin' community on Facebook and Instagram!
Spread the word! Share our Lake Biel-Bienne article with your fellow Lake Lubbers!