Lake Eloise, Florida, USA
Lake Locations:
USA - South - Florida - West Central -
Also known as:  Winter Haven Chain of Lakes, Southern Chain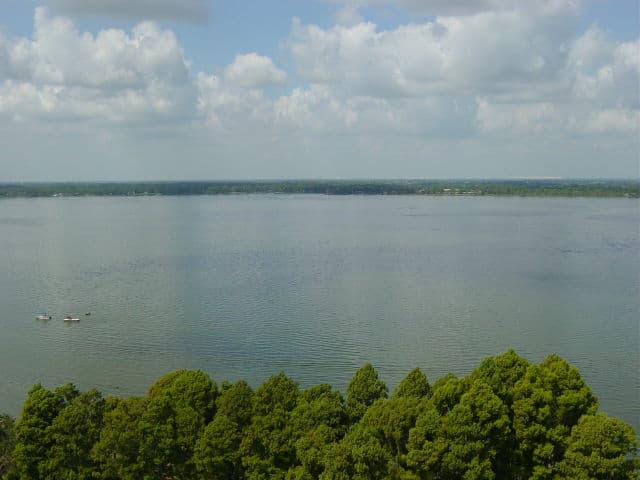 Bald cypress trees dripping with Spanish moss reach out of the water near the shore of Lake Eloise. The cottage-dotted shoreline harkens back to a time much more in tune with Esther Williams, one piece swimming costumes, and bathing caps than string bikinis and South Beach. Lake Eloise in West Central Florida is a beautiful reminder of the old Florida that gave birth to the state's tourist industry.
Lake Eloise is one of 554 lakes in Polk County and part of the Winter Haven Chain of Lakes. Divided into the Northern Chain and Southern Chain, the Winter Haven Chain of Lakes is made up of 19 interconnected lakes clustered around the City of Winter Haven. The Northern Chain includes Lakes Haines, Rochelle, Conine, Smart and Fannie. Lakes Jessie, Idylwild, Hartridge, Cannon, Mirror, Spring, Howard, May, Shipp, Lulu, Roy, Eloise, Summit, and Winterset make up the Southern Chain.
There are several water control structures on the chain that are used by the Lake Region Lakes Management District (LRLMD) to control and maintain water levels including those on Lake Eloise. The Winter Haven Chain of Lakes are all connected by navigable manmade canals. Originally, some of the lakes were connected by swampy wetlands and natural channels, but none of them were navigable by boat. In 1915 the Twenty Lakes Boat Course Club decided to build the canals to connect the lakes. Eventually the Florida Legislature established the Winter Haven Lake Region Boat Course District that took over construction and maintenance on the canals and was granted power to levy taxes. In 1948 the canals were reinforced with seawalls to prevent erosion to the property along them. The primary reason for constructing the Winter Haven Chain of Lakes was for boating and recreation.
Recreation has been an important industry in Polk County since the early 1900's, and Lake Eloise is home to one of Florida's earliest tourist attractions. Cypress Gardens, opened in 1936 by Dick Pope, Sr., is on the eastern shore of Lake Eloise. Originally comprised of 37 acres of gardens and canals, the park has grown to 167 acres and is home to 8,000 varieties of plants from over 90 countries. Pope started his world-famous water ski shows on Lake Eloise as a way to entertain nearby troops during World War II. The park was expanded in the 70's and 80's to compete with Disney and has been the backdrop to Elvis movies and the Esther Williams TV show. In the fall of 2009, Cypress Gardens closed, ending over 70 years of entertainment. It is on the register of historic places, however, and has reinvented itself several times already. The Florida landmark is sure to continue in some form.
In addition to water skiing and boating, Lake Eloise is a fantastic place to fish. The lake is full of bluegill, crappie, and largemouth bass. Access to the lake is by canal only, but there are several boat ramps nearby including some on Lake Summit and Lake Roy. With 1,178 acres of water, there is room for fishing, boating and all kinds of water sports.
The Winter Haven Chain of Lakes wrap around the City of Winter Haven. Also known as the "Chain of Lakes City," Winter Haven is the self proclaimed "Water Ski Capital of the World." Winter Haven has museums, restaurants and various accommodation and access to any amenities a visitor might need. It is less than an hour from all the attractions of Disney and Orlando. Lake Eloise and the other chain lakes are surrounded by residential development and lakefront vacation rentals. There is lakefront real estate for sale on several of the lakes. Polk County has museums, shopping and restaurants all while maintaining its nostalgic appeal. It is also home to the Bok Tower Gardens. The National Historic Landmark includes a 205-foot tall, neo-gothic, art deco, singing tower along with acres of gardens and a nature observatory.
Lake Eloise and the surrounding Winter Haven Chain of Lakes don't move with the frenzy of other Florida tourist attractions. The beautiful water and exotic plants that called visitors to the area originally, however, still call to them today. Lake Eloise has all the charm of a picture postcard of a pyramid of water skiers proclaiming "Wish you were here."
Things to do at Lake Eloise
Vacation Rentals
Fishing
Boating
Swimming
Beach
Water Skiing
Museum
Shopping
Fish species found at Lake Eloise
Bass
Black Bass
Bluegill
Crappie
Largemouth Bass
Sunfish
---
Lake Eloise Photo Gallery
Lake Eloise Statistics & Helpful Links
Spread the word! Share our Lake Eloise article with your fellow Lake Lubbers!