Lake Crosby, Florida, USA
Lake Locations:
USA - South - Florida - North -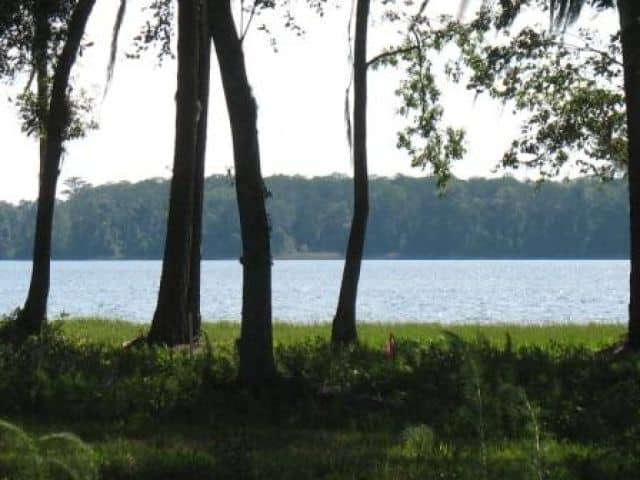 Lake Crosby is located in the heart of Bradford County, in Florida's North tourism region. It features an average depth of 15 feet, and a consistent water level that rarely fluctuates more than three feet at any given time. The lake is situated at the top of a sort of triangle, with its sisters Lake Rowell and Lake Sampson to the south and southwest. These three bodies of water, along with Lake Hampton farther south, are all a part of the Suwannee River Water Management District.
While swimming, water skiing, jet skiing and boating are some of Lake Crosby's most exciting pastimes, sport fishing easily takes the cake as the lake's most popular activity. Yearling bass, catfish, speckled perch and black crappie are by far its most prevalent species; local anglers recommend using artificial worms and float-diving lures for successful baiting. Next door at Lake Sampson, fly and wade fishing are phenomenal; panfish and largemouth bass are particularly plentiful here. Vegetation throughout this 2,042-acre body of water includes water lilies, cattails, eelgrass, hydrilla and maidencane grass – all of which attract fish galore. Lake Sampson is connected to the smaller Lake Rowell via canal. With a surface area of 364 acres, this eutrophic lake hosts a variety of fish and plant life. It also features a maximum depth of six feet and an impressive population of largemouth bass and crappie.
Due south of Lake Crosby lies the Santa Fe Swamp Conservation Area, a 5,70-acre tract of land dedicated to protecting the flora and fauna of the Florida marsh. Wildlife watching, horseback riding, biking, and hiking are the primary pastimes at the park. Hunting for deer, rabbit, hog and turkey is secondary – but only permitted with primitive weapons like bows and arrows. Just north of Lake Bulter, the Raiford Wildlife Management Area is home to birds and animals like the red-tailed hawk, eastern cottontail rabbit, and gopher tortoise.
The Ocala National Forest is a great day trip from Lake Crosby, situated about an hour and a half south by car. Camping reigns supreme in this woodland wonderland, with sites ranging from basic tent grounds to complex RV hook-ups. Facilities include showers, grills, picnic areas, and restrooms. Swimming, water skiing, bicycling, boating, and wildlife watching are incredible at Ocala, as is hiking. The forest encompasses 67-miles of the Florida Trail, a scenic 1,400-mile trek across the state. For day trippers, several shorter loops are also available. The St. Francis Trail features two circles measuring 11.5 miles in combined length, and the intense Paisley Woods Bike Trail boasts a breathtaking 22 miles.
East of Lake Crosby and on the banks of the almost perfectly-circular Kingsley Lake, you'll find Camp Blanding – an important training center for the Florid National Guard. The base was founded in 1939, during the second World War. An on-site museum chronicles the fascinating story of the camp's past, present and possible future. Interestingly enough, Camp Blanding was the site of the 1997 film "G.I. Jane," starring Demi Moore.
Lake lovers have not experienced a truly magnificent twilight on the water until they have seen the sun set on Lake Crosby . Soft shades of pink fade to purple and orange as the sun falls below the horizon line, with millions of trees reflected in the shimmering ripples along the lake's surface.
Things to do at Lake Crosby
Fishing
Boating
Swimming
Jet Skiing
Water Skiing
Camping
Picnicking
Hiking
Biking
Horseback Riding
Hunting
Wildlife Viewing
Birding
National Forest
Museum
Fish species found at Lake Crosby
Bass
Black Bass
Black Crappie
Catfish
Crappie
Largemouth Bass
Perch
---
Lake Crosby Photo Gallery
Lake Crosby Statistics & Helpful Links
Spread the word! Share our Lake Crosby article with your fellow Lake Lubbers!