Lake Coatepeque, El Salvador
Lake Locations:
Also known as:  Coatepeque Lake, Laguna de Coatepeque, Lago de Coatepeque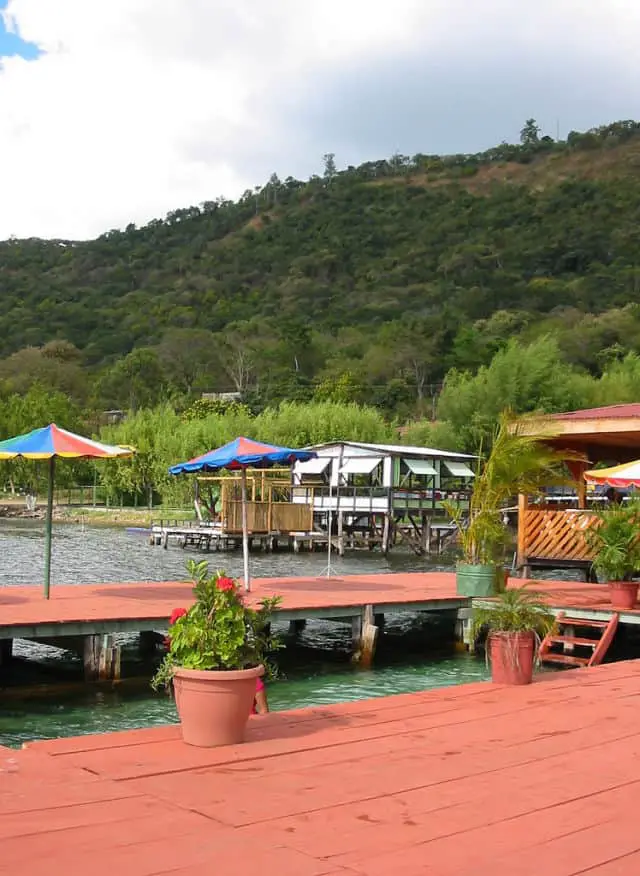 Considered one of the world's most beautiful lakes, Lake Coatepeque is found in a caldera among a chain of volcanic peaks in northwest El Salvador. Surrounded by lush landscape and private beach houses, Lake Coatepeque (also called Lago de Coatepeque and Laguna de Coatepeque) is a vacation paradise waiting for those with a spirit of adventure. Ideal for all water sports, this lapis colored lake is located 25 miles (40 Kilometers) northwest of the capital city of San Salvador and 11 miles (18 kilometers) south of Santa Ana.
Coatepeque Caldera was created by two eruptions, collapsing the mountain peak approximately 70,000 and 50,000 years ago. The last volcanic activity at Lake Coatepeque is believed to have been approximately 10,000 years ago. Today the only evidence of volcanic activity at Coatepeque are small fumaroles and hot springs found on domes (Isla del Cerro, Cerro Pacho and Cerro Afate) at the southern end of the lake.
Lago de Coatepeque is considered a closed basin lake. While no outlet has been identified, some believe water from the lake may be finding its way to an underground river that connects to El Salvador's Rio Agua Caliente. Part of the Central American volcanic chain, Coatepeque crater sits on the eastern slope of 7,812-foot (2,381 meter) Santa Ana volcano. Forming an oval shape in a northeast to southwest direction, Laguna de Coatepeque measures 3 x 4 miles (5 x 6 kilometers) with a depth of 394 feet (120 meters). Fed by rainfall and mountain runoff, water level fluctuations up to 33 feet (10 meters) have been measured and are thought to be associated with movement along the region's fractures and fault lines.
History buffs will want to explore two small peninsulas found at the northeast side of the 12-mile shoreline. These features, along with the southern island of Isla del Cerro (also called Teopan), are said to have played an important role in Mayan culture. Archeological findings point to structures being built in worship of the Mayan goddess Ixqueye (Itzcueye).
From the ancient shores caldera slopes rise anywhere from 820 feet (250 meters) to 3117 feet (950 meters) above Lago de Coatepeque. Visitors will want to stop at viewpoints along the two rim roads to photograph spectacular views of Lake Coatepeque on one side or lush green hillsides displaying coffee plantations and sugar cane fields on the other.
While large homes with beautifully landscaped lawns circle the lake in growing numbers, Coatepeque Lake remains a quiet retreat within El Salvador's department of Santa Ana. With over 400,000 people living in nearby Santa Ana and close to two million people in San Salvador, Lake Coatepeque is attracting people looking for second homes, vacation rentals and real estate properties. From private docks or open lake shores, residents and visitors can enjoy sailboats, kayaks, canoes, personal water craft, or powerboats pulling water skiers. Crystal clear water draws swimmers and scuba divers with lake front hotels offering sunbathing beaches for landlubbers.
Lake Coatepeque is home to a variety of fish including catfish, guapote and zebra fish. On a quiet day you will find local fishermen casting lines from both shore and fishing boats, but if you are a serious game fisherman you will want to head for the coast. From Laguna de Coatepeque you are only an hour away from Los Cobanos, home to the Los Cobanos Coral Reef and a large number of game fish including rooster jack, snapper and Spanish mackerel. If you are up to the challenge, El Salvador hosts an annual billfish tournament drawing international participants.
If you continue exploring outside Coatepeque Lake, you will find Parque Nacional Cerro Verde immediately west of the lake. Along the park's scenic drives, photographers will enjoy stopping at viewpoints offering exceptional panoramic vistas of Cerro Verde, Santa Ana and Izalco volcanic peaks. Cerro Verde National Park is also a bird sanctuary, providing habitat to over 120 bird species including emerald toucanets, woodpeckers, motmots, quetzals and 17 species of hummingbird.
The cities of El Salvador set a very different pace from Lake Coatepeque. The government of El Salvador recognizes that criminal activity has been a serious problem throughout the country, but on the whole Salvadoreans are welcoming and friendly. If you follow recommended precautions, the cities of Santa Ana and San Salvador offer a wide selection of entertainment from handicraft shops, museums and restaurants to an active nightlife. Enjoy the adventure and come to Lake Coatepeque where you will discover some of the world's most spectacular scenery, an ancient culture and a renewal of spirit.
Things to do at Lake Coatepeque
Vacation Rentals
Fishing
Boating
Sailing
Swimming
Beach
Canoeing
Kayaking
Water Skiing
Scuba Diving
Birding
National Park
Museum
Fish species found at Lake Coatepeque
Catfish
Mackerel
Rainbow Bass
---
Lake Coatepeque Photo Gallery
Lake Coatepeque Statistics & Helpful Links
Spread the word! Share our Lake Coatepeque article with your fellow Lake Lubbers!