Lago de Ilopango, El Salvador
Lake Locations:
Also known as:  Ilopanga Lake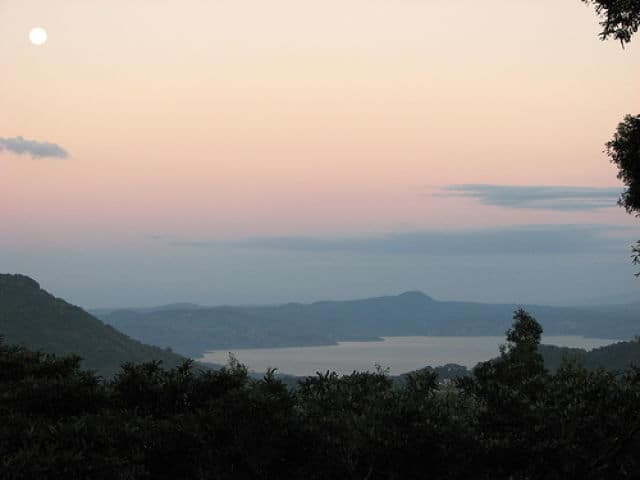 With nearly 18,000 acres of shimmering water, Lago de Ilopango is one of El Salvador's best-kept secrets. Created 15 centuries ago when the caldera of a Holocene-era volcano collapsed, the water-filled crater now provides scenic beauty and water-based recreation to those lucky enough to find it. It is the largest natural lake in the country. The Ilopango volcano last erupted in 1880 when a volcano dome pushed up from the lake's floor to the surface, creating small islands called the Islas Quemadas. Small beaches squeeze between towering cliffs as high as 1,600 feet in places-the rim of the old caldera. The view of San Vicente volcano across the lake in the distance leaves observers with a sense of a primitive and changing jungle landscape, much as the ancient Mayans must have seen it.
Located only about 10 miles from the capital city of San Salvador, Lago de Ilopango is accessible by bus or taxi. Swimming is available at one of the small public beaches near the community of Apulo along the southwest shore. The public beaches are often crowded with local children and may be poorly maintained, in stark contrast to the immaculate private lake houses. Small boats can be rented here, and several outdoor restaurants offer food and snacks. Boat tours of the lake are available for a fee. There doesn't appear to be any type of public marina at the lake, but local tourist businesses and vacation rental owners often supply such amenities as docks, pontoon rafts, kayaks, personal watercraft and ski boats. A golf club offers its lovely views to members and guests.
Fishing at Lago de Ilopango is reported to be productive, particularly for tiger bass. Charter fishing companies in the area can arrange angling trips. Other small fish are caught for local consumption, but there is no true commercial fishing at Ilopango Lake. As with many lakes of great depth, deeper waters do not support much aquatic life, because vegetation can not grow where little sunlight penetrates. Lago de Ilopango reaches depths of 750 feet, so vegetation and fish habitat are mostly in shallow waters near shore and around the islands. Local fishermen still employ ancient methods of free-diving to catch fish here on occasion. Scuba diving is a popular sport at the lake; divers enjoy the great visibility the clear waters offer and enjoy exploring the steep rock ridges that continue from above the lake down into the depths. Local dive shops in San Salvador arrange dive expeditions to the lake and often rent equipment and provide guides.
With a number of private vacation rentals located along the shoreline, Lago de Ilopango can provide an ideal base for an El Salvadorian vacation. The vacation lodgings are usually upscale homes with beautiful views, plenty of amenities and often include housekeepers or cooks who can see to the guests' needs. Although a small country, El Salvador has a great many interesting spots within a short distance that no visitor will want to miss. The attractions of the Pacific beaches are well-known and less than 25 miles from Ilopango Lake. One of the closest is also one of the best-known surfing beaches: Libertad beach (Port of La Libertad) offers great surfing, plenty of seaside restaurants, small shops and deep sea fishing charters. The old village of Ilobasco is well-known for its handicrafts and ceramics. Only 30 miles north of San Salvador, no visitor can leave the country without at least one souvenir from Ilobasco.
Adventurous visitors will want to trek to the top of El Pital, several miles east of San Salvador. Straddling the Honduras border, the mountain is the highest point in El Salvador at 8,957 feet. El Pital has great hiking trails, camping areas and a far cooler climate than areas near the coast. Expect to pay fees as this is privately-held property, but the fees are very reasonable. There are commercial zip-line facilities near Lago de Ilopango, and paragliding is available in the nearby highlands. Hotels and resorts near the national parks and national forests arrange eco-tours, and all areas along the coast are well-supplied with hotels, resorts and tourist lodgings in a wide variety of prices and amenities.
Those with an interest in the history of El Salvador won't want to miss visiting the UNESCO World Heritage site Joya de Ceren. Called the "Pompeii of the Americas", this excavated Mayan town was buried in ash hundreds of years ago when a nearby volcano erupted. Fleeing Mayans escaped with their lives but little else, leaving everything to be permanently preserved under a heavy layer of ash. So far nearly 15 buildings have been unearthed to display much about Mayan life, including food still stored on shelves in the houses and sauna baths built for ritual use. San Salvador also features numerous palaces and public buildings showcasing its rich history, an archeology museum, theater and many cultural and arts venues. Smaller cities often feature colorful festivals and pageants honoring saints and local heroes.
Lago de Ilopango is reputed to be a somewhat harsh master of the immediate environment, as the caldera collapse between 410 and 535 AD forced the demise of nearby Mayan cities. Flooding destroyed beach houses as late as 1928, and the low-lying portions of the lakeshore are prone to flooding during heavy rains. Today, Lago de Ilopango is silent and serene, pleased to entertain visitors and on its best behavior to show off El Salvador to new friends. It extends an invitation to you.
Things to do at Lago de Ilopango
Vacation Rentals
Fishing
Boating
Swimming
Beach
Kayaking
Scuba Diving
Golf
Camping
Hiking
National Park
National Forest
Museum
Fish species found at Lago de Ilopango
---
Lago de Ilopango Photo Gallery
Lago de Ilopango Statistics & Helpful Links
Spread the word! Share our Lago de Ilopango article with your fellow Lake Lubbers!