Lake Chivero, Zimbabwe
Also known as:  Chivero Reservoir, Lake McIlwaine, McIlwaine Reservoir
Welcome to the ultimate guide for history, statistics, local fun facts and the best things to do at Lake Chivero.
If you're considering Lake Chivero vacation rentals, we've made it super easy to explore accommodations and nearby hotels using the interactive map below. Simply click on a listing to compare similar properties, best rates and availability for your dates. Or keep scrolling to read our Lake Chivero guide!
Lake Chivero visitor and community guide
The Lake Chivero reservoir serves as the main water supply for Zimbabwe's capital city, Harare. Although only half a century old, Lake Chivero has already become a vital part of the fabric of everyday life in northeastern Zimbabwe. Not only is the nearly 6500-acre reservoir used for drinking water and irrigation, a booming fishing industry brings tourists to the many resort properties that have sprung up along the lakeshore. Although most visiting anglers seek primarily tiger fish, the lake also holds grass carp, black bream, clarius garicpinus (a species of air-breathing catfish), yellow fish (exactly what species this is isn't clear), green-headed bream, robustus, barbel, Hunyani salmon, aquilla, oreochomus niloticus and nebulosa. All are caught commercially and are a major part of the local diet. A number of fishing resorts along the shore rent boats and offer guided fishing trips. Non-fishermen in the party take advantage of the tours into Lake Chivero Recreational Park.
An environmental protection feature built as a buffer zone to prevent sedimentation of the reservoir, 4,600-acre Lake Chivero Recreational Park is a designated part of the larger Zimbabwe Parks and Wildlife Estate, the country's system of wildlife reserves. Opened in 1962, much of the game was brought into the park from Hwange National Park and as part of a rescue operation from the Lake Kariba region. A number of lodges and resorts serve the Recreational Park, offering fishing, hiking, horseback tours, driving tours and pleasure boating. Boats are available for rent from several lakeside concessions. Easily sited on the guided tours are giraffe, zebra, white rhino, kudu, wildebeest, waterbuck, tsessebe, eland, ostrich, sable, baboon, monkey, duiker, warthog, bush pig, rock hyrax, scrub hare, spring hare, bush squirrel and others. Guided night tours offer the opportunity to observe a variety of nocturnal animals that include civet, genet, black-backed jackal, porcupine, slender white tailed mongoose, caracal, pangolin, ant bear, serval, bush baby and night ape.
Several bird species can be seen in Lake Chivero Recreational Park. Among them are kingfisher, grey heron, barbets, bee-eaters, African open bills, cormorants, doves, Goliath heron, hamerkops, jacanas, coots, darter, buzzards, fish eagle, lilac-breasted roller and glossy starling. There are several rock painting sites in the park, including one at Bushman's Point which is readily accessible via a short walk. The park is divided into two branches, called the North and South Bank. The Msasa caravan and camping site is located at North Bank which is about 18 miles from Harare. Botanical gardens near the dam area are very popular with visitors. A number of yacht clubs and sailing clubs are scattered along the shoreline, most of which offer guest facilities, and a public mooring site is managed by the Recreational Park.
Lodgings are plentiful at Lake Chivero and are offered with a wide range of amenities. Several are self-catering bungalows, while others are more formal lodges, with pools, WiFi and other 'big-city' amenities. Because of the current political situation, those wishing to visit should only travel with well-recognized and experienced tour guidance and likely not strike out on their own.
In the 1970s and 1080s, Lake Chivero began to suffer from eutrophication and diminished water quality. A coordinated and concerted effort to provide more protection for the lake made major strides toward cleaning the water and clearing algae. The effort was a resounding success; the lake returned to a stable and relatively clean state. Now, Lake Chivero faces an even bigger threat – one that is more difficult to correct because of changes in the government structure and lack of dedicated funding to solve the problems. Following independence from the United Kingdom in 1980, inexperience in self-government and bitter infighting have exacerbated the problems seen previously to a much greater degree. An unstable government has made it difficult for resort businesses to operate, reducing tourist visits and their much-needed dollars. Land redistribution schemes have displaced many former businesses and leaders, who took with them their educated understanding of the issues and their access to possible solutions. Lack of regulatory oversight under the current government resulted in the deaths of 11 children on a holiday boat tour of the lake in December 2011.
The story of Lake Chivero, Zimbabwe, then, is one of great promise and great tragedy. The reservoir was created in 1952 when the Hunyanipoort Dam was built across the Hunyani River to serve as water supply to the capital city, Harare. Originally named Lake McIlwaine in memory of Sir Robert McIlwaine who founded Zimbabwe's soil and water conservation movement, the lake was renamed when British colonial rule ended and the former Rhodesia became Zimbabwe. When the reservoir was built, Harare had a population of only 400,000 people and an adequate, well-run sewage treatment system. The urban population has since exploded to over 1.6 million people in the watershed. At the same time, revenues for sewer projects and maintenance, governmental administration, and organized cooperation between stakeholders has vanished.
Lake Chivero has borne the brunt of such disorganization, with multiple sources of pollution flowing unchecked into the once-pristine waters. So much water has been drawn from inflowing streams that there is little fresh water to dilute run-off and sewage much of the year, so the concentrations of toxins continues to grow. Health authorities worst fears were recognized a few years ago when cholera, previously nearly eradicated, began to fell hundreds of city dwellers. Currently the problem is ongoing: international aid organizations are attempting to provide relief and mitigation, but the government of Robert Mugabe has not been very cooperative. The good news is that there is already a pattern and track record of improving the water quality in Lake Chivero as was done in the 1980s. It can be done again, with good governance. Only time will tell when the healing will begin.
Custom Lake Chivero house decor
Read our full review of these personalized lake house signs.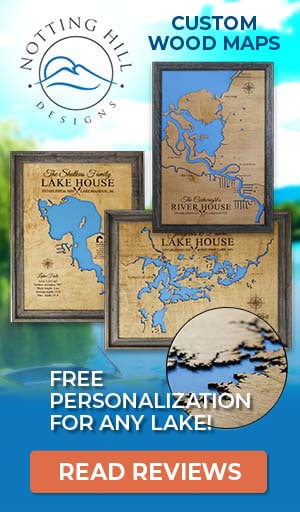 Things to do at Lake Chivero
Vacation Rentals
Fishing
Boating
Sailing
Camping
Hiking
Horseback Riding
Wildlife Viewing
Birding
National Park
Fish species found at Lake Chivero
Barbel
Carp
Catfish
Darter
Grass Carp
Perch
Salmon
Tiger Fish
---
Best hotels and vacation rentals at Lake Chivero
The Lake Chivero map shown above is a simple and stress-free way to search for trip accommodations. But if you want to take a deeper dive to find the ideal waterfront home, cabin, condo, hotel or resort, visit our favorite lodging partners by clicking the buttons below.
Note: These are affiliate links so we may earn a small commission if you book through them. While there is no extra cost to you, it helps provide resources to keep our site running (thank you)! You can read our full disclosure policy here.
---
Lake Chivero photo gallery
New photos coming soon!
Lake Chivero statistics & helpful links
We strive to keep the information on LakeLubbers as accurate as possible. However, if you've found something in this article that needs updating, we'd certainly love to hear from you! Please fill out our Content Correction form.
Advertise your Lake Chivero vacation rental
LakeLubbers will soon offer homeowners and property managers the opportunity to to showcase their vacation rentals to the thousands of lake lovers searching our site daily for accommodations. If you'd like additional details, please contact our advertising team here.
Looking for the Lake Chivero forum?
LakeLubbers previously offered visitors the ability to create accounts and participate in lake forums. When we overhauled the site's content management system in 2021 we had to disable those features. We're evaluating options and welcome your comments and feedback here.
We also encourage you to join our lake-lovin' community on Facebook and Instagram!
Spread the word! Share our Lake Chivero article with your fellow Lake Lubbers!