Lake Carmi, Vermont, USA
Also known as:  Franklin Pond
Welcome to the ultimate guide for history, statistics, local fun facts and the best things to do at Lake Carmi.
If you're considering Lake Carmi vacation rentals, we've made it super easy to explore accommodations and nearby hotels using the interactive map below. Simply click on a listing to compare similar properties, best rates and availability for your dates. Or keep scrolling to read our Lake Carmi guide!
Lake Carmi visitor and community guide
Lake Carmi represents the mental picture most have of a northern New England 'camp' lake. Hidden just south of the Canadian border in Vermont's Islands and Farms Region, Lake Carmi holds over 200 seasonal cottages or 'camps' along its 7.5-mile shoreline. Lake Carmi State Park lays claim to another portion of the shore, while Franklin Bog Wetland anchors a portion of the south shore. There are some year-round residences on the lake, but new zoning regulations do not encourage permanent residences in an effort to protect water quality. Many of the camps have been in the same family for generations, and property owners present a strong sense of community. The Lake Carmi Campers Association, in existence since the 1950s, was instrumental in having a dam built across the outlet in 1966 to regulate the lake level. The still-active association publishes newsletters for members several times a year. The dam was rebuilt in 1970 a half-mile downstream of the outlet creek at the mill pond. The resultant stable water level protects the viability of the Franklin Bog, the third largest peat bog in Vermont.
The 1400-acre lake is relatively shallow and warms quickly, making it ideal for swimming. Summer residents and visitors enjoy sailing, water skiing, jet skiing, pontooning, windsurfing, canoeing and kayaking. Always a fine warm-water fishery, anglers pursue northern pike, walleye, perch, smallmouth bass and panfish. The lake itself is owned by the Vermont Department of Environmental Conservation and stocked on a regular schedule. Increased attention to environmental conditions and natural habitat has encouraged nearly 60 mating pairs of loons to call Lake Carmi home for the past several years. A variety of ducks, geese and such large water dwellers as great blue heron and bald eagles are regularly seen at the lake. The state cautions summer residents not to feed these water birds as it upsets the natural balance. Winter brings fewer visitors for ice fishing, skating and winter trekking on the ice to observe wildlife that winter here. Especially enjoyable is an early morning hike around the lake margins after a fresh snow to see what has passed that way recently. Children enjoy learning about the various tracks and the habits of these hardy winter lake inhabitants.
Lake Carmi State Park provides a place for non-camp residents and visitors to access both the water and the surrounding countryside. With 588 acres, the park allows visitors to camp, swim, picnic and enjoy boating and fishing using the park as an entry point. The park is well-supplied with hiking trails and nature viewing. The park also holds a playground and rents boats during the summer months. In winter, the park's trails are available for cross-country skiing and snowshoeing even though the park is officially closed. Parts of the park are available for hunting in season.
Even in winter, some Lake Carmi camps are in use as convenient lodgings for nearby ski areas such as Jays Peak, Stowe and Smuggler's Notch – all within about a half-hour's drive. Vermont has a large network of groomed snowmobiling trails. Local snowmobile clubs always welcome new visitors and can provide maps and organized runs. The Missisquoi National Wildlife Refuge near Swanton provides 6,729 acres including most of the Missisquoi River delta where it flows into Missisquoi Bay. The refuge attracts large flocks of migratory birds and is highly prized by bird watchers. The Missisquoi Valley Rail Trail passes nearby in South Franklin and offers over 26 miles of limestone-surfaced trailway for walking, bicycling, skiing, horse riding, snow shoeing and snowmobiling. The occasional bout with 'cabin fever' can be cured with a trip to St Albans, 20 miles away. Here, the Lake Carmi visitor can grab a movie or a special meal at one of the specialty restaurants, shop, browse several galleries or visit the Historical Museum. During the Maple Festival each spring, the museum offers a variety of special events such as a huge antique show.
Originally named Franklin Pond, Lake Carmi was renamed in 1910 by the Vermont State legislature in honor of a former Senator and Franklin resident, Carmi Marsh. By this time, the lake was known as a resort location, popular for Adirondack-style camps and resort hotels. The lake was well-known for Thursday night dances which attracted young dancers from the surrounding area and St Albans, 20 miles away. By the 1940s, the lake boasted a bowling alley and roller skating rink. Many of the returning yearly campers attended these activities in their youth and are always willing to regale the visitor with stories of Lake Carmi's Past.
Vacation rentals are abundant at Lake Carmi. A loose association of rental owners keeps the locals abreast of which camp might be available even when they are themselves completely booked. The surrounding area is supplied with a number of bed-and breakfasts and country inns set among the dairy farms. The larger towns have hotels available, and Lake Carmi State Park has a limited number of camping cabins available for rent. Some real estate is available as camps are sold, and off-water property is often found in the area. A better New England north-country location can't be found for your next vacation. Make your plans for a Lake Carmi vacation now. You'll remember it for a lifetime.
Custom Lake Carmi house decor
Read our full review of these personalized lake house signs.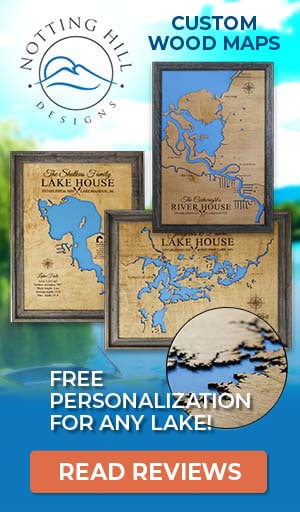 Things to do at Lake Carmi
Vacation Rentals
Fishing
Ice Fishing
Boating
Sailing
Swimming
Canoeing
Kayaking
Jet Skiing
Water Skiing
Camping
Picnicking
Cabin Rentals
Hiking
Biking
Cross-Country Skiing
Snowmobiling
Horseback Riding
Hunting
Wildlife Viewing
Birding
National Wildlife Refuge
State Park
Museum
Playground
Antiquing
Fish species found at Lake Carmi
Bass
Black Bass
Northern Pike
Perch
Pike
Smallmouth Bass
Walleye
---
Best hotels and vacation rentals at Lake Carmi
The Lake Carmi map shown above is a simple and stress-free way to search for trip accommodations. But if you want to take a deeper dive to find the ideal waterfront home, cabin, condo, hotel or resort, visit our favorite lodging partners by clicking the buttons below.
Note: These are affiliate links so we may earn a small commission if you book through them. While there is no extra cost to you, it helps provide resources to keep our site running (thank you)! You can read our full disclosure policy here.
---
Lake Carmi photo gallery
New photos coming soon!
Lake Carmi statistics & helpful links
We strive to keep the information on LakeLubbers as accurate as possible. However, if you've found something in this article that needs updating, we'd certainly love to hear from you! Please fill out our Content Correction form.
Advertise your Lake Carmi vacation rental
LakeLubbers will soon offer homeowners and property managers the opportunity to to showcase their vacation rentals to the thousands of lake lovers searching our site daily for accommodations. If you'd like additional details, please contact our advertising team here.
Looking for the Lake Carmi forum?
LakeLubbers previously offered visitors the ability to create accounts and participate in lake forums. When we overhauled the site's content management system in 2021 we had to disable those features. We're evaluating options and welcome your comments and feedback here.
We also encourage you to join our lake-lovin' community on Facebook and Instagram!
Spread the word! Share our Lake Carmi article with your fellow Lake Lubbers!