Lake Brienz, Bern, Switzerland
Lake Locations:
Switzerland - Bern -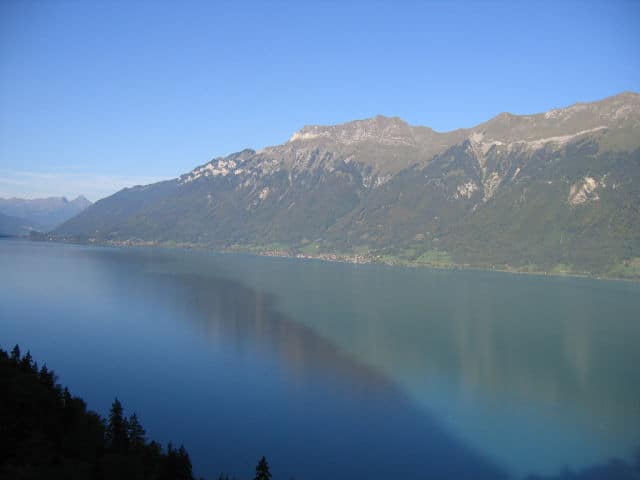 Lake Brienz (Brienzersee in Swiss) displays beautiful turquoise and emerald hues, colors often associated with shallow Caribbean waters. However, Lake Brienz is not shallow, plunging to depths of around 800 feet. Its beautiful colors result from glacial particles known as "rock flour" that reflect the blue-green sector of the light spectrum.
Surrounded by mountains that jut steeply out of the water to great heights, Lake Brienz is located in Switzerland's Bernese Oberland, a highland region where tiny charming villages have settled for thousands of years. The river Aare, which rises in the Bernese Alps, tunnels through amazing landscapes, winding for miles. It widens at Lake Brienz, continues to Lake Brienz's neighbor, Lake Thun, eventually becoming a tributary to the Rhine.
The Bernese Oberland and the Lake Brienz area are full of intrigue, wonder and exciting exploits. The cold water is lacking in nutrients and so does not support any substantial fishery. Waterskiing is great on the lake, and you can also take a swim if you don't mind the chilly temperatures (the lake is fed by a glacier!). Probably the most popular activity on the lake is the boat service that has been offered since 1839. Boats often offer special thematic cruises, like the "Swiss Dinner Cruise," the "Fish and Jazz Trip," or the "Indian Dinner Cruise." The real highlights of the boat service are the regular stops to all the little Swiss villages tucked into the mountains around the lake.
On opposite ends of Lake Brienz are Interlaken and Brienz. In Interlaken, all manners of activities await you from dining, shopping, museum exhibitions, hiking, biking, village tours, festivals, concerts, sledging, crosscountry skiing, and more. Brienz has a longstanding tradition of wood carving and has both wood carving and violin making schools. The village showcases its talents on the Brunngasse, one of Switzerland's most beautiful streets with 18th century wooden chalets and wood carvings. Must-see or must-do attractions at Brienz include the Brienz Rothorn Railway, Switzerland's oldest steam cogwheel railway. The train's passage reaches an altitude of 7,362 feet chugging through tunnels, woodland, forest, pastures, and gorgeous mountain views. The Ballenberg Open Air Museum provides insight into the Switzerland of yesterday, of lifestyles that dominated Switzerland centuries ago.
If you have come to really get to know this Swiss beauty, seeking out one of the vacation rentals around the lake is a must. You will, no doubt, fall in love.
Things to do at Lake Brienz
Vacation Rentals
Fishing
Boating
Swimming
Water Skiing
Hiking
Biking
Museum
Shopping
---
Lake Brienz Photo Gallery
Lake Brienz Statistics & Helpful Links
Spread the word! Share our Lake Brienz article with your fellow Lake Lubbers!