Trift Lake and Rhone Glacier Lake, Switzerland
Also known as:  Triftsee
Welcome to the ultimate guide for history, statistics, local fun facts and the best things to do at Trift Lake and Rhone Glacier Lake.
If you're considering Trift Lake and Rhone Glacier Lake vacation rentals, we've made it super easy to explore accommodations and nearby hotels using the interactive map below. Simply click on a listing to compare similar properties, best rates and availability for your dates. Or keep scrolling to read our Trift Lake and Rhone Glacier Lake guide!
Trift Lake and Rhone Glacier Lake visitor and community guide
Trift Lake and Rhone Glacier Lake are two of newest attractions in the Bern and Valais regions of the Swiss Alps. These two recently-formed glacier lakes are the result of water from melting glaciers trapped by the surrounding terrain. Only about 10 miles apart in air-miles but 30 miles by road, the two lakes have formed in recent years as the Trift and Rhone glaciers melt. Trift Lake, also known as Triftsee, dates back to 2002 when the peak of the glacial mass burst into many pieces, having shown signs of cracks for over 10 years. The resulting water was trapped in a hollow instead of flowing downhill.
A spectacular suspension footbridge across the lake (Triftbrucke) makes Trift See a popular spot for hikers. The former hiking trail to the Trift Hut of the Swiss Alpine Club was no longer passable across the melting glacier. The pedestrian bridge, built in 2004, made the popular trail available again, but with an additional spectacular view of the lake and the glacial valley from the bridge high above. The trail itself is reached by the Triftbahn cable car, offering even more aerial views of the unusual scenery. A bus station is conveniently located near the cable car access, making the beautiful views available to those who wouldn't ordinarily take the long hike across the glacier to see it. There are no measurements of water depth or even size of the lake at this point, although it is assumed to be quite deep. The lake is still growing and its size will no doubt change in coming years.
Trift Lake adds to the number of tourism attractions in the central Bern region. Bus service can be accessed from Meiringen, about 10 miles to the west. Meiringen is a popular destination for holiday visitors, with nearby attractions such as the Sherlock Holmes Museum, excellent ski resorts, two of Switzerland's most popular boating lakes, plus a variety of glaciers, waterfalls and scenic overlooks. South of Meiringen, the small Rosenlaui Glacier gives rise to the Reichenbach Brook, which thunders below a catwalk footpath secured above a narrow ravine with steep rock walls up to 250 feet high. The brook becomes a seven-tiered waterfall known worldwide from a scenario in one of Sir Arthur Conan Doyle's Sherlock Holmes novels. A cable car travels to the observation platform. An excellent public transit system gets visitors nearly anywhere they want to go by train or bus.
Meiringen also makes a great base for visiting Rhone Glacier Lake just over the border in the Valais region, but visitors will also be well-served finding lodgings around the old village of Gletsch or Furka Pass. In years past, the Rhone Glacier was within sight of the hotel in the town. Now, it has receded more than a mile up the valley but still accessible by a short hike. Ample car parking is available near Rhone Glacier Lake. The lake itself was formed in 2005 when rock, freed from its stabilizing coating of ice, created landslides down the side of Eiger Mountain. The landslides trapped the melt water, creating Rhone Glacier Lake. The Rhone Glacier itself is still popular for hiking. The newly-formed lake has changed the topography and created some concerns as well. Thawing caused the lake to overflow in 2008, and there are concerns that a major overflow could flood hotels, railroad tracks, campsites and roads.
Besides hiking, skiing and glacier viewing in the area, the Rhone Glacier Ice Grotto is carved out each year to give visitors a chance to walk inside a living glacier. Over the course of the tourism season, the 300 foot-long cavern loses as much as 100 feet in length to ice and must be re-carved each year. Other popular activities in the area include a steam excursion train. Originally beginning operation as a necessary mode of transportation across the Furka Pass, the Furka Mountain Route was scheduled to close in the 1980s, but a large voluntary organization keeps the scenic route in operation. The original engine and carriages provide a historic ride from June to October through long tunnels and over folding bridges with a stop at Furka Station at the base of Rhone Glacier.
The entire area surrounding Trift Lake and Rhone Glacier Lake is well-supplied with holiday cottages, ski cabins, farm stays, camp grounds and small and quaint hotels, often more like inns or bed-and-breakfasts. The glaciers are awe-inspiring, the surrounding Alps majestic, and the well-established tourism facilities well-organized and convenient. Based on computer modeling of the land contours underneath the glaciers, scientists believe that Aletsch, Gorner, Otemma, Corbassiere, Gauli and Plaine Morte glaciers could eventually produce some of the world's largest lakes. While some mourn the melting glaciers, others see possibilities of increased hydroelectric potential from the newly-forming lakes. As the Rhone glacier melt water has been the source of both Lake Geneva and the Rhone River for thousands of years, such water potential isn't to be overlooked in planning for the future.
Other scientists are concerned over the possibility of a glacial dam giving way and releasing massive amounts of water, drowning everything in its path. Such catastrophes have occurred among glacier-formed lakes in Nepal. Therefore, scientists are carefully monitoring the stability of the structures holding back the water and have already built a water tunnel from Rhone Glacial Lake to release water should a breach appear imminent. In more remote nations, the United Nations has a team of scientists monitoring glacial-melt lakes to prevent loss of life in such instances.
Although many attribute the new lakes to recent climate change, the glaciers here have been melting and receding for at least 200 years. The question is whether the melting is occurring faster than in the past. Science has little factual basis for past ice thickness over periods of hundreds of years. The two lakes are simply the latest evidence of how climate changes the landscape. A mid-20th century scientist attempted to explain glacial changes based on astronomical cycles in what is called the Milankovitch Cycle. Many of the world's largest lakes and a large number of its most scenic landscapes have been created by glacial lakes, some of which burst forth with a resulting wall of water hundreds of feet high, destroying everything in its path and carving a new landscape in a matter of days. Careful monitoring and modern technology can now prevent the worst damage. Meanwhile, the opportunity to enjoy these new scenic lakes isn't to be missed. Put Trift Lake and Rhone Glacial Lake on your bucket list to be seen at your earliest opportunity.
*No statistics are available for these very new lakes.
Custom Trift Lake and Rhone Glacier Lake house decor
Read our full review of these personalized lake house signs.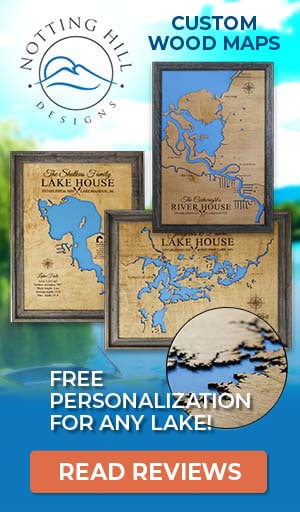 Things to do at Trift Lake and Rhone Glacier Lake
Vacation Rentals
Camping
Cabin Rentals
Hiking
Waterfall
Museum
---
Best hotels and vacation rentals at Trift Lake and Rhone Glacier Lake
The Trift Lake and Rhone Glacier Lake map shown above is a simple and stress-free way to search for trip accommodations. But if you want to take a deeper dive to find the ideal waterfront home, cabin, condo, hotel or resort, visit our favorite lodging partners by clicking the buttons below.
Note: These are affiliate links so we may earn a small commission if you book through them. While there is no extra cost to you, it helps provide resources to keep our site running (thank you)! You can read our full disclosure policy here.
---
Trift Lake and Rhone Glacier Lake photo gallery
New photos coming soon!
Trift Lake and Rhone Glacier Lake statistics & helpful links
We strive to keep the information on LakeLubbers as accurate as possible. However, if you've found something in this article that needs updating, we'd certainly love to hear from you! Please fill out our Content Correction form.
Advertise your Trift Lake and Rhone Glacier Lake vacation rental
LakeLubbers will soon offer homeowners and property managers the opportunity to to showcase their vacation rentals to the thousands of lake lovers searching our site daily for accommodations. If you'd like additional details, please contact our advertising team here.
Looking for the Trift Lake and Rhone Glacier Lake forum?
LakeLubbers previously offered visitors the ability to create accounts and participate in lake forums. When we overhauled the site's content management system in 2021 we had to disable those features. We're evaluating options and welcome your comments and feedback here.
We also encourage you to join our lake-lovin' community on Facebook and Instagram!
Spread the word! Share our Trift Lake and Rhone Glacier Lake article with your fellow Lake Lubbers!