Lake Bohinj, Slovenia
Lake Locations:
Slovenia - Julian Alps -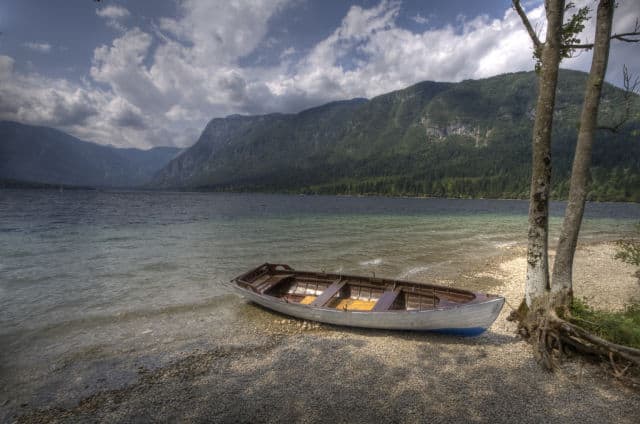 Slovenia's largest permanent lake, Lake Bohinj is little known outside of the country. (Lake Cerknica is larger than Lake Bohinj during the flood season, but disappears entirely during dry seasons). Located entirely within the Triglav National Park in the Julian Alps, Lake Bohinj is only 30 minutes from better known Lake Bled. But while smaller Lake Bled attracts an international base of holiday-makers, Lake Bohinj remains the destination of choice for the young and adventurous. The pristine lake between mountain ranges invites hiking, mountain biking, downhill skiing and extreme sports. The west end of the lake holds several camping grounds, and the villages of Ribcev Laz and Ukanc are home to older hotels, pensions and holiday lets. No motors are allowed on the lake except for the electrically powered tourist boats linking Ribcev Laz at one end of the lake to Ukanc at the other end every half hour. Young holiday-makes flock to enjoy the youth-oriented, if somewhat unsophisticated nightclubs and bars in Ribcev Laz by night and enjoy the warmed summer waters along the shore by day.
Visitors to Lake Bohinj enjoy a variety of water sports, including sailing, windsurfing, kite-surfing and rowing on the glacial lake. Tributary streams, the inflowing Savica River and the out-flowing Jezernica, lend themselves to whitewater rafting, canoeing and kayaking. As part of the national park, there is almost no development along the lakeshore, but most amenities are within a five or ten-minute walk of the shore. Boats and sports equipment can be rented at the local towns, while excursions are regularly arranged to take advantage of local opportunities and locations. Fishing is highly rewarding at Lake Bohinj. The lake is home to a native lake trout, burbot, and whiting. A non-native species is the zlatovscica lake trout, now the predominate species in the lake, that is prized as a specialty by gourmet fishermen. Lake fishermen are allowed to fly-fish or spin-cast, and fishing is administered by the Bohinj Fishing Society. The Jezernica River, which becomes the Sava Bohinjka, is in some places a rushing alpine stream squeezed into a narrow gorge. Here the fly-fisherman can pursue brook trout, grayling, rainbow trout, Danube salmon (or huchen) and whiting.
Plenty of activities await the holiday-maker off the lake too. The shore of Lake Bohinj is well-supplied with hiking trails and bicycle paths. An old cart-track circles the lake and can be walked in about four hours. Many small beaches invite the hiker to enjoy a dip in the waters. The views of the blue water of Lake Bohinj reflecting the towering mountains make a camera a necessity. A cable-car ride will take visitors from near the lakeshore to the Mount Vogel Ski Area, where views of the lake and across the lake to Mount Triglav and the the Julian Alps are incredible. The more adventurous try paragliding or other extreme sports such as bungee-jumping at local 'adrenaline parks'. One popular excursion is to make the climb to Govic Cave. Located 426 feet above Lake Bohinj, the cave is dry most of the year and open for exploration. However an interesting phenomenon occurs during periods of heavy rain: the cave's deep shaft, which reaches below the level of Lake Bohinj, fills with water during heavy downpours and erupts in a torrential waterfall. This spectacular natural phenomenon can be best viewed near the Ukanc campground. A more reliable waterfall in the area is the beautiful Savica Waterfall. This most famous Slovenian waterfall bursts forth from the mountain a short distance from Ukanc. The waterfall falls almost 170 feet, while a smaller waterfall drops 82 feet. And many come here to attempt to climb Mount Triglav, the highest point in Slovenia at 9,396 feet. The Triglav is a well-known Slovenian national symbol, appearing on the flag, the Slovenian Coat-of-Arms, and the Slovenian 50 eurocent coin.
Winter at Lake Bohinj is nearly as busy as the summer season. Although the lake does not freeze reliably, the surrounding mountains offer some of Slovenia's most popular downhill ski areas. Snow here at the Vogel ski area is never artificially made. Over 25 miles of ski slopes offer skiing conditions suitable for all ages and skill levels. Several ski schools provide instruction. The ski area is quieter and more conducive to family skiing than the busier resorts and at a more reasonable price. Winter also brings opportunities for cross-country skiing, snowboarding, ice skating, tobogganing, ice climbing, snowshoeing and snow rafting – simply a form of sledding using a raft.
A few miles north of Ribcev Laz is the colorful and charismatic Slovenian village of Stara Fuzina, an alternative for holiday rentals and home to the Museum of Highland Pasture Life. The museum was the former center of local cheese-making that made the village famous. The village holds a gostilna, a traditional Slovenian inn.
A visit to Lake Bohinj is an unhurried and largely un-commercialized holiday destination. Recent efforts appear to be steering Lake Bohinj into a more commercialized tourism center on the model of Lake Bled. Lake Bohinj will continue to see thousands of holiday makers each year, but perhaps a different sort of visitor. Those wishing to experience the unstructured Lake Bohinj in all its natural glory would be wise to visit soon while vacation rentals can still be reserved in great variety and at reasonable price. Small hotels, gostisce and gostilna still exist, along with self-catering holiday houses, chalets and apartments. Some real estate is available along rivers and in villages, but the Lake Bohinj shoreline is all national park lands. If a holiday in Slovenia is in your future, plan to spend at least a few days at Lake Bohinj; you'll remember it forever!
Things to do at Lake Bohinj
Vacation Rentals
Fishing
Boating
Sailing
Swimming
Beach
Canoeing
Kayaking
Whitewater Rafting
Kite Surfing
Camping
Campground
Hiking
Ice Skating
Ice Climbing
Biking
Downhill Skiing
Snowboarding
Cross-Country Skiing
Tobogganing
Waterfall
National Park
Museum
Fish species found at Lake Bohinj
Brook Trout
Burbot
Grayling
Lake Trout
Rainbow Trout
Salmon
Trout
---
Lake Bohinj Photo Gallery
Lake Bohinj Statistics & Helpful Links
Spread the word! Share our Lake Bohinj article with your fellow Lake Lubbers!