Lake Berryessa, California, USA
Lake Locations:
USA - West - California - Central Valley -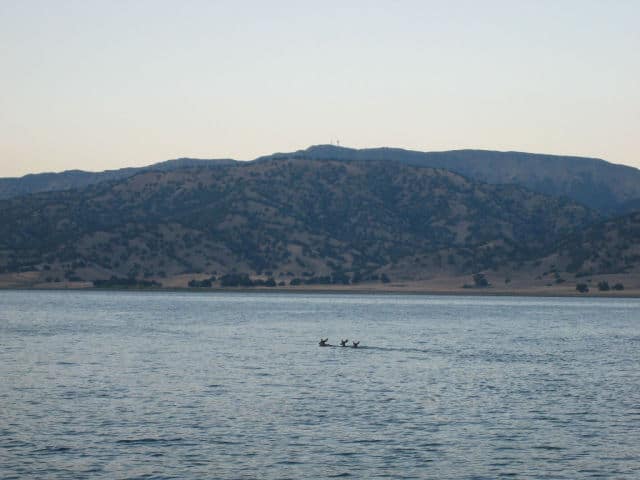 Lake Berryessa, nestled into the heart of California's wine country, is the largest lake in Napa County. The U.S. Bureau of Reclamation built the Monticello Dam on Putah Creek in 1957 for flood control, municipal and industrial water supply, and irrigation water supply. The reservoir filled to over 20,000 acres by 1963. Since that time, Lake Berryessa has developed into a recreation destination for area residents and over 1.5 million visitors that enjoy the offerings of this water playground each year.
Construction of the Monticello Power Plant at Lake Berryessa began in 1981, and the first electrical energy was generated in 1983. The Monticello Hydroelectric Power Plant is owned and operated by the Solano Irrigation District, and electricity is transmitted to the power grid of Pacific Gas and Electric.
The Bureau of Reclamation operates two day use parks, Oak Shores and Smittle Creek, which offer picnicking, swimming, hiking, non-motorized boating, fishing, wildlife viewing, and boat mooring for day use. The Bureau also operates a free boat launch at Capell Cove on the northwest shore of Lake Berryessa. Plan to arrive early on busy summer weekends, since trailer parking is on a first-come, first-served basis.
The Bureau of Reclamation also contracts with private concessionaires to provide recreation support services at Lake Berryessa: Markley Cove Resort, Pleasure Cove Marine, and Steele Park Resort. Check each resort for specific services which include marinas, boat and jet ski rentals, houseboat rentals, boat gasoline, bait, fishing licenses, convenience stores, food services, camping, and RV hook-ups. Markley Cove Resort and Pleasure Cove Marine also offer cabin rentals. Other concessionaires are currently closed, so check the Bureau's website (see link below) for current resort information.
Because of year-round good weather and lake temperatures that reach 75 degrees in the summer, Lake Berryessa is an ideal location for some much-needed rest and relaxation. During the warmer months, most of your time will be spent outside, enjoying the opportunities that lake living has to offer: brilliant sunrises and sunsets, incredible sunny days, and hours of water fun.
Boating is one of Lake Berryessa's most enjoyable diversions, presenting you with the opportunity to view the lake its best vantage point, all the while enjoying a bit of speed and the option to spontaneously drop anchor wherever you choose for an impromptu swim or picnic. As you weave your way around the lake's snaking 165 miles of shoreline, keep your eyes open for the migrating or nesting birds that are most populous in early spring and late fall, but present almost year-round.
If your system craves a surge of adrenaline, this California reservoir offers you several choices. If you have already rented a boat, hop into the refreshing water and take a spin on water skis. Push the envelope a bit further and have a go at either wakeboarding or kneeboarding, or just hop on a jet ski and enjoy speeding around a bit. As always though, please make sure to practice water safety.
Anglers will love to take a day or two to jump in a bass boat, bait a line, and troll in search of catfish, crappie, largemouth bass, smallmouth bass, kokanee salmon, and rainbow trout. Lake Berryessa is said to have some of the best fishing in the state, and no matter when you visit, something is always in season. Before you bait that hook though, please note that you'll need a valid California fishing license. Anglers should follow the California Sport Fish Consumption Advisories (see link at sidebar).
Surrounded by crystalline lake waters and rolling green hills, it's nearly impossible not to be drawn into nature, obeying the call of the outdoors. Luckily, Lake Berryessa hosts a very healthy walking trail system that allows hikers — beginner through advanced — to enjoy the stunning views, diverse nature, and shy wildlife that make the lake so beautiful. Grab your camera and water bottle, and choose between the scenic North End Trail, bird-heavy Lake Berryessa Wildlife Area, gentle but beautiful Pope Canyon Trail, distant and dramatic Cedar Roughs Access Trail, waterside Smittle Creek Trail, looping Stebbins Cold Canyon Trail, or several water-to-land paddle-in hikes. Adventure is yours.
To further enjoy the blue skies and sparkling waters, visit one of the lake's day use parks. Oak Shores and Smittle Creek, maintained by the Bureau of Reclamation, both offer picnicking with charcoal grills, swimming, non-motorized biking, beautiful views, and boat mooring. There are also several reserves around the lake, including Quail Ridge, the Donald and Sylvia McLaughlin Reserve, the Stebbins Cold Canyon Reserve, Cedar Roughs, and the Lake Berryessa State Wildlife Area, all which offer opportunities to learn about the local flora and fauna, while experiencing them first hand.
Lake Berryessa offers its visitors a chance at relaxation, sun, and a good dose of fun. So head out into the great outdoors and, unless you're arriving by seaplane, make sure to pick up all your necessities before arriving. Due to the lake's very peaceful setting, it's about 45 minutes away from major cities or towns, so gasoline, groceries, and anything else you think you'll need for your trip will be scarce on-site.
Things to do at Lake Berryessa
Vacation Rentals
Fishing
Boating
Swimming
Jet Skiing
Water Skiing
Wakeboarding
Camping
Picnicking
Cabin Rentals
Hiking
Biking
Wildlife Viewing
Birding
Playground
Fish species found at Lake Berryessa
Bass
Black Bass
Catfish
Crappie
Kokanee Salmon
Largemouth Bass
Rainbow Trout
Salmon
Smallmouth Bass
Trout
---
Lake Berryessa Photo Gallery
Lake Berryessa Statistics & Helpful Links
At LakeLubbers.com, we strive to keep our information as accurate and up-to-date as possible, but if you've found something in this article that needs updating, we'd certainly love to hear from you!
Please let us know about it on our Content Correction form.
Spread the word! Share our Lake Berryessa article with your fellow Lake Lubbers!