Lac Des Allemands, Louisiana, USA
Lake Locations:
USA - South - Louisiana - Greater New Orleans -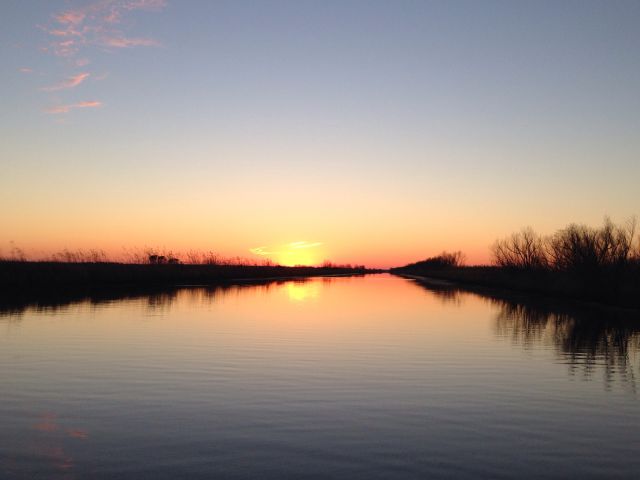 Lac Des Allemands is a natural 12,000-acre lake located about 25 miles west of New Orleans. The lake name is French for Lake of the Germans, referring to the early settlers who inhabited this area of Louisiana's Mississippi Delta region. Lac Des Allemands is located mostly in Saint John the Baptist Parish and partly in Lafourche and Saint Charles Parishes. The community of Des Allemands lies southeast of the lake.
Lac Des Allemands is fed by numerous bayous in the Barataria Basin surrounding the lake, including Grand Bayou and Bayou Chevreuil. The Basin is criss-crossed by bayous, access canals, drainage canals, and navigation channels, including the Intracoastal Waterway and the Barataria Waterway. Most of the Basin is at sea level. Lac Des Allemands is a shallow lake, with a maximum depth of 10 feet and an average depth of five feet. It measures about 5.5 miles long and 6.5 miles wide. Lake waters flow southeast into the Bayou Des Allemands, then on to Lake Salvador and eventually to the Gulf of Mexico. Bayou Des Allemands provides a public boat ramp for access to Lac Des Allemands and Lake Salvador.
The community of Des Allemands, which lies along the banks of Bayou Des Allemands, suffered considerable storm surge flooding from Lac Des Allemands and Lake Salvador during Hurricane Ike in September of 2008. The Bayou currently has no flood control structures (pumps, weirs, etc.). The U.S. Army Corps of Engineers, the Louisiana Department of Transportation and Development, and the Lafourche Basin Levee District conducted a feasibility study pertaining to a 57-mile long hurricane levee through Bayous Des Allemands, connecting to the Davis Pond Diversion Project. Davis Pond diverts Mississippi River freshwater into the upper portion of the Barataria Basin, but does not connect directly to Lac Des Allemands.
Lac Des Allemands provides an extremely fertile habitat for catfish, bass, crappie, and panfish. The maze of bayous, canals, and cypress swamps provides a habitat of stumps, brushtops, fallen tress, and grass mats needed to produce ample numbers of these species. In 1975, Governor Edwin Edwards declared Des Allemands the Catfish Capital of the World. Three species of catfish (flathead, channel, and blue) spawn in the lake from May through September. Anglers commonly catch blues and flatheads ranging from 30 to 60 pounds. A canal east of Lac Des Allemands produced a record-setting 6 pound mixed crappie. Fishing camps dot the lake's shoreline. The community of Des Allemands hosts the Louisiana Catfish Festival every second weekend in July.
While visiting Lac Des Allemands, take some time to appreciate the flora and fauna of Louisiana's Mississippi Delta. The cypress tree-lined bayous provide the habitat for diverse wildlife viewing: otters, raccoons, great blue herons, egrets, frogs, alligators, and even bald eagles. Swamp boats provide tours of the cypress-tupelo wetlands. The area can be enjoyed year round. Summer temperatures range from daytime highs in the 90's to nighttime lows in the 70's. Winter temperatures range from highs in the 60's to lows in the 40's.
The nearby Bonnet CarrÃf© Spillway, operated by the U.S. Army Corps of Engineers, has developed into a popular outdoor recreation area. The Spillway is a flood control structure in St. Charles Parish, designed to allow Mississippi River flood waters to flow into Lake Pontchartrain and the Gulf of Mexico, thereby passing New Orleans. Today, more than 250,000 visitors enjoy the Spillway's diverse recreational opportunities: biking, boating, fishing, crawfishing, hiking, primitive campground provided by St. Charles Parish, horseback riding, hunting (deer, ducks and other waterfowl, rabbit, squirrel), ATV and motorcycle riding, picnicking, water sports, dog training (retriever dog field trials), wildlife viewing, and model airplane flying competitions. The Parish provides two boat launching ramps.
Although Lac Des Allemands lies in the serene wetlands west of New Orleans, it is just a short trip across the Mississippi River to "The Big Easy." Recreational and cultural activities in the area include the Audubon Zoo, the New Orleans Botanical Garden, and the Jean Lafitte National Historic Park and Preserve. Area parks include Fontainebleau State Park, the Fort Pike State Historic Site, Fairview-Riverside State Park, Bayou-Segnette State Park, and St. Bernard State Park.
So what are you waiting for? Set you GPS for Lac Des Allemands for some good fishin', good eatin', and plenty of outdoor fun.
Things to do at Lac Des Allemands
Fishing
Boating
Camping
Campground
Picnicking
Hiking
Biking
Horseback Riding
Hunting
Wildlife Viewing
Birding
State Park
Fish species found at Lac Des Allemands
---
Lac Des Allemands Photo Gallery
Lac Des Allemands Statistics & Helpful Links
Spread the word! Share our Lac Des Allemands article with your fellow Lake Lubbers!