Kents Lakes, Utah, USA
Lake Locations:
USA - West - Utah - Panoramaland -
Also known as:  Kents Lake, Upper Kents Lake, Lower Kents Lake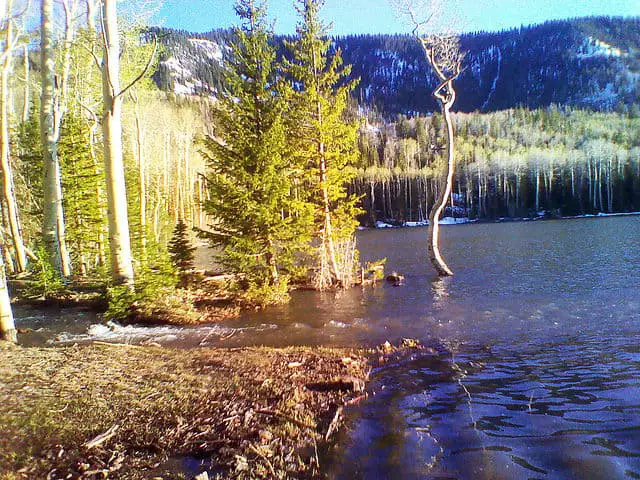 Three popular little lakes in Utah's Panoramaland Region are the three Kents Lakes: Upper Kents Lake, Lower Kents Lake, and Kents Lake. These small reservoirs lie in close proximity along a tributary to the South Fork Beaver River in the Fish Lake National Forest. Perched in a high meadow in the Tushar Mountains, the lakes were created by dams built to provide water storage for agriculture, recreation, and a coldwater fishery. The Kents Lakes quickly gained popularity among residents near Beaver, 15 miles to the west. And before long, the Forest Service created two small campgrounds near the shores of Kents Lake and Lower Kents Lake.
The Utah Division of Wildlife Resources regularly stocks the lakes with brook trout, tiger trout, rainbow trout and Bonneville cutthroat trout, some as fingerlings and others of legal catchable size. The middle reservoir, Kents Lake, is the largest at 48 acres. Lower Kents Lake covers six acres, while Upper Kents Lake is a bit smaller than Kents Lake. Because legal contracts for the impounded water often drained the reservoirs too low to sustain trout over the winter, the Utah Department of Wildlife Resources purchased the water rights to a minimal conservation pool in each lake to improve overwintering of the fish. With 300 acre-feet held at all times for conservation purposes, Kents Lake now holds a few second-year fish, often approaching two pounds. A small unimproved boat launch site allows private boats to be launched from the campground on Kents Lake, although motorized boats are prohibited. Many visiting anglers forgo the boat and fish from the shoreline. Others use canoes or kayaks.
The main campground at Kents Lake can accommodate either tents or RVs. No modern facilities are provided except for grills, fire rings and picnic tables. Drinking water is available as are vault toilets. A campground host is located near the campground for information or assistance. Located at nearly 8,900 feet elevation, summer days are far cooler here than in the valley below. The surroundings are heavily forested, with firs and aspens shading the surrounding slopes. A stone pavilion with fireplace was built near the campground by the Civilian Conservation Corps in the 1930s. Listed as a historic site, the structure can be used for shelter and group activities. A group campground is located south of Lower Kents Lake, with reservations required. The group campground may be used by single campers when not reserved for a group.
Numerous trails make hiking in the Kents Lakes area a popular pastime. Dispersed camping is allowed away from the campgrounds with certain restrictions. The campground host or any Forest Service Ranger can explain the rules for dispersed camping in the Fish Lake National Forest and advise on backcountry safety. This is bear country, so care must be taken to protect foodstuffs from curious bears and other hungry animals. Although there are ATV trails not far away, ATVs are strictly prohibited from operating in and near the campgrounds and must be trailered at the nearest trailhead. The motorized trails in the area are also used for snowmobiling in the winter. Some of the trails are used for cross-country skiing and snowshoeing. Anglers often come to ice fish once the little lakes are frozen.
The Kents Lakes Scenic Loop makes access to the lakes easy from Highway 153. Gravel FS 137 meanders 12 miles past a number of small lakes-including the Kents Lakes-before rejoining Hwy 153 near the Eagle Point ski area. Numerous small campgrounds exist in the area, often on other small reservoirs much like the Kents Lakes. The area is popular for its pristine scenery and clear-running creeks. With 1.4 million acres, Fish Lake National Forest provides recreational opportunities for all types of outdoor recreation. One of the best-known trails in the area is accessed near Kents Lakes: the Skyline Recreation Trail is a non-motorized trial that meanders along the crest of the Tushar Mountain Range, with beautiful views of mountain ranges to the east and west. Most of the trail is considered easy to moderate, but a few sections include 8% grades. Elevations range from 10,100 to 11,100 feet; wildlife, wildflowers and high mountain meadows are some of the scenery hikers can expect. The trail is usually passable from July 1 to mid-October.
Vacation lodgings can be found at some of the resorts in the area for those who want modern accommodations not available at campgrounds. Just outside the Fish Lake National Forest, private vacation cabins, guest ranches and tourism motels await those who wish to make visiting Kents Lakes a day trip. The small City of Beaver holds chain hotels, bed & breakfasts and guest accommodations. Several restaurants are available as are most services. Befitting the home town of outlaw Butch Cassidy, Beaver holds Pioneer Days each July, with events and activities for every member of the family including a rodeo, horse races and a 5K run. The rest of Beaver County holds ghost towns, hundreds of miles of ATV trails, mule deer and elk hunting, backcountry ski tours, and the annual Crusher in The Tushar Road & Dirt Bike Race-a 69-mile paved/gravel event that includes some 15% grades. Historic buildings, unique shops and a colorful local history make Beaver County one of the best all-around family vacation spots in Utah.
Located 200 miles south of Salt Lake City, the Tushar Mountains are a refreshing change from the more urban landscape around Great Salt Lake. This is the 'old west' with history spanning the early Mormon pioneers to the mountain trappers, miners and even a few famous outlaws. Kents Lakes is a very different environment than the hot arid valley below. You can experience both in the shadow of the Tushar Mountain Range. Bring the fly rod and spend a few days.
*Statistics listed are for Kents Lake only and don't include Upper or Lower Kents Lakes.
Things to do at Kents Lakes
Vacation Rentals
Fishing
Boating
Canoeing
Kayaking
Camping
Campground
Picnicking
Cabin Rentals
Hiking
Cross-Country Skiing
Snowmobiling
Horseback Riding
Hunting
Wildlife Viewing
Birding
National Forest
Fish species found at Kents Lakes
Brook Trout
Cutthroat Trout
Rainbow Trout
Tiger Trout
Trout
---
Kents Lakes Photo Gallery
Kents Lakes Statistics & Helpful Links
Spread the word! Share our Kents Lakes article with your fellow Lake Lubbers!