Jackson Lake, Wyoming, USA
Lake Locations:
USA - West - Wyoming - Northwest -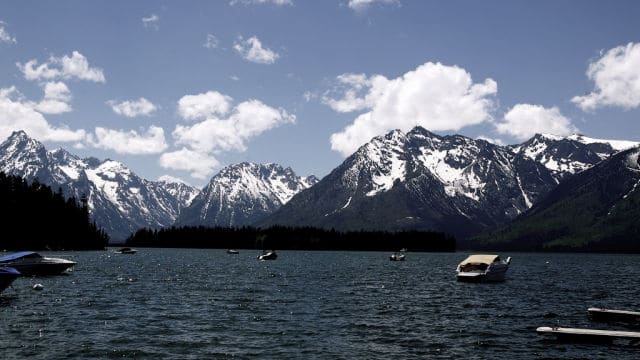 Jackson Lake is located in northwestern Wyoming, just south of Yellowstone National Park. It is in the heart of Grand Teton National Park, one of the most spectacularly picturesque Parks in the United States. With its over 25,000 surface acres, Jackson Lake is a utopia for the over 2 million visitors that seek out its recreational opportunities. Being part of Grand Teton National Park, boating and fishing in the shadows of the Tetons are THE major drawing cards. With Yellowstone National Park nearby, Jackson Lake is an ideal location from which to head out for a day's sightseeing and play.
Jackson Lake is a natural lake fed by the Snake River, with its volume increased by Jackson Lake Dam, originally built as a log-crib dam in 1906. A new concrete and earthen dam replaced the original by 1916. The dam's main purpose is to provide irrigation water for the Snake River Basin. Under the auspices of the US Bureau of Reclamation, the dam was reconstructed in 1989 for increased earthquake protection. Great outdoor recreation of all types is a byproduct of the dam and Jackson Lake. The US Bureau of Reclamation operates and maintains the dam and reservoir while the National Park Service administers Jackson Lake. Jackson Lake can freeze to more than six feet thick in the winter.
Excellent boating is a major enjoyment on the gorgeous waters of Jackson Lake. Large fully-stocked marinas at Signal Mountain Lodge, Leeks Marina, and Colter Bay Village offer boat rentals and supplies. Everything from Deck Cruisers to canoes and kayaks may be rented here. Watersports abound and boating can be enjoyed in the spectacular mountain-rimmed setting. For those not having or wanting to rent a boat of their own, the scenic float trips down the Snake River (May through September) are very enjoyable for the whole family.
Jackson Lake is a fine 'fishing hole'. Brown trout, lake trout, cutthroat trout, pike and salmon are found in the most likely spots. Exciting wildlife also abounds including elk, moose, bear, bison and coyotes. Spend some time observing these beautiful animals, but remember – they are wild and deserve measured respect.
Developed camping is available at Signal Mountain and Lizard Creek Campgrounds from May through October (check for specific dates). The camping possibilities are endless and memorable. Camping on the west side of Jackson Lake is primitive, but ideal for the outdoor enthusiast – remember that bear sightings and encounters are numerous. There are several lodges along the east side of the lake.
In summary, Jackson Lake delivers a spectacular scenic setting in which to enjoy all of the wealth of outdoor activities. A trip to Jackson Lake will provide a multitude of treasured memories.
Things to do at Jackson Lake
Vacation Rentals
Fishing
Boating
Canoeing
Kayaking
Camping
Campground
Wildlife Viewing
National Park
Fish species found at Jackson Lake
Brown Trout
Cutthroat Trout
Lake Trout
Pike
Salmon
Trout
---
Jackson Lake Photo Gallery
Jackson Lake Statistics & Helpful Links
Spread the word! Share our Jackson Lake article with your fellow Lake Lubbers!