Higgins Lake, Michigan, USA
Welcome to the ultimate guide for history, statistics, local fun facts and the best things to do at Higgins Lake.
If you're considering Higgins Lake vacation rentals, we've made it super easy to explore accommodations and nearby hotels using the interactive map below. Simply click on a listing to compare similar properties, best rates and availability for your dates. Or keep scrolling to read our Higgins Lake guide!
Higgins Lake visitor and community guide
With depths that average 52 feet and range as deep as 141 feet, the azure waters of Higgins Lake assure a remarkable transparency. Such crystalline waters, formed during the retreat of glacial ice, have made the lake a prime environment for snorkelers looking to maximize their underwater experience; while above the surface, the lake abounds with boating enthusiasts participating in such water sports as tubing, water skiing, and kneeboarding.
Higgins Lake is located 5 miles west from the town of Roscommon. Over the past 30 years, population growth with new residential developments has made the lake area one of the fastest growing counties in the state. Retirees are continually drawn to the Roscommon and Higgins Lake area, making it their home during the spring, summer, and fall months before moving back down south for the winter.
Roscommon County Commissioners regulate water levels at the county's lakes, including Higgins Lake, Houghton Lake, and Lake St. Helen. Water levels are typically six inches lower in winter than in summer to make room for winter snowmelt in the spring. Water levels at Higgins Lake are regulated by a dam on the Cut River. The County has plans to improve the dam to better control water flow and maintain lake levels at legal elevations.
Higgins Lake offers excellent fishing opportunities with catches of northern pike, smallmouth bass, brown trout, lake trout, and rainbow trout. Ice-fishing in recent years has proven especially rewarding to anglers who are patient, as the remarkable depth of the lake prevents safe ice-fishing conditions well into January. Yet once the ice freezes sufficiently, it is not uncommon to see as many as 100 shanties dotting the landscape with hopeful anglers seeking their share of the winter perch that the lake is known to support. Those wishing to avoid competition over the lake's fish population need not worry as, despite the seemingly high number of anglers, fish limits as high as 50 are common, a testament to the bountiful fishing opportunities Higgins Lake has to offer.
State parks are present at both the north and south ends of the lake, entitled, unambiguously, as North Higgins State Park and South Higgins State Park respectively. Each sports its own campgrounds, trails, beaches, and launch ramps. North Higgins State Park is host to the Civilian Conservation Corps Museum, which was established with the purpose of preserving the artifacts, photographs, and overall history of the Civilian Conservation Corps, a program implemented during the Great Depression which put more than 100,000 people to work on various conservation and reforestation projects around the state of Michigan. Admission to the museum is free.
South Higgins State Park is the larger in land area of the two parks at 1,000 acres, with nearly one mile of that area running along the lake's shoreline. The park offers three major trails for hiking, biking, and cross-country skiing, each of which covers a distance of several miles. Nature trails are also available for those who might wish to take a more leisurely venture into the park.
Along the lake's 22 miles of shoreline, numerous sand beaches and a total of three separate boat ramps (two of which are located at the state parks) provide ready access to the lake for boaters, swimmers and sunbathers. The North Higgins State Park launch ramp area is particularly accommodating to commuters, boasting an ample 80 parking spots and 175 campsites.
For visitors anticipating a summer trip to Higgins Lake, it is advised that they make plans well in advance. The beauty and amenities of Higgins Lake and Roscommon County bring a large influx of visitors during warm weather.
Custom Higgins Lake house decor
Read our full review of these personalized lake house signs.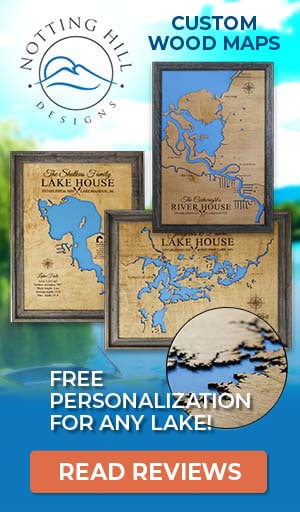 Things to do at Higgins Lake
Vacation Rentals
Fishing
Ice Fishing
Boating
Swimming
Beach
Water Skiing
Tubing
Snorkeling
Camping
Campground
Hiking
Biking
Cross-Country Skiing
State Park
Museum
Fish species found at Higgins Lake
Bass
Black Bass
Brown Trout
Lake Trout
Northern Pike
Perch
Pike
Rainbow Trout
Smallmouth Bass
Trout
---
Best hotels and vacation rentals at Higgins Lake
The Higgins Lake map shown above is a simple and stress-free way to search for trip accommodations. But if you want to take a deeper dive to find the ideal waterfront home, cabin, condo, hotel or resort, visit our favorite lodging partners by clicking the buttons below.
Note: These are affiliate links so we may earn a small commission if you book through them. While there is no extra cost to you, it helps provide resources to keep our site running (thank you)! You can read our full disclosure policy here.
---
Higgins Lake photo gallery
New photos coming soon!
Higgins Lake statistics & helpful links
We strive to keep the information on LakeLubbers as accurate as possible. However, if you've found something in this article that needs updating, we'd certainly love to hear from you! Please fill out our Content Correction form.
Advertise your Higgins Lake vacation rental
LakeLubbers will soon offer homeowners and property managers the opportunity to to showcase their vacation rentals to the thousands of lake lovers searching our site daily for accommodations. If you'd like additional details, please contact our advertising team here.
Looking for the Higgins Lake forum?
LakeLubbers previously offered visitors the ability to create accounts and participate in lake forums. When we overhauled the site's content management system in 2021 we had to disable those features. We're evaluating options and welcome your comments and feedback here.
We also encourage you to join our lake-lovin' community on Facebook and Instagram!
Spread the word! Share our Higgins Lake article with your fellow Lake Lubbers!