Herrington Lake, Kentucky, USA
Welcome to the ultimate guide for history, statistics, local fun facts and the best things to do at Herrington Lake.
If you're considering Herrington Lake vacation rentals, we've made it super easy to explore accommodations and nearby hotels using the interactive map below. Simply click on a listing to compare similar properties, best rates and availability for your dates. Or keep scrolling to read our Herrington Lake guide!
Herrington Lake visitor and community guide
Meandering 32 miles across the Bluegrass Region of Kentucky is Herrington Lake. The first large impoundment in Kentucky, Herrington Lake was created in 1925 by damming the Dix River three miles above its joining with the Kentucky River. Kentucky Utilities created the reservoir to generate hydroelectric power and owns the entire lakeshore up to 760 feet elevation. The entire shoreline above that elevation is privately owned and partially populated with year-round homes, summer cabins, fish camps and resort areas. Hydropower generation at the site is now sporadic, with a coal-fired generating plant and a combustion turbine for peak power generation. Hydroelectric is now generated only during extreme high-water situations.
Herrington Lake has had a reputation as one of the best fishing locations in Kentucky for many years. Bluegill, catfish, crappie, hybrid striped bass, largemouth bass, spotted bass and white bass call serious anglers to its eddies and inlets. On-going stocking programs keep the lake supplied with just the right balance of fish to keep fishermen happy. Most experienced Herrington Lake anglers have their favored hot spots for striped bass – usually around the inlet creeks of Cana Run, Rocky Fix, McKechnie Creek or the two islands, Gwinn and Dunn. Others take their boats into the Dix Dam tail waters to try for some of the biggest lunkers.
Fishing is not the only reason summer visitors come to Herrington Lake. The expanse of water lends itself to all types of boating, sailing, water skiing and personal watercraft. Pontoons and houseboats are popular on the lake and local marinas rent both, along with smaller water craft. Generations come back to the same local resorts year after year and camping is popular at more than one location on the lake. A sizable amount of the shoreline is undeveloped and provides fine viewing opportunities for local wildlife and birds. Two large no-wake areas provide for quiet shoreline exploring by canoe or kayak. Many vacation rentals have swimming areas for their guests along with campfire pits and overlook areas atop the bluffs. Increasingly, summer cottages and fish camps are being remodeled into upscale year-round homes. Two golf courses along the shoreline guarantee off-water time can be pleasantly spent. The residential lanes around the lake provide easy cycling and walking opportunities. Several marinas offer not only boat launch and dock facilities but convenience items and restaurants. At 29 miles from Lexington and 37 from Richmond, Herrington Lake is close enough to be in the middle of everything, making it the ideal get-away destination.
This proximity to Lexington makes day trips away from Herrington Lake an easy vacation adventure. Known as the horse capital of the world, Lexington is surrounded with both horse farms and thoroughbred-themed activities. Venues such as the American Saddlebred Museum and the Aviation Museum of Kentucky vie for visitors' attention with locations such as Waveland Plantation State Historic Site, the Mary Todd Lincoln House, and The Art Museum at the University of Kentucky. Rich in early American history, Lexington is well-supplied with Arboretum, Nature Preserve, wineries and the arts. Between Herrington Lake and Lexington, the limestone cliffs of the Kentucky River Palisades tower 200 feet above the river. The palisades are especially breathtaking in autumn when the leaves take on their bright fall hues.
Even closer to Herrington Lake is the historic town of Harrodsburg. Founded in 1774 as the first permanent English settlement west of the Allegheny Mountains, Harrodsburg has preserved much of its frontier flavor for the enjoyment of visitors. Less than 10 miles west of the lake, Old Fort Harrod State Park takes the visitor back through time with restored buildings and interpretive tours. A bit beyond Harrodsburg, the Shaker Village of Pleasant Hill is a National Historic Landmark. Operated by the National Park Service, the site encompasses 2800 acres and 14 restored buildings filled with distinctive Shaker furnishings. Interpretive guides describe the life and religion of these unusual but devout people, including their musical ceremonies. Also on site, the visitor can take a river tour on the Dixie Belle paddle wheeler from Shaker Landing. Equestrian visitors are encouraged to ride the trails and lanes at Pleasant Hill.
Fifteen miles south of Herrington Lake, the City of Danville releases even more of the secrets of Kentucky's long history. The 10 Constitutional Conventions that created the Commonwealth of Kentucky are preserved here in Constitution Square – a Kentucky State Park. A special treat for both big and little girls with a soft spot for doll houses, the Great American Dollhouse Museum occupies the old Armory building. This special exhibit contains many rare and antique miniatures arranged as a social history of early settlement through the present time. The highly detailed street scenes will also delight the men in the family if they are at all partial to antiques. The proprietor has worked with art students to create a fantasy-land exhibit with monsters and strange inhabitants that will immediately interest all young and young-at-heart. If you can drag the family away from the doll houses, Danville also provides tennis courts, a skateboard park, regulation disc golf course, and a public pool.
South of Danville, the Central Kentucky Wildlife Refuge beckons the nature lover. Located in the 'Knob Country' (sandstone knobs or outcroppings formed by erosion), tours and interpretive trails invite the visitor to get acquainted with the wildlife and native plants of the region.
After a long day spent exploring the mysteries of Kentucky, the visitor can head back to Herrington Lake for some quiet relaxation along the shore. By this time, visitors may decide to either schedule another week at one of the vacation rentals along the shore or seek more permanent lodgings: real estate is available for sale in several newer developments on the lake. Make Herrington Lake your home away from home or perhaps a more permanent address. Come visit soon!
Custom Herrington Lake house decor
Read our full review of these personalized lake house signs.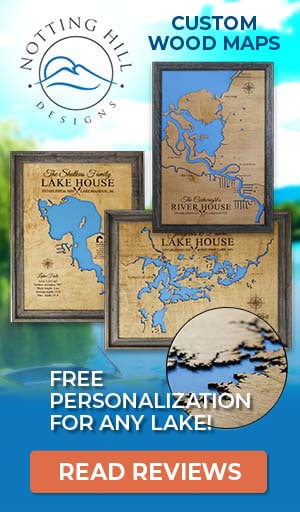 Things to do at Herrington Lake
Vacation Rentals
Fishing
Boating
Sailing
Swimming
Canoeing
Kayaking
Water Skiing
Golf
Tennis
Camping
Cabin Rentals
Hiking
Biking
Horseback Riding
Wildlife Viewing
Birding
State Park
National Park
Museum
Antiquing
Fish species found at Herrington Lake
Bass
Black Bass
Bluegill
Catfish
Crappie
Largemouth Bass
Spotted Bass
Striped Bass
Sunfish
White Bass
---
Best hotels and vacation rentals at Herrington Lake
The Herrington Lake map shown above is a simple and stress-free way to search for trip accommodations. But if you want to take a deeper dive to find the ideal waterfront home, cabin, condo, hotel or resort, visit our favorite lodging partners by clicking the buttons below.
Note: These are affiliate links so we may earn a small commission if you book through them. While there is no extra cost to you, it helps provide resources to keep our site running (thank you)! You can read our full disclosure policy here.
---
Herrington Lake photo gallery
New photos coming soon!
Herrington Lake statistics & helpful links
We strive to keep the information on LakeLubbers as accurate as possible. However, if you've found something in this article that needs updating, we'd certainly love to hear from you! Please fill out our Content Correction form.
Advertise your Herrington Lake vacation rental
LakeLubbers will soon offer homeowners and property managers the opportunity to to showcase their vacation rentals to the thousands of lake lovers searching our site daily for accommodations. If you'd like additional details, please contact our advertising team here.
Looking for the Herrington Lake forum?
LakeLubbers previously offered visitors the ability to create accounts and participate in lake forums. When we overhauled the site's content management system in 2021 we had to disable those features. We're evaluating options and welcome your comments and feedback here.
We also encourage you to join our lake-lovin' community on Facebook and Instagram!
Spread the word! Share our Herrington Lake article with your fellow Lake Lubbers!