Hebgen Lake, Montana, USA
Welcome to the ultimate guide for history, statistics, local fun facts and the best things to do at Hebgen Lake.
If you're considering Hebgen Lake vacation rentals, we've made it super easy to explore accommodations and nearby hotels using the interactive map below. Simply click on a listing to compare similar properties, best rates and availability for your dates. Or keep scrolling to read our Hebgen Lake guide!
Hebgen Lake visitor and community guide
Anglers will find some of Montana's best stillwater trout fishing at Hebgen Lake. The 12,500-acre reservoir lies conveniently just outside the western entry to Yellowstone National Park. An artificial reservoir created in 1914 along the Madison River by the Montana Reservoir and Irrigation Company, the lake quickly became the ideal spot for water-based recreation. Along its 70-mile shoreline, one will find resorts, private homes and Gallatin National Forest Campgrounds. The peaceful water scenes against the backdrop of several spectacular peaks represent the best Montana has to offer. No wonder so many who discover Hebgen Lake come back time after time.
The area around the town of West Yellowstone is a noted tourism location year-round. Visitors to Hebgen Lake add a new dimension to their Yellowstone vacation with swimming, wakeboarding, wind-surfing and wildlife viewing along the wooded shoreline. Several resorts fronting the lake offer guest cottages, apartment-style extended stay rooms and regular hotel rooms, along with great small restaurants, local nightlife and fantastic lake views. Three of the resorts also act as full-service marinas, renting boats, canoes and kayaks, and servicing boats brought to the lake. Boat slips are available for lease as well as overnight docking. Bait, tackle, gas and boating supplies are sold along with snacks, ice and sundries.
Lake resorts have swimming areas and often also manage campsites for RV travelers. Hebgen Lake permits all types of watercraft, including power boats, jet skis, sailboats, canoes and pontoons. A new group, the Hebgen Lake Yacht Club, is located at one of the resorts and sponsors sailboat races and boating activities. Several commercial campgrounds are located around the lake, so there is always room for another 'lakelubber'. Two US Forest Service campgrounds offer more economical and primitive camping opportunities, although some campsites have electricity. Rainbow Point Campground has a swim area, boat ramp, picnic tables and campfire rings. The Cherry Creek Campground has dispersed campsites only. A forest service day use area is located at Rainbow Point Picnic Area, with docks, boat ramp, fire grates and tables. Bird watching is a popular activity, with bald eagle, golden eagle, osprey, sand hill crane, Canada goose, heron, white pelican, western grebe, loon, mallard and wood duck among those sighted.
Stocked with trout yearly, the fishing at Hebgen Lake is outstanding. The lake holds brown trout, cutthroat trout and rainbow trout, along with Utah chub, mountain whitefish and white suckers. The trout grow to good size and are best caught on dry flies. The lake's many bays and inlets offer good fish habitat. Several outfitters in West Yellowstone arrange for guided fishing on both Hebgen Lake and nearby Quake Lake. A Montana fishing license is necessary, and all regulations must be followed.
Hebgen Lake is also open for ice fishing. One of the marina-resorts rents ice fishing shelters in a variety of configurations to assure anglers' comfort. With a warm and comfortable hotel room or guest cabin waiting on shore, fishermen can fish comfortably all day in their shirtsleeves in the heated ice houses-or choose to stay on the lake all night. The resort is now experimenting with year-round tiny houses on the lake; in summer, the ice houses are mounted on pontoons to float near the dock for an authentic floating guest room. In winter, the pontoons come off and the house is skidded onto the ice for a luxury fishing shelter.
Mount Hebgen rises just to the east of Hebgen Lake. A number of hiking trails cross the lower slopes of the mountain, all with excellent views and the opportunity to see a variety of wildlife. Much of the eastern shoreline lies within the Gallatin National Forest. The area holds deer, moose, bison, elk, mountain goat, coyote and fox. On occasion, a black bear, wolf or grizzly bear may wander close to the lake. Many trailheads branch out from Red Canyon Road, including some suitable for mountain biking; the really adventurous mountain biker will find highly 'technical' and single-track routes farther up Mount Hebgen. Those who love horseback treks can arrange to stay at a guest ranch near the south end of the lake, offering a variety of trail rides, guided trail adventures and the full complement of 'dude ranch' activities.
One nearby attraction that many don't know exists is the airbase of the US Forest Service's West Yellowstone Smoke Jumpers. When not forest fighting fires, the staff is willing to arrange tours of their facility and explain how parachuting into a forest fire is carried out. The base is just north of the Town of West Yellowstone. Another must-visit attraction is the Grizzly and Wolf Discovery Center, a non-profit wildlife rehabilitation and education center near West Yellowstone. And, the western entrance to Yellowstone National Park is just east of the small city. West Yellowstone holds plenty of choices of lodgings and a variety of restaurants and shopping. One of the most delightful places to stay may be a private lakefront rental cottage or home on Hebgen Lake. Often, these vacation rentals include a boat or kayak.
The landscape is interesting, with many of the nearby slopes scarred by the earthquake scarps from the 1959 earthquake. The earthquake that did much damage to the Hebgen Dam and created Quake Lake changed the landscape here forever, although nature has reclaimed and concealed much of the damage. Emergency repairs to the dam were successful in saving the dam and the lake in 1959, but recent inspections required the dam to be upgraded to meet new, more stringent regulations. A major construction project recently rebuilt much of the structure to stronger standards. More information on the devastation caused by the 1959 earthquake can be found on the Quake Lake page linked to this one.
Although Hebgen Lake and the dam have been owned for many years by PPL Montana, a power company, the dam has never been used to generate electricity. That may change in the future as PPL Montana recently sold the dam and reservoir to NorthWestern Energy. Regardless of who technically owns the reservoir, there will be no changes to the resorts, cottages, campgrounds and homes along the lake. The trout will still be waiting for you to entice them, and the gently lapping waves against shore will still lull you to a good night's sleep.
Custom Hebgen Lake house decor
Read our full review of these personalized lake house signs.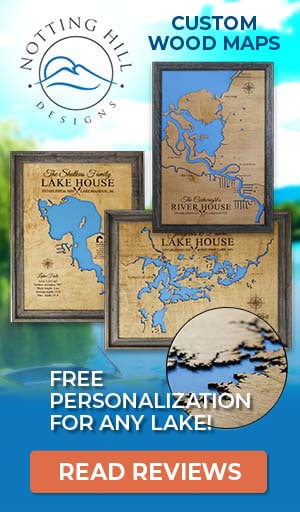 Things to do at Hebgen Lake
Vacation Rentals
Fishing
Ice Fishing
Boating
Sailing
Swimming
Canoeing
Kayaking
Jet Skiing
Wakeboarding
Wind Surfing
Camping
Campground
Picnicking
Cabin Rentals
Hiking
Biking
Horseback Riding
Wildlife Viewing
Birding
National Park
National Forest
Shopping
Fish species found at Hebgen Lake
Brown Trout
Carp
Cutthroat Trout
Rainbow Trout
Sucker
Trout
Whitefish
---
Best hotels and vacation rentals at Hebgen Lake
The Hebgen Lake map shown above is a simple and stress-free way to search for trip accommodations. But if you want to take a deeper dive to find the ideal waterfront home, cabin, condo, hotel or resort, visit our favorite lodging partners by clicking the buttons below.
Note: These are affiliate links so we may earn a small commission if you book through them. While there is no extra cost to you, it helps provide resources to keep our site running (thank you)! You can read our full disclosure policy here.
---
Hebgen Lake photo gallery
New photos coming soon!
Hebgen Lake statistics & helpful links
We strive to keep the information on LakeLubbers as accurate as possible. However, if you've found something in this article that needs updating, we'd certainly love to hear from you! Please fill out our Content Correction form.
Advertise your Hebgen Lake vacation rental
LakeLubbers will soon offer homeowners and property managers the opportunity to to showcase their vacation rentals to the thousands of lake lovers searching our site daily for accommodations. If you'd like additional details, please contact our advertising team here.
Looking for the Hebgen Lake forum?
LakeLubbers previously offered visitors the ability to create accounts and participate in lake forums. When we overhauled the site's content management system in 2021 we had to disable those features. We're evaluating options and welcome your comments and feedback here.
We also encourage you to join our lake-lovin' community on Facebook and Instagram!
Spread the word! Share our Hebgen Lake article with your fellow Lake Lubbers!