Harveys Lake, Vermont, USA
Also known as:  Harvey's Lake, Harvey Lake, Lake Harvey
Welcome to the ultimate guide for history, statistics, local fun facts and the best things to do at Harveys Lake VT.
If you're considering Harveys Lake VT vacation rentals, we've made it super easy to explore accommodations and nearby hotels using the interactive map below. Simply click on a listing to compare similar properties, best rates and availability for your dates. Or keep scrolling to read our Harveys Lake VT guide!
Harveys Lake VT visitor and community guide
Harveys Lake may be one of the best-kept water secrets in Vermont's Northeast Kingdom. The 350-acre lake has no publicly advertised amenities, making its main users the property owners and guests of the two campgrounds and resorts. Originally a smaller lake, the surface area increased when a dam was built across South Peacham Brook in 1879, raising the lake level by over four feet. The result was a larger supply of water to power mills downstream. Over the years, more than 100 property owners built cottages and seasonal homes along the four-mile shore. Rumor has it that as a child, young Jacques Cousteau learned to dive here while spending time at a summer camp.
Harveys Lake is located in the Town of Barnet and takes its name from one of the original settlers of the region, Colonel Alexander Harvey. Originally, the lake was written as Harvey's Lake, but the geological service removed the apostrophe in keeping with their policy. Colonel Harvey also lent his name to Harvey Mountain, a 1785-foot local landmark west of the lake. Today, the local lake association calls it Lake Harvey, but everyone locally knows what lake is being referred to no matter what it is called. For a small lake, Harvey Lake is quite deep, reaching a maximum depth of 144 feet. The lake has long been known as a coldwater fishery for rainbow trout and lake trout.
Residents enjoy every type of water sport. The clear waters are excellent for swimming, water skiing, pontooning, sailing, wind surfing and tubing. Most cottages have their own docks and often their own private slice of beach. There are no marinas at Harveys Lake; it is quietly residential and much loved by its lakefront dwellers. The Lake Harvey Association acts as organizer for community projects and protector of lake quality. The Association works to monitor for invasive species, and coordinates activities for both adults and children. One very popular activity is an annual themed boat parade each summer. Although there are no advertised public access points, the Town of Barnet owns a public beach at the north end of the lake near the outlet with a sandy beach, marked swim area with lifeguard, playground equipment, picnic tables and pavilions. Beach-goers must have a permit from the Town offices, and those with proof of residence receive a discounted rate. Hand-carried boats, canoes and kayaks may be launched from the shore near the beach but must have proof from the boat wash at the south end of the lake that they have washed their craft to protect against nuisance species.
The other point of public access is the boat launch site near the south end of the lake. Although not prominent on their website, Vermont Fish and Wildlife lists it as an access site, and old maps show it to be a Fish and Wildlife facility. A boat wash is located here, with an attendant on duty to provide proof the boat has been washed in keeping with regulations. A medium-sized concrete boat ramp is located here with a small parking area across the road. No designated shore fishing area is located at the lake. There is little published information, so it is unknown if the ramp can handle larger boats. Besides the lake trout (some of the area's biggest) and rainbow trout, the lake also holds chain pickerel, yellow perch, rainbow trout and panfish. Ice fishing is also very popular here.
Two commercial campgrounds located along the shore offer over 200 campsites to summer visitors. One of these also offers housekeeping cabin rentals. At least one other cottage resort is located here and also leases and sells cottages. A number of private 'camp' owners rent their properties on a short-term basis, often with a boat included. Harvey Lake is a quiet location, with a heavily treed shoreline and more solitude than many residential lakes-a perfect getaway vacation spot for a week or an entire summer. A limited amount of real estate is usually available, and the surrounding roads are perfect for walking, cycling and nature observance. The small town of West Barnet is located a couple of miles north of the lake along the outlet channel where the dam is located. Little Mosquitoville is a couple of miles south of the lake. Neither town appears to have much more than a convenience store or gas station for services. The larger Town of Barnet is less than six miles to the east on the Stevens River near the point where it joins the Connecticut River, but it also has few services. The largest nearest city is Saint Johnsbury, an easy 15 mile drive. Saint Johnsbury has all of the services expected in any larger city, including a wealth of different types of lodgings, restaurants and entertainment venues.
The area is known for outdoor recreation, with downhill skiing, mountain climbing, whitewater rafting and plenty of fly fishing in the local streams. Saint Johnsbury has the Fairbanks Museum & Planetarium, which calls itself Northern New England's Museum of Natural History. This is a delightful place to explore the flora and fauna of the area, with exhibits of 'bug art', a seasonal wildflower table, and natural features of the Northeast Kingdom on display. Field expeditions are scheduled throughout the year focusing on birding, edible wild plants, mushrooms, moths, trees, rocks and fossils, bogs and other area attractions. Only 30 miles from Harveys Lake, non-profit Kingdom Trails offers miles of trails for hiking, cross-country skiing, mountain biking, horseback riding and all types of winter sports, including trails for 'fat tire' cycling on the snow in the winter. Annual membership passes are available, and the center offers a wide variety of ecology-themed activities and events. Near the Trails center, a ski area is open every winter.
In recent years, Vermonters have become concerned that water quality in Harveys Lake was eroding. Lake studies based on sediment core sampling have been able to pinpoint the causes. One issue is that modern farming methods have allowed more sediment to enter the incoming streams and flow into the lake. Another problem is heavy rainfall in the South Peacham Brook watershed which allows rising creek levels to send debris over the dam and into Harveys Lake in a temporarily reversed water flow. A new type of dam made of an inflatable rubber material has been proposed that can inflate and deflate in response to changing water levels and could be installed in place of the current dam. Final decisions do not yet appear to have been made as to how the problem should best be solved to restore the lake to its historic pristine state.
Custom Harveys Lake VT house decor
Read our full review of these personalized lake house signs.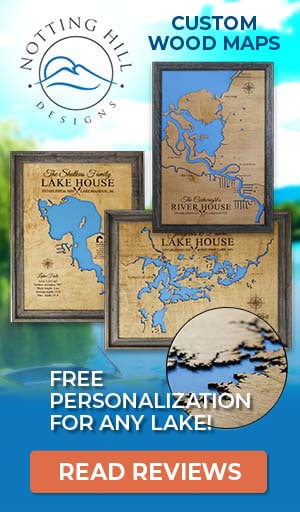 Things to do at Harveys Lake VT
Vacation Rentals
Fishing
Ice Fishing
Boating
Sailing
Swimming
Beach
Canoeing
Kayaking
Whitewater Rafting
Water Skiing
Wind Surfing
Tubing
Camping
Campground
Picnicking
Cabin Rentals
Hiking
Mountain Climbing
Biking
Downhill Skiing
Cross-Country Skiing
Horseback Riding
Wildlife Viewing
Birding
Museum
Playground
Fish species found at Harveys Lake VT
Chain Pickerel
Lake Trout
Perch
Pickerel
Pike
Rainbow Trout
Trout
Yellow Perch
---
Best hotels and vacation rentals at Harveys Lake VT
The Harveys Lake VT map shown above is a simple and stress-free way to search for trip accommodations. But if you want to take a deeper dive to find the ideal waterfront home, cabin, condo, hotel or resort, visit our favorite lodging partners by clicking the buttons below.
Note: These are affiliate links so we may earn a small commission if you book through them. While there is no extra cost to you, it helps provide resources to keep our site running (thank you)! You can read our full disclosure policy here.
---
Harveys Lake VT photo gallery
New photos coming soon!
Harveys Lake VT statistics & helpful links
We strive to keep the information on LakeLubbers as accurate as possible. However, if you've found something in this article that needs updating, we'd certainly love to hear from you! Please fill out our Content Correction form.
Advertise your Harveys Lake VT vacation rental
LakeLubbers will soon offer homeowners and property managers the opportunity to to showcase their vacation rentals to the thousands of lake lovers searching our site daily for accommodations. If you'd like additional details, please contact our advertising team here.
Looking for the Harveys Lake VT forum?
LakeLubbers previously offered visitors the ability to create accounts and participate in lake forums. When we overhauled the site's content management system in 2021 we had to disable those features. We're evaluating options and welcome your comments and feedback here.
We also encourage you to join our lake-lovin' community on Facebook and Instagram!
Spread the word! Share our Harveys Lake VT article with your fellow Lake Lubbers!