Gunnison Reservoir, Utah, USA
Lake Locations:
USA - West - Utah - Panoramaland -
Also known as:  Sugar Kids Pond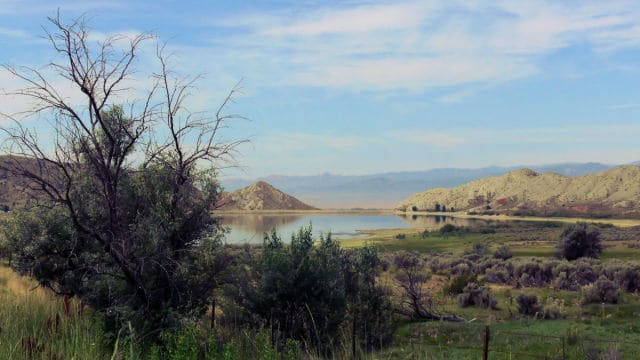 Like most of the lakes in Utah, Gunnison Reservoir is man-made. Also known as Sugar Kids Pond, the reservoir is an impoundment of the San Pitch River. If you've never been there, you should know it's a pretty dry environment, and the few rivers that run through the countryside were prone to excessive evaporation. The pioneers of the area needed water to maintain crops and livestock, so they began damming up the local rivers quite early. Since the area is also mountainous, the yearly spring thaws tended to wash out those primitive dams.
Gunnison Reservoir's current dam structure was constructed in 1889 and has maintained the current lake ever since. But, before you plan a vacation here, check the weather. In especially dry years, the water can disappear altogether. If you are lucky enough to be in the area on a good year, this great reservoir is really one of central Utah's best kept secrets. There are public boat launches, swimming beaches, primitive camping and picnic areas, but they are underused by the locals.
The shoreline of Gunnison Reservoir is almost completely privately owned, but there are no restrictions on public use. Fishing, boating, swimming and other recreation are all permitted from April till October. Fishing is especially good most years. Catfish, Bluegill, Perch and Largemouth Bass are easily caught, although it may seem that carp are the most plentiful fish in the lake.
With many other reservoirs in the vicinity, most people say they might see three other boats on Gunnison Reservoir at one time. If you fish, this is good news, because there is no one to disturb you. If you water ski, this is better news, because there is no one to get in your way. The water level in 2008 was remarkably high, while other reservoirs in the area were lower than normal.
When you think Utah, you generally think of dry countryside with little to no water, but thanks to the ingenuity of the people, there seems to be a reservoir just about every 20-30 miles. Within that frame of reference, there are at least three near to Gunnison Reservoir – Sevier Bridge Reservoir (Yuba), Palisades, and Ninemile are all relatively close. Since these other lakes are larger and deeper than Gunnison Reservoir, they are more popular with the local people.
Gunnison Reservoir is located in Sanpete County. Check out the county's tourism website (below) for other destinations, including the Manti-La Sal National Forest and Palisade State Park. Nearby Sterling is the only town of any size near Gunnison Reservoir; it boasts roughly 240 people. If you're lucky enough to head into town, don't blink or you might find yourself through before you even started. But make sure you stop at one of the two stores and pick up some supplies. Support the local economy!
So make a stop at Gunnison Reservoir. It's a nice little quiet spot for fishing, and would be a great place to bring the family. Some of the best places are the ones that you can enjoy with your kids, and not have to worry about having so many people around that you can't keep track of them. You won't have to worry about that at Gunnison Reservoir.
Things to do at Gunnison Reservoir
Fishing
Boating
Swimming
Beach
Water Skiing
Camping
Picnicking
State Park
National Forest
Fish species found at Gunnison Reservoir
Bass
Black Bass
Bluegill
Carp
Catfish
Largemouth Bass
Perch
Sunfish
---
Gunnison Reservoir Photo Gallery
Gunnison Reservoir Statistics & Helpful Links
Spread the word! Share our Gunnison Reservoir article with your fellow Lake Lubbers!