Green Lake, Minnesota, USA
Lake Locations:
USA - Midwest - Minnesota - Central -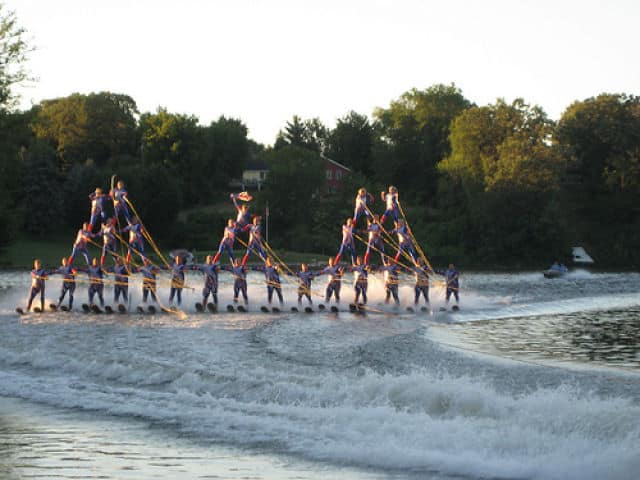 Minnesota's moniker is the 'Land of 10,000 Lakes,' and 5,560-acre Green Lake became known as the 'Gem of 10,000 Lakes' during its development in the early 1900s. This glacial lake, with a shoreline ringed with hardwoods, wild grapes and chokecherries, was so pure that the Great Northern Railroad used its ice for water in its dining cars.
Although the railroad through west-central Minnesota was built to transport wheat and other grains to eastern mills, it was also largely responsible for developing Green Lake into a tourist destination throughout the Midwest. Tourists wanting to escape the summer heat in Minneapolis-St. Paul, Sioux Falls, St. Louis, and Omaha took excursions trains to Green Lake's clear, refreshing waters. These were the days when milk, fresh eggs, groceries, home-baked breads and sweet corn were delivered right to the doors of lake residents. Lazy summer days were spent swimming, tubing, row-boating, and fishing; nights were spent reading by kerosene lamps, listening to the loons, gazing at the constellations, or watching heat lightning zigzag across the sky.
Lakeside cottages and large resorts hotels were built along Green Lake's shoreline during the early 20th century. However, the Great Depression and the drought of the 1930s took its toll on the large resorts, with most closing their doors by the end of the decade. Green Lake's cottage-building boom occurred after World War II. Electricity became available in Kandiyohi County in 1939, extending to Green Lake over the next 10 to 15 years. Many of these cottages remain with their original owners' families, passed down through generations. Today, Green Lake's shoreline is fully developed with a mixture of cottages, luxury homes, and condominiums. The wild grapes and chokecherries have given way to docks and boathouses. Sailboats share the lake with speedboats zipping around the lake.
Green Lake is located less than 100 miles west of Minneapolis-St. Paul in Kandiyohi County. The town of Spicer, on the lake's southwest shore, is named after developer John Spicer who founded the town. Spicer also built lakeside 'Spicer Castle' in 1895, which is still in the family today as a bed-and-breakfast. The town of New London is five miles north of Spicer, and Willmar, the county seat, is 10 miles southwest of town. Covering about 5,560 acres, Green Lake is the largest of 15 lakes within a 10-mile radius of Spicer. New London brags that it has access to "17 lakes in 15 minutes." Retreating glaciers during the Ice Age created these abundant natural resources.
The Dakota Sioux named the lake 'Mdeto" for its distinctive blue-green color. 'Mde' is the Dakota word for lake, and 'to' refers to various shades of blue-green. Pronounced Me-day-to, the Dakota heritage lives on in names such as Medayto Beach and Medayto Cottage. Green Lake is about 90 percent spring-fed. Various inlets also flow into Green Lake; the largest inlet is Ye Olde Mill Inn Dam on the north shore at the outlet of Nest Lake. Water exits Green Lake from an outlet on the east shore into Lake Calhoun. These three lakes are part of the Middle Fork of the Crow River Watershed.
Green Lake's sandy bottom makes it a great swimming lake. The sand often has a reddish-purple hue due to carnelian indigenous to the area, leading some early settlers to call the lake "Lake Carnelian." Carnelian is a type of quartz that has a milky or waxy appearance, ranging in color from peach to vivid orange to deep brownish red. Today, lucky explorers still find pieces of carnelian along the shoreline. Even rarer are relics from Native American tribes that inhabited the Green Lake area for thousands of years before the white settlers. The east shore of Green Lake is the site of one of the largest Indian Mound complexes in Minnesota. Only five of the 69 known mounds remain in the vicinity of a marker, barely visible now from natural erosion, construction, and cultivation.
Green Lake visitors can launch their boats from six public access sites. Anglers without a boat can test their skill at the shore fishing site located at the eastern shore outlet. Minnesota DNR (Department of Natural Resources) manages Green Lake primarily for walleye and secondarily for northern pike, yellow perch, tullibee (cisco), smallmouth bass, and bluegill. Kandiyohi County manages two parks on Green Lake. County Park 4 is located on the southern shore in Spicer and provides a swimming beach, shady picnic area, changing rooms, and sanitary facilities. Boat access is adjacent to the park. County Park 5 is located on the northeastern shore and provides 50+ paved camping sites with electricity and fishing guide services.
Take time to appreciate Green Lake's wildlife. Listen for the haunting calls of loons and owls and the melodious songs of orioles and wrens. Watch great blue herons patiently stalking their next meal and the aerial grace of swallows and purple martins. Ducks, geese, and swans continue their annual migrations to and from Green Lake. Don't miss summertime performances of the Little Crow Ski Team which has garnered regional and national championships. Stunts include tiered pyramid skiing, barefoot skiing, swivel skiing, and ramp jumping. And when winter's chill arrives, winter sports take center stage. Kandiyohi County provides about 200 miles of groomed snowmobile trails. Strap on some cross-country skis or snowshoes and set out on fresh blankets of snow. Local farms offer horse-drawn sleigh rides. Spicer's Winter Fest runs from January through mid-February, featuring vintage snowmobile races, ice sculptures, a radar run and polar bear plunge.
Although modern amenities have replaced Green Lake's rustic charm, it remains the 'Jewel of West-Central Minnesota.' Vacation rentals, homes and cabins, are available for your visit, so start planning your next vacation. And if you find it hard to leave, check out real estate for sale. Today's Green Lake population is a mixture of part-time and full-time residents.
Things to do at Green Lake MN
Vacation Rentals
Fishing
Boating
Sailing
Swimming
Beach
Tubing
Camping
Picnicking
Cabin Rentals
Hiking
Snowmobiling
Horseback Riding
Wildlife Viewing
Fish species found at Green Lake MN
Bass
Black Bass
Bluegill
Cisco
Northern Pike
Perch
Pike
Smallmouth Bass
Sunfish
Walleye
Yellow Perch
---
Green Lake MN Photo Gallery
Green Lake MN Statistics & Helpful Links
Spread the word! Share our Green Lake MN article with your fellow Lake Lubbers!