Great Salt Lake, Utah, USA
Also known as:  America's Dead Sea
Welcome to the ultimate guide to Great Salt Lake — things to do, where to stay, fun facts, history, stats and more. Let's dive in!
Topics we cover in this article:
Looking for Great Salt Lake cabins or other accommodations? Save time and use this interactive map to find, compare and book at the best rates. Or explore our comprehensive list of favorite travel partners.
All About Great Salt Lake
Sometimes called "America's Dead Sea," the Great Salt Lake occupies approximately 1,700 square miles of Utah's real estate. It is the second largest lake (by surface area) that is wholly contained within the USA; only Lake Michigan is larger. Great Salt Lake boasts the USA's longest lake shoreline – about 10,000 miles.
Great Salt Lake is the largest remnant of the prehistoric Lake Bonneville, and has a salinity much higher (saltier) than ocean water. Despite its nickname, however, the lake is home to many species of flora, fauna and lake life, and welcomes many tourists to its shores every year.
The ancient Lake Bonneville was a huge mass of water, about as large as Lake Michigan and much deeper at about 1,000 feet. During the climate change after the Great Ice Age, the lake began to dry up and create smaller lakes, including today's Great Salt Lake, which today averages a maximum depth of about 33 feet.
The lake is fed by three major rivers — Bear River, Weber River and the Jordan River — but has no outlet except evaporation. This great aquatic wonder has long been a major feature of the region, and lent its name to what is now known as Salt Lake City.
Explore Accommodations
Great Salt Lake Vacation Rentals
There are so many amazing choices when it comes to vacation rentals near the Great Salt Lake in Utah, as well as nearby Salt Lake City and Provo. Check out options for homes, condos and other properties for rent!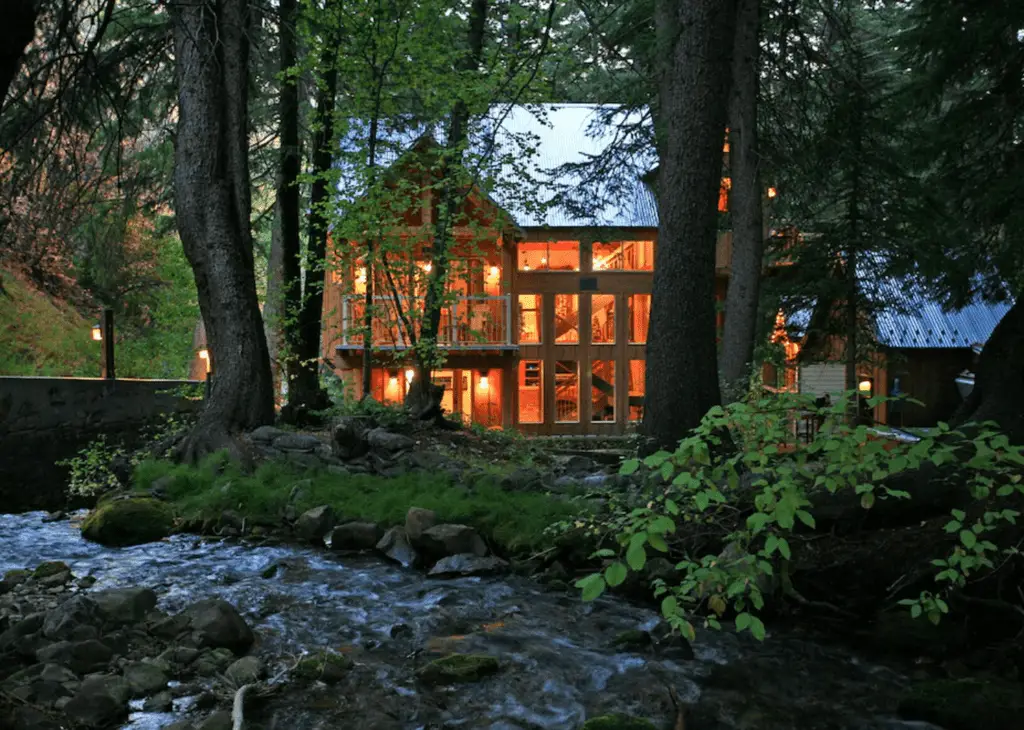 If you purchase, we may earn a commission at no additional cost to you.
Water levels in the Great Salt Lake vary by the amount of rainfall and the rate of evaporation, reaching a high depth of 45 feet in 1987 and a low depth of 24 feet in 2021.
Many islands dot the lake, although the exact number depends on the water level. According to the Utah Geological Survey, there are 11 islands with 7 in the southern part of the lake and 4 in the northwestern portion.
The whole of Gunnison Island is the Gunnison Island State Wildlife Management Area. Public access is prohibited because the island is an important rookery for the American White Pelican. Antelope Island, the largest, is home to Antelope Island State Park, which is accessible by a causeway. Pronghorn antelope, bighorn sheep, American bison, and waterfowl make their home on Antelope Island.
The Lucin Cutoff is a 30-mile railroad causeway operated by the Union Pacific Railroad that crosses the center of the Great Salt Lake, connecting Ogden and Lucin. The high water levels during the 1980s threatened the causeway, highways, and sewage treatment plants around the lake. The State of Utah built the West Desert Pumping Project to drain excess water into the Great Salt Lake Desert to the west, creating the Newfoundland Evaporation Basin. Although the pumps are not currently in operation, the state maintains them for future use.
One of the lake's greatest attractions is its wildlife, which is varied and vast. Though the lake itself cannot support many species due to its high salinity, it is home to brine shrimp, brine flies, and several forms of algae.
Off-water, freshwater and saltwater wetlands offer refuge to millions of migratory shorebirds and waterfowl each year, including phalarope, avocet, stilt, gulls, falcon, bald eagles, swans, pelicans, and many more.
Bird watchers will enjoy the lake's offerings, scouting out familiar species and those unknown to their eyes. In fact, there are numerous private duck clubs, several state waterbird management areas and a federal bird refuge at the Great Salt Lake, allowing for hunting as well as waterfowl protection.
When at the Great Salt Lake, you owe to yourself to go for a swim. Since the water averages about 12% saline, floating is easier than almost anywhere else on earth, and entire afternoons can be spent watching fluffy clouds pass by.
White-sand beaches sprinkle the lake's shores, and families, sunbathers, and picnickers often flock to these beautiful spots for a bit of sun and refreshing swimming.
Antelope Island State Park offers a great starting point, with a beautiful beach and access to the sparkling lake waters. Head out sailing from Antelope Island Marina or Great Salt Lake Marina, taking advantage of healthy winds and nearly perfect days. Investigate Antelope Island's diverse wildlife, and enjoy excellent bird watching and island's colorful indigenous flora.
Boating on the lake is another favorite pastime, and during the summer months, the lake's blue acres are populated by speed boats, pontoon boats, sailboats, kayaks, and canoes, all sharing in a bit of Great Salt Lake fun. In addition, wakeboarders, water skiers, kneeboarders, and tubers all trail behind motorboats.
Summer at the lake is filled with hiking, mountain biking, sightseeing, golf, and any activity you can dream up. During winter, the lake's focus shifts to downhill skiing, snowboarding, cross-country skiing, ice skating, snowmobiling, and old-fashioned snowman construction.
Year-round, the area offers delicious cuisine, several museums, art galleries, luxurious spas, and wonderful shopping, all promising to fill your time here with many amusements.
The Great Salt Lake is a beautiful blue jewel cut into the Utah landscape, offering visitors and residents miles of coastline to explore and a beautiful landscape ripe with quiet spots for enjoyment and award-winning photo ops. A visit here will enliven your senses and relax your mind, making you wish you could stay forever.
Things to Do at Great Salt Lake
Vacation Rentals
Boating
Sailing
Swimming
Beach
Canoeing
Kayaking
Water Skiing
Wakeboarding
Parasailing
Golf
Hiking
Ice Skating
Biking
Downhill Skiing
Snowboarding
Cross-Country Skiing
Snowmobiling
Hunting
Wildlife Viewing
Birding
State Park
Museum
Shopping
Find Places to Stay at Great Salt Lake
If you're considering a Great Salt Lake lake house rental or hotel, we've made it super easy to find the best rates and compare vacation accommodations at a glance. Save time using this interactive map below.
Recommended Sites to Book a Great Salt Lake Vacation
If you want to take a deeper dive to find waterfront lake cabins, cottages, condos, hotels or resorts, check out our favorite Great Salt Lake lodging partners.
Note: These are affiliate links so we may earn a small commission if you book through them. While there is no extra cost to you, it helps provide resources to keep our site running (thank you)! You can read our full disclosure policy here.
Great Salt Lake Statistics & Helpful Links
We strive to keep the information on LakeLubbers as accurate as possible. However, if you've found something in this article that needs updating, we'd certainly love to hear from you! Please fill out our Content Correction form.
Shop Great Salt Lake Gifts
Advertise Your Great Salt Lake Business or Vacation Rental
LakeLubbers will soon offer businesses the opportunity to advertise and homeowners and property managers the ability to showcase their vacation rentals to the thousands of lake lovers searching our site daily. If you would like additional details, please contact our advertising team.
Looking for the Great Salt Lake Forum?
LakeLubbers previously offered visitors the ability to create accounts and participate in lake forums. When we overhauled the site's content management system in 2021 we had to disable those features. We're evaluating options and welcome your comments and feedback here. We also encourage you to join our lake-lovin' community on Facebook, Instagram and Pinterest!
Great Salt Lake Photo Gallery
New photos coming soon!
Spread the word! Share our Great Salt Lake article with your fellow Lake Lubbers!