Great Falls Lake & Rocky Creek Lake, South Carolina, USA
Also known as:  Great Falls Reservoir, Rocky Creek Reservoir, Stumpy Pond, Cedar Creek Reservoir, Cedar Creek Lake
Welcome to the ultimate guide for history, statistics, local fun facts and the best things to do at Great Falls Lake & Rocky Creek Lake.
If you're considering Great Falls Lake & Rocky Creek Lake vacation rentals, we've made it super easy to explore accommodations and nearby hotels using the interactive map below. Simply click on a listing to compare similar properties, best rates and availability for your dates. Or keep scrolling to read our Great Falls Lake & Rocky Creek Lake guide!
Great Falls Lake & Rocky Creek Lake visitor and community guide
Some of the most spectacular paddling and fishing water in South Carolina's Olde English District hides in plain sight between Fishing Creek Reservoir and Lake Wateree. Great Falls Lake and Rocky Creek Lake are actually part of the same Catawba River, separated by an island created by an artificial channel diverting the river's flow for hydroelectric generation purposes. Great Falls Lake is the created reservoir, while Rocky Creek Lake is the original channel of the Catawba River south of Fishing Creek. Dams owned by Duke Energy contain both Great Falls Lake and Rocky Creek Reservoir, with hydroelectricity generated on both reservoirs.
Although Rocky Creek Lake is the better-known of the two, it goes by several names. The name of Rocky Creek Reservoir was given by Southern Power Company, the predecessor of Duke Energy. Many official publications call it Cedar Creek Reservoir. Most locals know it as Stumpy Pond. The entire water area is under the control of Duke Energy and has no improved recreational facilities along the many miles of shoreline.
Great Falls Lake has no public boat access, so boats must travel downstream from Fishing Creek Reservoir. Small Coffey Dam impounds the water into Great Falls Lake, which covers 477 acres. The water below that dam is used to generate hydropower at the Dearborn-Great Falls Powerhouse and Dam. Water passing over Coffey Dam and stretching around several islands along Cedar Creek becomes Rocky Creek Lake-the 'Stumpy Pond' of local fishing legend. Rocky Creek Lake terminates at the Cedar Creek Hydro Dam, with the river below it eventually becoming Big Wateree Creek flowing into Lake Wateree. And, although the small City of Great Falls lies on the western shore of Great Falls Lake above Dearborn Powerhouse, there is almost no development anywhere else along the 24 miles of shoreline.
Much of the eastern shoreline of Rocky Creek Lake is an unnamed wildlife management area. The islands are also uninhabited. Located at the geological juncture between harder underlying bedrock and softer coastal sediments, the South Carolina Fall Line crosses here, creating excellent elevation changes for development of dams and hydro power. This is what gave rise to the original power generation company at Great Falls that became massive Duke Energy. The same 'fall' line creates a rocky and scenic shoreline along much of both lakes. Rocky Creek Lake officially has 20 miles of shoreline around its 847-acre surface, but the large islands add many more miles. The islands were former hilltops and ridges, many of which now exist only as sandbars during periods of low water flow. The northern margins of Rocky Creek Lake are exposed boulders and ledges that once formed rapids and waterfalls.
Although popular Lake Wateree is just a few miles downstream, few people are aware of Great Falls Lake and Rocky Creek Lake except for those who have discovered the excellent fishing and paddlesport possibilities on Rocky Creek Lake. Canoeing and kayaking have become increasingly popular here. Three boat launch sites allow easy access for small boats. Two of the three have some parking, but no other facilities are provided. The launch site on Debutary Creek is especially popular with kayaking and canoeing clubs. The relatively quiet waters make for excellent beginner canoe and kayak outings, with the shallow channels between the islands particularly enjoyable. The wooded slopes around the lake hold deer, raccoon, squirrel, turkey, coyote, rabbit and other wildlife common to the area. A number of songbirds frequent the tree canopy surrounding the lake, while waterfowl are often seen along the shore. It's easy to beach a small craft on an island to eat a picnic lunch before heading back.
Fishermen delight in the huge crappie that can be caught on Rocky Creek Lake. One-to-two-pound crappie aren't uncommon, and area fishing guides schedule fishing trips to their secret hotspots. The lake also contains white bass, striped bass, panfish and channel catfish, so there's something here for every angler. Due to the uneven terrain, the lake bottom holds a variety of fish-attracting structures, but only the experienced 'Stumpy Pond' angler is likely to know where they are. 'Fish finder' sonar is strongly recommended for those unaware of the lake bottom. Two boat launch sites add to the access from Debutary Creek; both the Stumpy Pond Access Area and the Cedar Creek Access Area have space for parking. Bank fishing is also possible at the Cedar Creek area.
Although locals sometimes swim in the lake, there is no designated swimming beach. Duke Energy has no current plans to provide more recreational facilities, so knowledge of the two lakes' beauty and recreation remains mostly word-of-mouth. Lake Wateree to the south has several camping areas as does Fishing Creek Lake to the north. The Town of Great Falls is somewhat limited in lodgings, but there are small restaurants and stores selling supplies. Nearby Lancaster has more lodgings and guest cabins, and small motels near the river round out the possibilities for a good night's rest.
Several historic locations nearby offer history buffs some enjoyable viewing. Andrew Jackson State Park has restored buildings and monuments to the country's seventh president. Lancaster is home to a railroad museum that includes an antique children's train ride. Landsford Canal State Park showcases the preserved remnants of the once-busy canal system that facilitated river navigation in the 1800s. One of the outstanding natural features of the park are the spider lilies that flourish in the shallow, rapidly-moving water. Late May and early June find these special plants in full, glorious bloom.
So, pack the fishing gear and load up the canoe or kayak. Great Falls Lake and Rocky Creek Lake await your discovery.
*Statistics listed are for Rocky Creek Lake only.
Custom Great Falls Lake & Rocky Creek Lake house decor
Read our full review of these personalized lake house signs.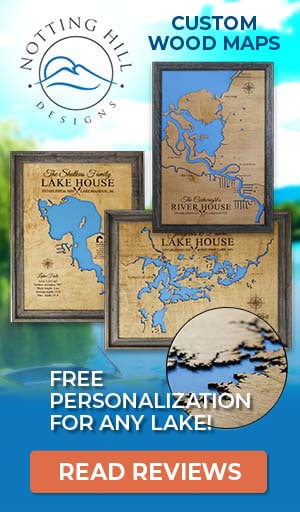 Things to do at Great Falls Lake & Rocky Creek Lake
Vacation Rentals
Fishing
Boating
Swimming
Beach
Canoeing
Kayaking
Camping
Picnicking
Cabin Rentals
Waterfall
Wildlife Viewing
Birding
State Park
Museum
Antiquing
Fish species found at Great Falls Lake & Rocky Creek Lake
Bass
Catfish
Channel Catfish
Crappie
Striped Bass
White Bass
---
Best hotels and vacation rentals at Great Falls Lake & Rocky Creek Lake
The Great Falls Lake & Rocky Creek Lake map shown above is a simple and stress-free way to search for trip accommodations. But if you want to take a deeper dive to find the ideal waterfront home, cabin, condo, hotel or resort, visit our favorite lodging partners by clicking the buttons below.
Note: These are affiliate links so we may earn a small commission if you book through them. While there is no extra cost to you, it helps provide resources to keep our site running (thank you)! You can read our full disclosure policy here.
---
Great Falls Lake & Rocky Creek Lake photo gallery
New photos coming soon!
Great Falls Lake & Rocky Creek Lake statistics & helpful links
We strive to keep the information on LakeLubbers as accurate as possible. However, if you've found something in this article that needs updating, we'd certainly love to hear from you! Please fill out our Content Correction form.
Advertise your Great Falls Lake & Rocky Creek Lake vacation rental
LakeLubbers will soon offer homeowners and property managers the opportunity to to showcase their vacation rentals to the thousands of lake lovers searching our site daily for accommodations. If you'd like additional details, please contact our advertising team here.
Looking for the Great Falls Lake & Rocky Creek Lake forum?
LakeLubbers previously offered visitors the ability to create accounts and participate in lake forums. When we overhauled the site's content management system in 2021 we had to disable those features. We're evaluating options and welcome your comments and feedback here.
We also encourage you to join our lake-lovin' community on Facebook and Instagram!
Spread the word! Share our Great Falls Lake & Rocky Creek Lake article with your fellow Lake Lubbers!