Fremont Lakes, Nebraska, USA
Lake Locations:
USA - Midwest - Nebraska - Metro -
Also known as:  Fremont State Recreation Area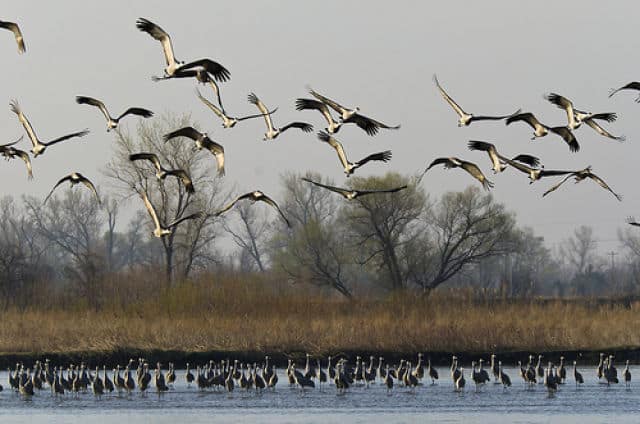 Fremont Lakes have turned human handiwork into a natural and recreational paradise. These small lakes are the result of groundwater filling sand-mining pits along the Platte River. There are at least 40 lakes in the area created from sandpits, with only a couple larger than 50 acres. Nebraska doesn't have many natural lakes, but the copious amount of sand deposited by the slow-moving, braided Platte River has encouraged sand mining along its path across the state; there are over 800 sandpit lakes in Nebraska. Twenty of the sandpit lakes just west of the City of Fremont have been preserved in the Fremont Lakes State Recreation Area. These lakes, primarily known by their numbers, host thousands of visitors each year on 280 acres of water.
The Fremont Lakes State Recreation Area (SRA) holds a wealth of water-based and nature-focused activities for visitors. The SRA offers four swimming beaches, all with sandy shores. Picnic areas are located along the banks of several of the lakes. A playground is provided to keep the littlest visitors happy. Two separate campgrounds provide 200 electrified campsites and 600 primitive sites for a total of 800 camping opportunities for vacationers. Showers, rest rooms, a dump station and campground assure that campers have everything they need. A convenience store concession is located inside the park. The area is shaded with mature trees and well-supplied with trails and walking paths. The shoreline vegetation encourages numerous birds to nest here, making Fremont Lakes a treasured bird-watching destination. Located on the major migration flyway, spring and fall see a huge number of migrating birds and waterfowl visiting the small lakes.
An area on Lake #20 is set aside for water skiing and the use of personal water craft. Several boat launch sites are located on the lakes, but many are too small for most gasoline motors; electric trolling motors are usually preferred. Several fishing piers are provided, some with handicap access. Because of the small size of the lakes, canoeing and kayaking are especially popular, with the occasional small sailboat seen. Fishing is a major attraction, as the lakes are noted for holding a large number of largemouth bass. The lakes also hold channel catfish, bluegill, bullhead, crappie, carp and bowfin. A fish cleaning station is provided. Most lakes have an average depth of about 10 feet, with many old logs and stumps providing good fish habitat. Some of the smaller lakes are nearly deserted on week days and have become the favored fishing trip for many in eastern Nebraska.
Fremont Lakes State Recreation Area is only 35 miles from Omaha on US 30. The historic City of Fremont is an interesting destination in itself. Before Fremont was incorporated as a city, it was the crossing point of the Mormon Trail. Located in the valley between the Platte and Elkhorn Rivers, it was a major overland route for emigrant settlers, the military, and hunters. Fremont's central location was the reason the nation's first trans-continental telegraph line, railroad and highway all crossed in this area. This rich history is likely one reason Fremont is now known as Eastern Nebraska's Antique Capital; Main Street has a number of specialty antique shops that will delight any antique shopper. Rail historians have preserved a section of the Fremont and Elkhorn Valley Railroad line and offer scheduled tours along the 17-mile line using rolling stock dating back to the 1920s. Rail fans can also take the trail to nearby Hooper, whose 1890's Main Street is listed as a historic district on the National Register of Historic Places.
Fremont Lakes aren't the only water-oriented destination at Fremont. The City of Fremont also owns a park and campground on one of the nearby sandpit lakes. A splash park is very popular with the kids. A local company offers group air boat excursions on the historic Platte River. The shallow, meandering but mighty Platte was the subject of many a cowboy or early settler tale. The Platte was famously described as "an inch deep, a mile wide, too thick to drink, too thin to plow!" The river was a major landmark and sometimes water route for pioneers heading west. The Platte had changed course repeatedly over the years, with sandbars appearing and disappearing, carrying a wealth of sand that it has been depositing in the area for thousands of years – the source of the sand dug from the sandpits. Much of the wildlife in Nebraska wanders along its banks, and bald eagles and other raptors soar overhead. It's a great place for photography.
If camping isn't in the cards for visitors, Fremont has several chain hotels and other lodgings such as nearby bed-and-breakfasts. The town of 26,000 has a number of restaurants, fast food venues, and other services and amenities. Although Omaha is only half an hour away, Fremont has a small-town feel that welcomes visitors to a relaxed and unhurried lifestyle. This is historic Plains country, with several small specialty museums in nearby towns that display the artifacts of a bygone era, of pioneer men and women and the tools with which they carried out their lives. Area real estate is available, sometimes on one of the local, non-State-owned sandpit lakes. So come spend some time at Nebraska's little Fremont Lakes. Big surprises come in small packages.
*Statistics listed are for Lake #20-the only lake with measurements available.
Things to do at Fremont Lakes
Vacation Rentals
Fishing
Boating
Sailing
Swimming
Beach
Canoeing
Kayaking
Water Skiing
Camping
Campground
Picnicking
Hiking
Hunting
Wildlife Viewing
Birding
Museum
Playground
Antiquing
Fish species found at Fremont Lakes
Bass
Black Bass
Bluegill
Bowfin
Carp
Catfish
Channel Catfish
Crappie
Largemouth Bass
Sunfish
---
Fremont Lakes Photo Gallery
Fremont Lakes Statistics & Helpful Links
Spread the word! Share our Fremont Lakes article with your fellow Lake Lubbers!