Flathead Lake, Montana, USA
Welcome to the ultimate guide for history, statistics, local fun facts and the best things to do at Flathead Lake.
If you're considering Flathead Lake vacation rentals, we've made it super easy to explore accommodations and nearby hotels using the interactive map below. Simply click on a listing to compare similar properties, best rates and availability for your dates. Or keep scrolling to read our Flathead Lake guide!
Flathead Lake visitor and community guide
Carved out by the historic glaciers of the last ice age approximately 11,000 years ago, Flathead Lake is one of the largest natural freshwater lakes in the western United States. The Kerr Dam regulates water flow from the lake's major tributaries — the Flathead and Swan Rivers — providing hydroelectric power, water for irrigation, and flood control. Nestled in the heart of the 100-mile long Flathead Valley in northwest Montana, this moraine-dammed lake has a surface area of 122,500 acres. Its 161-mile shoreline outlines vast hiking trails of majestic mountain ranges, making it a one-stop destination for all water and land sport enthusiasts.
The glittering blue water of Flathead Lake takes its name from its earliest settlers — the Bitterroot Salish (Flathead), Kootenai and Pend d' Orielles tribes — residing at the Flathead Indian Reservation located at the southern half of the lake. The Mission Mountain Range towers its eastern shore, and the Salish Mountain Range, the west. The exotic Bob Marshall Wilderness is a backdrop of visual delight.
Kerr Dam, owned by PPL Montana, is jointly operated with the Confederated Salish and Kootenai Tribes of the Flathead Indian Nation. The dam went into operation in 1938, raising the level of Flathead Lake by 10 feet over its natural outlet. Water levels are maintained between 2,283 and 2,293 feet above sea level. The expansive lake stretches almost 28 miles long and 16 miles wide at its widest point.
Packing your bags for a leisure or adventure tour of Flathead Lake brings you to its beautifully landscaped vacation and residential areas with first class amenities. Whether you are a couple who wants a get-away in a private harbor, or an entire family that wants to join fun-filled communities in and around the cities or State Parks, Flathead Lake has it all.
Anglers find rich fishing waters at Flathead Lake. It is an aquatic habitat to 25 fish species including the yellow perch, lake trout, lake whitefish, pearmouth minnow, largescale sucker, and sculpin. But the finest game fishes are the cutthroat, mackinaw, kokonee and the trophy-size bull trout. Ice fishing is popular during the winter.
As an added amusement, Flathead Lake is also home to the fabled Flathead Lake monster known as Flathead Nessie. Nessie has been described as a whale-shaped or eel-shaped creature about 20 to 40 feet long, with piercing ebony eyes. Sightings have been recorded over the past hundred years, but no actual photos are available.
Many watercraft, propelled by paddle, motor, and sail, traverse the waters of Flathead Lake. You can play in, on or by the water, without worrying about crowding. White-water rafting, water skiing, wakeboarding, tubing, diving, parasailing and hydrobiking are famous water sports here. The sheer size of the lake can accommodate anyone, everyone, anytime. You can bring your own water toys or rent them from nearby marinas. Or, sitting by the shore with the waves lapping at your feet is also not a bad idea.
The area that surrounds Flathead Lake is as massive and wonderful as the lake itself, making it the adventurer's ultimate paradise. Though it has no central hub for visitors, Flathead Lake State Park offers six different units: Wild Horse Island, Big Arm, Finley Point, Wayfarers, West Shore, and Yellow Bay. Each park provides its own unique recreation and wildlife viewing. The 2,100-acre Wild Horse Island is the largest among the parks. It is a popular camping site for hikers, mountain climbers and RV owners. You can even saddle up for a relaxing horse ride along homesteads and larch-lined trails, and get an occasional glimpse of deer, Bighorn sheep and grizzly bears. To add color to your cheeks, a nice sunbath at the Big Arm unit's pebble beach is delightful. Boaters, swimmers and campers can also indulge in the breathtaking views and secluded privacy of West Shore Park, enjoying the fresh scent of tall firs and pines. Pick wildflowers and commune with park residents at Wayfarers by setting-up a picnic table. This area provides boat ramps, trailer dumps and dock fishing zones. If you plan your trip on time, you may even get a taste of delectable cherries from the orchards within Yellow Bay area. Scuba divers and swimmers frequent the bay as it is the deepest area of Flathead Lake's waters. At the lake's southeast end is the Finley Point unit with campsites, running water, boat slips and pump-out stations.
The full range of visitor services extend to Glacier National Park, 30 miles north of Flathead Lake, offering a spectacular view of valleys, ridges, peaks and wildlife. Other golden attractions are the Ninepipe National Wildlife Refuge which is sanctuary to over 200 species of birds, and of course, Flathead Valley which was named by Golf Digest as one of the Top 50 Golf Destinations. Needless to say, golf is also a very popular sport among residents and vacationers at Flathead Lake.
Concerts and festivals are celebrated in the charming and historic towns and cities of Kalispell, Polson, Big Fork, Somers and Elmo. Take part or watch the annual Flathead Lake Hoopfest, Cherry Blossom Festival and Full Moon Cruise. These are just some of the many much awaited events.
No place can top the natural beauty, splendor and experience that Flathead Lake offers. So, whether you want to sweat or get wet, the "Jewel of the Northwest" awaits you to enjoy its collection of marvelous state park units and cool, pristine waters. Come and don't delay any longer. The lake monster sure is waiting to pose for a snapshot from you!
Custom Flathead Lake house decor
Read our full review of these personalized lake house signs.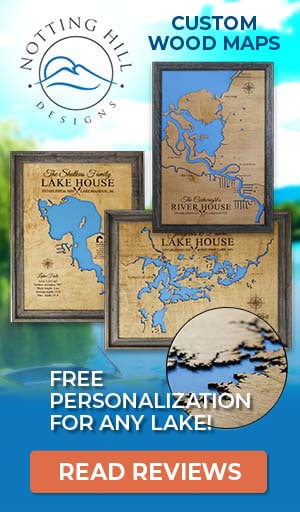 Things to do at Flathead Lake
Vacation Rentals
Fishing
Ice Fishing
Boating
Sailing
Swimming
Beach
Water Skiing
Wakeboarding
Parasailing
Tubing
Scuba Diving
Golf
Camping
Picnicking
Hiking
Mountain Climbing
Horseback Riding
Wildlife Viewing
Birding
National Wildlife Refuge
State Park
National Park
Fish species found at Flathead Lake
Bull Trout
Eel
Lake Trout
Perch
Sculpin
Sucker
Trout
Whitefish
Yellow Perch
---
Best hotels and vacation rentals at Flathead Lake
The Flathead Lake map shown above is a simple and stress-free way to search for trip accommodations. But if you want to take a deeper dive to find the ideal waterfront home, cabin, condo, hotel or resort, visit our favorite lodging partners by clicking the buttons below.
Note: These are affiliate links so we may earn a small commission if you book through them. While there is no extra cost to you, it helps provide resources to keep our site running (thank you)! You can read our full disclosure policy here.
---
Flathead Lake photo gallery
New photos coming soon!
Flathead Lake statistics & helpful links
We strive to keep the information on LakeLubbers as accurate as possible. However, if you've found something in this article that needs updating, we'd certainly love to hear from you! Please fill out our Content Correction form.
Advertise your Flathead Lake vacation rental
LakeLubbers will soon offer homeowners and property managers the opportunity to to showcase their vacation rentals to the thousands of lake lovers searching our site daily for accommodations. If you'd like additional details, please contact our advertising team here.
Looking for the Flathead Lake forum?
LakeLubbers previously offered visitors the ability to create accounts and participate in lake forums. When we overhauled the site's content management system in 2021 we had to disable those features. We're evaluating options and welcome your comments and feedback here.
We also encourage you to join our lake-lovin' community on Facebook and Instagram!
Spread the word! Share our Flathead Lake article with your fellow Lake Lubbers!