Flaming Gorge Reservoir, Utah & Wyoming, USA
Lake Locations:
USA - West - Utah - Dinosaurland - Wyoming - Southwest -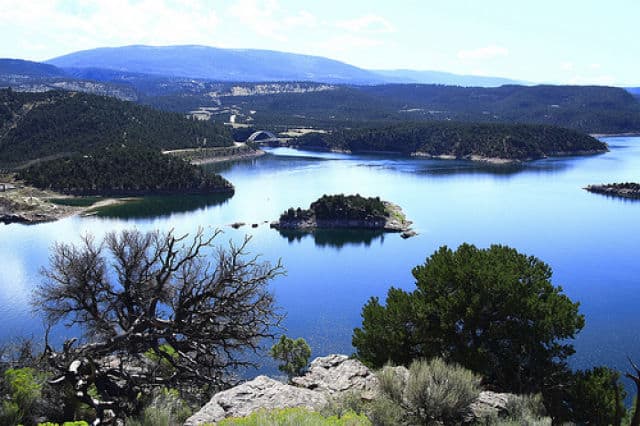 With more than 42,000 acres of boating and fishing waters, surrounded by choice camping and picnic areas, Flaming Gorge Reservoir – straddling the Wyoming and Utah state line – is an ideal leisure-time destination. Flaming Gorge Reservoir, in Ashley National Forest, provides many excellent recreational opportunities, including areas with boat ramps, fishing docks, hiking trails, marinas with boat slips, camping sites, and picnic sites. Winter activities are great also with cross country skiing and snowmobiling topping the list. The Flaming Gorge National Recreation Area serves as a recreation centerpiece for the area. Visitor Centers are located at the dam and the south shore of the reservoir, with tours of the 50 story dam and hydroelectric turbines available.
The U.S. Bureau of Reclamation created Flaming Gorge Reservoir by building the Flaming Gorge Dam in Red Canyon, Utah to impound the Green River. It was built to provide storage for Green River spring floods for use by Arizona, Nevada and southern California. Construction of the dam began in 1958 and was completed in 1964. It stores over 3,700,000 acre-feet of water, located a little above 6000 feet elevation and supplies hydroelectric power.
Flaming Gorge Reservoir is very popular with anglers for its trophy size lake trout, a good number of 30 plus pounders are caught each year. The Utah lake trout record is 52.97 pounds, caught in 2019 in the reservoir. In addition to lake trout, the reservoir provides excellent sport fishing for rainbows, brown trout, smallmouth bass and kokanee salmon. Fishing supplies and boats can be had at the marinas. There's nothing like leaning back in your boat with your lure presented to the trout and watching the gorgeous red rock cliffs around the reservoir.
Scuba divers revel in the underwater experiences and the spear fishing in Flaming Gorge Reservoir. The location is known as a scuba training area, attracting instructors and students from neighboring states to learn to dive in its interesting waters. A popular sport is spear fishing for fresh water fish. Underwater visibility in the reservoir can range from 6 to 30 feet.
Superb boating is a major enjoyment on the gorgeous waters of Flaming Gorge Reservoir. Five large fully stocked marinas dot the reservoir. Full size boats to canoes and kayaks may be rented at most. Watersports abound including cliff diving, jet skiing, and water and board skiing. Launch ramps in both Wyoming and Utah locations are conveniently accessible.
Flaming Gorge National Recreation Area offers many trails and camping areas/sites. Ashley National Forest manages the trails winding along the gorge and campsites that can be found close to the dam and around the reservoir. Check with the Ranger Stations for information. For the geocacher, there are at least five geocaches nearby.
Flaming Gorge Reservoir is for the outdoor person, angler or someone who just wants some peace and quiet with the added benefit of superb stargazing. It's a wonderful experience of nature's best, not to be missed.
Things to do at Flaming Gorge Reservoir
Vacation Rentals
Fishing
Boating
Canoeing
Kayaking
Jet Skiing
Scuba Diving
Camping
Picnicking
Hiking
Cross-Country Skiing
Snowmobiling
National Forest
Fish species found at Flaming Gorge Reservoir
Bass
Black Bass
Brown Trout
Kokanee Salmon
Lake Trout
Salmon
Smallmouth Bass
Trout
---
Flaming Gorge Reservoir Photo Gallery
Flaming Gorge Reservoir Statistics & Helpful Links
At LakeLubbers.com, we strive to keep our information as accurate and up-to-date as possible, but if you've found something in this article that needs updating, we'd certainly love to hear from you!
Please let us know about it on our Content Correction form.
Spread the word! Share our Flaming Gorge Reservoir article with your fellow Lake Lubbers!