Fishing Creek Reservoir, South Carolina, USA
Also known as:  Nitrolee Dam, Fishing Creek Lake
Welcome to the ultimate guide for history, statistics, local fun facts and the best things to do at Fishing Creek Reservoir.
If you're considering Fishing Creek Reservoir vacation rentals, we've made it super easy to explore accommodations and nearby hotels using the interactive map below. Simply click on a listing to compare similar properties, best rates and availability for your dates. Or keep scrolling to read our Fishing Creek Reservoir guide!
Fishing Creek Reservoir visitor and community guide
Fishing Creek Reservoir, on the Catawba River in the Old English Region of South Carolina is aptly named: the 3112-acre lake provides a steady source of water to Chester County, South Carolina and a source of fishing and paddling enjoyment to both residents and visitors. Created in 1916, the reservoir provides hydroelectric power to Duke Energy's Fishing Creek Hydroelectric Station dam, known locally as the Nitrolee Dam. There is little development along the shoreline and the many coves and inlets provide great fishing opportunities for anglers dedicated to their craft.
Fishing Creek Reservoir is one of 13 reservoirs serving generating plants for Duke Energy along the Catawba River. Duke provides several boat access sites for the benefit of visitors on the lake. The limited access keeps the lake from being inundated with visitors and assures a quiet body of water for ideal for kayaking, canoeing and fishing. The primary fish species caught are bluegill, largemouth bass, gizzard shad, crappie and catfish, although other fish are present. The Department of Natural Resources has built fish attraction structures to improve the fishing at several spots underwater. It's the perfect place to spend a leisurely day in the boat with a rod and some bait.
Most Fishing Creek Lake visitors are very well acquainted with the series of reservoirs downstream: Great Falls Reservoir has no public access and the third reservoir in the series, Rocky Creek Lake – better known as Stumpy Pond – has several. There is apparently an informal portage path around Fishing Creek Dam and many local anglers report excellent fishing near the tail waters of the dam.
Local canoe clubs meet regularly to canoe all three reservoirs. They regularly report seeing a great variety of birds on Fishing Creek Reservoir and in the tail water area. Bald eagles are reported to nest in the area and snowy egrets are common. A recent bird survey cites several species of endangered birds, including peregrine falcon, American swallow-tailed kite, red-cockaded woodpecker, wood stork and least tern sighted in the area of the three reservoirs, often during migration.
In recent years, kayakers have joined the many canoe enthusiasts on the lake to enjoy the wildlife and the solitude. The 30-mile stretch of the Catawba River between Wylie Hydro and the upper end of Fishing Creek Lake is now the longest portion of the Catawba River that remains undammed.
Fishing Creek Lake hasn't always been so quiet: the Catawba River has been a main transportation route since before locally recorded history. The river was a main Native American trading route and early European traders followed their paths. Some experts suggest that Cortez may have followed the Catawba-Wateree River basin trails. Battles were fought at the fords across the river in both the Revolutionary and Civil Wars. At The Battle of Fishing Creek, British forces under Banastre Tarleton surprised the militia company of Thomas Sumter, killing a significant number and taking about 300 captives. Several locally-famous Civil War skirmishes fought at river crossings are part of South Carolina history. The area is called the Old English Region due to the large number of English settlers who made their home here early in the nation's history.
Around 1820, an effort to improve transportation to the coast resulted in several canals being built to circumvent rapids. The remains of one of these canals, complete with lock, mill, stone bridge and lock keepers homes, have been preserved in the upstream rapids of Fishing Creek Lake/Catawba River. The Landsford Canal State Park offers excellent walking trails along the old towpath and views of all of the preserved ruins of the canal system. Bald eagles nest in the park. There are campsites and a picnic area but many visitors choose to jump from stone to stone across the rapids to reach an island for a favored picnic spot. An unforgettable sight during May and early June is the sight of the world's largest population of Rocky Shoals spider lilies blooming among the rapids. These beautiful flowers belie the rough conditions under which they thrive.
Vacation rentals in the area of Fishing Creek Reservoir range from small cabins to luxurious homes, guest cottages and other types of lodgings. The visitor need not fear boredom here. If the fish aren't biting, there are plentiful activities going on in the neighborhood. Nearby Lancaster holds Andrew Jackson State Park with restored buildings and sculpture honoring the memory of the United States' seventh President. Also in Lancaster is the L & C Railroad Museum, featuring a children's miniature train ride that was in use until the 1960s.
Fishing Creek Lake is about 50 miles from Columbia, South Carolina and the same distance from Charlotte, North Carolina. The short distance makes the reservoir a quick getaway for a weekend or longer. At the border of South and North Carolina, the country's only two-state amusement park beckons the kids and the young at heart. Any visitor with children in tow will have to plan to spend at least one day at Carowinds.
With all of these benefits within an hour's drive, the visitor may decide to check out the many real estate opportunities in the area. There are homes available with waterfront and private docks close to grocery stores and shopping. Now might be the time to take that fishing or canoe trip you've been dreaming of. Come visit Fishing Creek Reservoir and experience the best of both worlds.
Custom Fishing Creek Reservoir house decor
Read our full review of these personalized lake house signs.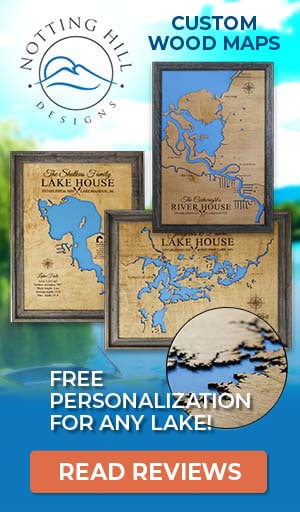 Things to do at Fishing Creek Reservoir
Fishing
Boating
Canoeing
Kayaking
Camping
Picnicking
Cabin Rentals
Hiking
Wildlife Viewing
Birding
State Park
Museum
Ruins
Amusement Park
Shopping
Fish species found at Fishing Creek Reservoir
Bass
Black Bass
Bluegill
Catfish
Crappie
Gizzard Shad
Largemouth Bass
Shad
Sunfish
---
Best hotels and vacation rentals at Fishing Creek Reservoir
The Fishing Creek Reservoir map shown above is a simple and stress-free way to search for trip accommodations. But if you want to take a deeper dive to find the ideal waterfront home, cabin, condo, hotel or resort, visit our favorite lodging partners by clicking the buttons below.
Note: These are affiliate links so we may earn a small commission if you book through them. While there is no extra cost to you, it helps provide resources to keep our site running (thank you)! You can read our full disclosure policy here.
---
Fishing Creek Reservoir photo gallery
New photos coming soon!
Fishing Creek Reservoir statistics & helpful links
We strive to keep the information on LakeLubbers as accurate as possible. However, if you've found something in this article that needs updating, we'd certainly love to hear from you! Please fill out our Content Correction form.
Advertise your Fishing Creek Reservoir vacation rental
LakeLubbers will soon offer homeowners and property managers the opportunity to to showcase their vacation rentals to the thousands of lake lovers searching our site daily for accommodations. If you'd like additional details, please contact our advertising team here.
Looking for the Fishing Creek Reservoir forum?
LakeLubbers previously offered visitors the ability to create accounts and participate in lake forums. When we overhauled the site's content management system in 2021 we had to disable those features. We're evaluating options and welcome your comments and feedback here.
We also encourage you to join our lake-lovin' community on Facebook and Instagram!
Spread the word! Share our Fishing Creek Reservoir article with your fellow Lake Lubbers!