Fishercap Lake, Montana, USA
Lake Locations:
USA - West - Montana - Glacier Country -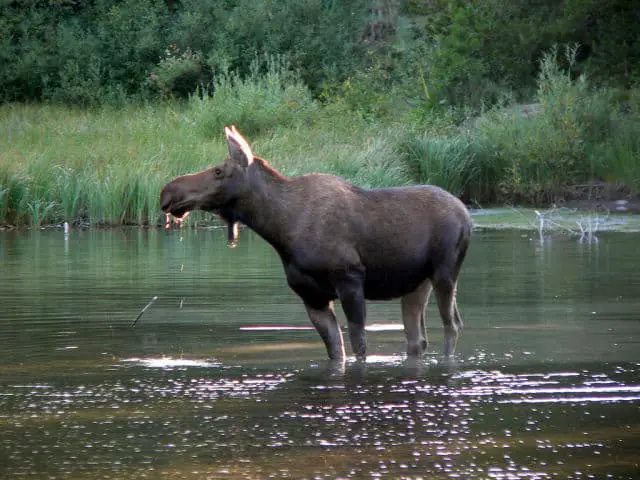 Fishercap Lake is a secluded, almost secret spot in Montana's remote Glacier National Park wilderness. Spectacular jagged mountains surround this tiny 12-acre lake on all sides, the lake's crystalline surface mirroring the peaks on a clear day. This is one lake that people visit only by foot, breathing some of the Montana's freshest mountain air, hoping to catch a snapshot of moose which visit the lake regularly.
Fishercap Lake is a shallow, clear glacial lake with small streams providing the inflow and outflow. The lake is set entirely within the Glacier County tourism region and is nearest to Swiftcurrent Lake and Lake Josephine. Visitors have a small window of opportunity to visit this lush Montana jewel, as the resort and inn near Fishercap Lake are only open from June through September each year due to the area's high snowfall and remote location. Visitors walk through the trees along a relatively easy hiking trail to Fishercap Lake from a resort on the shores of Swiftcurrent Lake which was built in the early 1900s. This out-and-back trail is only 1.6 miles long, and hiking is the only way to access the lake.
Those who do take the trip to Fishercap Lake are often rewarded with views of a moose cow and her calf, stretching their long legs along the short shoreline. Bull moose are also seen coming out of the woods and into the lake, settling in to snack on the aquatic plants lining the lake's shallow depths. Visitors should keep a healthy distance from these large, statuesque animals, as they are dangerous and can become easily angered if confronted.
There is no camping allowed directly on the shoreline of Fishercap Lake, but as the lake is set in the midst of the 1 million acres that is the Glacier National Forest, camping opportunities abound. One campground area is located just one mile away from the lake's shores, which makes it easy to pack a picnic and fishing pole and set out for the day. Fishercap Lake isn't for the angler looking to snag a large catch that day. Instead, those fishing this lake typically have to slap on a pair of waist-high waders and be patient in order to catch the small brook trout that weave along the water's edge. The streams coming into and out of the lake also offer up a few fish species.
Wildlife abounds in and around Fishercap Lake, taking advantage of the forest's remote location. Black bears and grizzly bears are common, snagging berries off bushes and fishing from rivers. Canada lynx, cougars and wolverines are the quieter, stealthier types, and are not often seen by many visitors. But wildlife isn't the only reason to visit the area — wildflowers and other flora make for beautiful photographs during the summer seasons.
For the socially inclined, settle in for a quality dinner at the nearby inn and resort. A local entertainer will sing for guests through the week, as visitors tap their feet to the twang of his guitar and trill of his harmonica. Bus tours are given along with boat cruises of the nearby lakes. For a little more action, book a trail ride adventure and snap pictures of the looming mountains while atop your slow and steady steed.
Soak up local atmosphere through the forest's rugged — and often temperamental — terrain, either by roughing it under the stars or tucked away in a plush bedroom. Busy yourself with hiking and horseback riding during the day and fine dining and musical entertainment in the evening. But make sure to pass through the wilderness to Fishercap Lake, be it to settle in for an hour or two or to watch wildlife stroll by your eyes. This is one quaint lake you won't want to miss.
Things to do at Fishercap Lake
Fishing
Boating
Campground
Picnicking
Hiking
Horseback Riding
Wildlife Viewing
National Park
National Forest
Fish species found at Fishercap Lake
---
Fishercap Lake Photo Gallery
Fishercap Lake Statistics & Helpful Links
Spread the word! Share our Fishercap Lake article with your fellow Lake Lubbers!