Fish Lake, Utah, USA
Lake Locations:
USA - West - Utah - Panoramaland -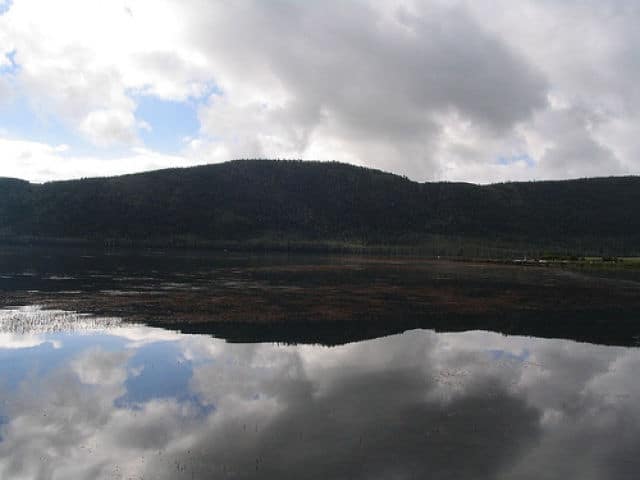 Fishlake National Forest is a glittering emerald jewel in the heart of Utah's normally dry and desolate countryside. And in the National Forest is the lake that gives the forest its name – Fish Lake. Covering 2,500 acres, Fish Lake is the largest naturally formed mountain lake in the entire state. Because it offers year round fishing, Fish Lake is a favorite of locals and tourists alike.
Fish Lake is deep, with a maximum depth of over 170 feet and an average depth of 85 feet. Its oblong shape is roughly 5 miles long and just over a mile and a half wide. The clear, cold waters of Fish Lake are surrounded by jagged mountains (the Mytoges) on one side and a tall, flat plateau (Fish Lake Plateau) on the other. Fish Lake is part of a "graben" valley, which means it is like a big ditch between two geological faults. Water is supplied to Fish Lake via Doctor Creek, Jorgenson Creek, Twin Creek and Bowery Creek, and it exits through Lake Creek which is a headwater stream of the Fremont River.
Fish Lake is completely surrounded by the Fishlake National Forest, so public access is unrestricted. Although Fish Lake is a natural lake, a dam was built in 1935 to regulate the release of water for irrigation. Because only the top three feet of water can be released for agriculture, water levels remain fairly constant. The Fremont Irrigation Company maintains the dam.
All types of water sports are popular on Fish Lake, including boating, water skiing, jet skiing, swimming, fishing, and even scuba diving. The Fishlake National Forest offers every type of recreation imaginable, in every season. Hiking, camping, cross country skiing, ATV trails, mountain bike trails, horseback riding, and 4-wheel drive trails are all available throughout the area. Even with ATV and ORV trails in the forest, the quiet surrounding the lake is breathtaking. The beauty of Fish Lake is that it is so serene.
Fish Lake is famous for its 20- and 30-pound Mackinaw trout. Rumor has it, if it weighs less than 10 pounds, the local fisherman won't keep it. Rainbow trout, brown trout, splake (a cross of lake and brook trout) and yellow perch are also popular sport fish.
Although the shoreline is part of the Fishlake National Forest, privately owned resorts and rental cottages are available to visitors. The resorts are full service, including boat and ATV rentals, boat launches, grocery stores, cabins, RV and tent camping, and one even has a cafe. In addition, the US Forest Service operates three campgrounds: Doctors Creek, Mackinaw, and Bowery.
When you plan a trip to Utah, make sure to include the Fish Lake area in your plans. It could take a couple of weeks to experience everything that it has to offer. And it wouldn't be a bad idea to make two trips – one in the spring/summer and one in autumn or winter. The difference of the seasons brings opportunities that the opposite doesn't afford, and if you want a full experience of the area, you should make an effort to try both.
Things to do at Fish Lake
Vacation Rentals
Fishing
Boating
Swimming
Jet Skiing
Water Skiing
Scuba Diving
Camping
Campground
Cabin Rentals
Hiking
Cross-Country Skiing
Horseback Riding
National Forest
Fish species found at Fish Lake
Brook Trout
Brown Trout
Mackinaw Trout
Perch
Rainbow Trout
Splake Trout
Trout
Yellow Perch
---
Fish Lake Statistics & Helpful Links
Spread the word! Share our Fish Lake article with your fellow Lake Lubbers!