Finger Lakes, New York, USA
Lake Locations:
USA - Mid-Atlantic - New York - Finger Lakes -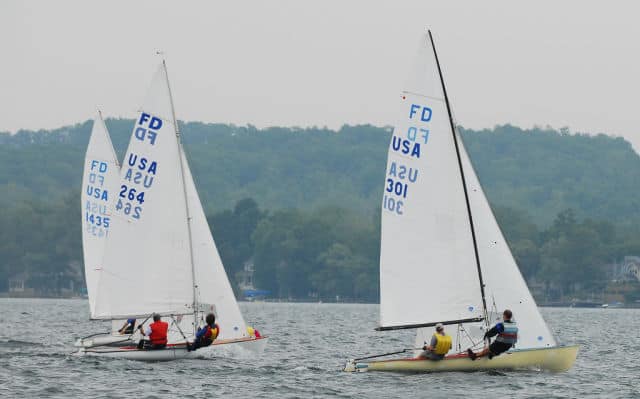 The Finger Lakes Region of New York is one of the nation's favorite recreation and vacation destinations. The series of eleven long, narrow lakes are the result of ancient small lakes and stream valleys re-carved by the last glacier to cover the area. Lying north to south, these unique parallel lakes range in depth from 30 feet to over 600 feet. A total of 385 miles of shoreline encompassing 133,480 acres of water surface serve to moderate the temperature of the entire region. This has allowed the Finger Lakes Region to develop a major grape growing industry. The region includes over 100 wineries, making it the largest concentration of wineries in the United States outside of the Napa Valley.
Several of the Finger Lakes are heavily populated with seasonal cottages and year-round homes, while others are city-owned water supply reservoirs with no shoreline development. All support excellent fishing and all allow some public access.
Eleven lakes make up the official Finger Lakes, although some people include other lakes in the region. The eleven 'official' lakes, from largest to smallest, are:
1. Seneca Lake is the largest Finger Lake with 43,243 acres. Seneca Lake State Park offers a swimming beach, fishing, boat rentals, two marinas with slips and a unique water park called a 'Sprayground', where random water jets drench delighted children. The trout fishing is excellent. Boaters, canoeists and kayakers can navigate four locks on the Cayuga-Seneca Canal, a 12-mile waterway that connects Seneca with Cayuga Lake. Visitors enjoy hiking and biking along the Canalway Trail.
2. Cayuga Lake is the second largest Finger Lake with 42,956 acres. The Allan H. Treman State Marine Park is one of the largest inland marinas in New York, offering visitors a marina, boat launch, dockage, pump out station, fishing pier, picnic tables and playing fields. The Montezuma National Wildlife Refuge, operated by the United States Fish and Wildlife Service, hugs the north end of the lake. Cayuga Lake State Park offers beaches, campsites, cabins, and shore fishing. The Cayuga Wine Trail, visiting 16 wineries, winds around the lake. The Cayuga-Seneca Canal along the Seneca River provides boating, canoeing, and kayaking opportunities. Visitors can also hike and bike along the Canalway Trail.
3. Keuka Lake (11,584 acres) is a Y-shaped lake once nicknamed Crooked Lake. Keuka Lake is the only Finger Lake that empties into another Finger Lake (Seneca Lake). Keuka Lake State Park provides a marina, boat rental, hiking, and fishing.
4. Canandaigua Lake (10,553 acres) is Iroquois for "chosen spot." Canandaigua Lake State Marine Park, located in the City of Canandaigua at the north end of the lake, provides boat launch facilities. The lake offers sailing, boating and swimming and is popular with anglers.
5. Skaneateles Lake (8,960 acres) is a public water supply for the City of Syracuse. The lake is a sailing favorite with a sailing club along the shore. A public boat launch and picnic area provide lake access. The quaint town of Skaneateles hugs the north shore and provides a unique blend of amenities, culture, and history.
6. Owasco Lake (6,665 acres) offers many private lakefront homes. A 50-acre wetland known as the Owasco Flats is an important breeding habitat for fish, birds, reptiles, and mammals. Canoeists and kayakers enjoy paddling along the Outlet through the City of Auburn to the Owasco Outlet Dam. Owasco Lake provides more than 70% of the drinking water for Cayuga County.
7. Conesus Lake covers 3,420 acres, but its shallow depths allow it to freeze during winter, inviting ice fishing enthusiasts. Visitors enjoy water skiing, boating and swimming. Public boat launches and public swimming areas with picnic facilities provide access to the lake.
8. Otisco Lake (1,878 acres) is the easternmost of the 11 Finger Lakes. Limited public access provides opportunities for picnicking, boating, and fishing. The lake serves as a water supply to Onondaga County.
9. Hemlock Lake (1,800 acres) supplies water to the City of Rochester. There is no development along the lake shoreline. The city allows boating and fishing via permit for small boats of 10 horsepower or less. The lake offers great fishing, even landlocked salmon, in a quiet, natural setting.
10. Honeoye Lake (1,772 acres) is also a shallow lake that is popular with ice fishermen during winter. Honeoye offers great fishing, a public beach, a boat launch, and a playground.
11. Canadice Lake (649 acres) is the smallest of the famous Finger Lakes and also the highest in elevation. The lake supplies drinking water to the City of Rochester. Although swimming is not permitted in the lake, visitors obtain permits to fish, hike, and enjoy lakeside picnics.
Two other lakes are sometimes included in the Finger Lakes group, although they technically are not a part of this unique formation: Oneida Lake, sometimes called 'the thumb' at 51,072 acres, and Cazenovia Lake at 1,184 acres.
This area of New York state receives a large amount of lake-effect snow, thanks to the Finger Lakes and Lake Ontario. In winter, the region offers a variety of cross-country skiing trails, snowmobile routes, downhill ski areas, and tobogganing runs.
The river gorges carved by glaciers provide scenic hiking trails, waterfalls and rivers both placid and of white-water quality. The Finger Lakes Region holds 17 state parks, 11 on the water, and a variety of city and county parks along with commercial campgrounds. Farmers markets, historical sites, golf courses and every possible recreational activity can be found in the Finger Lakes Region. Autumn color tours are especially popular, drawing thousands of visitors each fall.
The entire area is well-supplied with vacation rentals and a variety of restaurants, small shops, arts and crafts venues and local festivals. Many of the homes and cottages along the lakes are offered as vacation rentals by the week or month. Bed-and breakfasts and quaint country inns are common in the area. All of the larger towns have hotels and motels catering to lakes visitors. Many visitors choose to locate real estate in the area either as existing housing or to build their own retirement home. The small-acreage farm is in particular demand. So, come take a wine tour or indulge in a trout-fishing week-end. Everything is here to make your Finger Lakes vacation the trip you'll remember forever. Let forever start soon!
Things to do at Finger Lakes
Vacation Rentals
Fishing
Ice Fishing
Boating
Sailing
Swimming
Beach
Canoeing
Kayaking
Water Skiing
Golf
Camping
Campground
Picnicking
Cabin Rentals
Hiking
Biking
Downhill Skiing
Cross-Country Skiing
Snowmobiling
Tobogganing
Waterfall
Wildlife Viewing
Birding
National Wildlife Refuge
State Park
Playground
Fish species found at Finger Lakes
---
Finger Lakes Photo Gallery
Finger Lakes Statistics & Helpful Links
Spread the word! Share our Finger Lakes article with your fellow Lake Lubbers!