Enid Lake, Mississippi, USA
Lake Locations:
USA - South - Mississippi - Hills Region -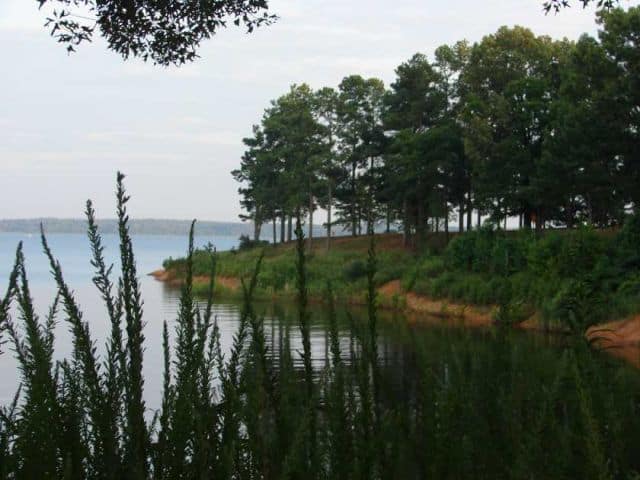 Enid Lake, located in northern Mississippi's Hill Region, is about an hour's drive south of Memphis, Tennessee. Originally designed for flood control, Enid Lake is now a popular recreational area. Visitors of Enid Lake can participate in a wide variety of recreation activities while enjoying the subtopic temperatures and mild climate of northern Mississippi. Recreational activities include boating, swimming, water-skiing, fishing, hunting, camping, hiking and horseback-riding.
Disastrous flooding along the Mississippi Valley in 1927 made it obvious the area was in need of more flood protection. The levees that were in place where no longer enough to provide life saving flood control. Enid Lake was created out of this need for more protection. Authorized by the Flood Control Act of 1928, the U.S. Army Corps of Engineers started construct of Enid Dam on Yocona River in 1947. Completed in 1952, Enid Dam now stretches 8,400 feet long with an average height of 85 feet.
Enid Lake is best known for its fishing. With an abundance of crappie, largemouth bass, catfish and bream as well as holding two world records for two different types of fish, it is no wonder that anglers enjoy their time fishing at Enid Lake each year. Enid Lake holds the world records for white crappie weighing in at 5.3 lbs and shortnose gar weighing in at 5.83 lbs. There is a bag limit of 20 crappies per person and crappies must be over 12 inches long. Besides fishing the Enid Lake project has 35,000 acres of land that are open to the public for hunting. Wildlife includes deer, turkey, waterfowl, squirrel and rabbit. Hunting and fishing licenses are required and can be obtained from the State of Mississippi.
Enid Lake offers primitive and electric camping which can be found at six different campgrounds as well as the George Payne Cossar State Park. Day Use Areas offer 11 boat launching ramps for the boat enthusiast and 4 swimming beaches for those who want a good day out in the sun. The Campground and Day Use Areas are subject to park fees.
In order to keep Enid Lake a beautiful and enjoy place to visit, the Corps host to yearly events to promote visitors awareness on how to protect the natural recourses of Enid Lake. Habitat Day the Corps teams up with a local Bass Club and a number of volunteers to replace fish habitat. The national observed Environmental Awareness Day the Corps set up educational stations to encourage the visiting school children to support a clean environment.
Enid Lake is a vacation destination that visitors will want to visit time and time again. Whether it is for a week or a quick weekend getaway, visitors of Enid Lake will not be disappointed with all that the lake has to offer.
Things to do at Enid Lake
Vacation Rentals
Fishing
Boating
Swimming
Beach
Water Skiing
Camping
Campground
Hiking
Horseback Riding
Hunting
Wildlife Viewing
Birding
State Park
Fish species found at Enid Lake
Bass
Black Bass
Catfish
Crappie
Gar
Largemouth Bass
Shortnose Gar
White Crappie
---
Enid Lake Statistics & Helpful Links
Spread the word! Share our Enid Lake article with your fellow Lake Lubbers!