Emerald Lake, British Columbia, Canada
Welcome to the ultimate guide for history, statistics, local fun facts and the best things to do at Emerald Lake.
If you're considering Emerald Lake vacation rentals, we've made it super easy to explore accommodations and nearby hotels using the interactive map below. Simply click on a listing to compare similar properties, best rates and availability for your dates. Or keep scrolling to read our Emerald Lake guide!
Emerald Lake visitor and community guide
Emerald Lake, the largest lake in British Columbia's Yoho National Park, is also one of the most scenic. The lovely lake nestled in the Emerald Basin below little Emerald Glacier is surrounded by the Canadian Rockies, including the President Range, Wapta Mountain and Mount Burgess. This scenic backdrop, combined with the brilliant turquoise hue of the water offers one of the most memorable sights in the park. The color comes from the 'glacial flour' or rock dust carried by the glacial melt that provides water to the lake.
At an elevation of 4,267 feet, Emerald Lake is one of the lowest glacial lakes in the Rockies. The elevation, combined with the prevailing winds and surrounding peaks, gives the lake a unique ecology; large amounts of snow in winter and rainfall in summer provide the moisture necessary to create an environment similar to the wet forests of British Columbia's interior, with red cedar, hemlock, yew and white pine prevalent. Unusual wild orchids can often be seen growing along trails in the area in season. Ospreys and eagles soar above the lake. The area is an attractive water-based location for a great many of the park's large mammals such as elk, moose, black bear and deer. With Banff National Park and Kootenay National Park forming its eastern and southern borders, Yoho National Park joins the other parks as the Canadian Rocky Mountain World Heritage Site.
Located near the Trans-Canadian Highway and the Columbia Icefields Parkway, Emerald Lake is usually one of the first sights visitors will see in Yoho National Park. This has been a popular destination since the tourism industry here began under the auspices of the Canadian Pacific Railway. The first person to describe the lake was Tom Wilson, a guide, who bestowed its color-based name. The railroad built a lodge at the lake and brought tourists to the new resort to indulge their desires for something new, with fantastic scenery and other-than-ordinary adventures. That original lodge still stands, in part, in the form of an existing high-end resort along the shore. And it still caters to those looking for the unusual, the scenic and the perfect adventure, with cabins, fine dining, water and hiking-focused activities and adventures. Located less than half-an-hour west of Lake Louise, tour buses arrive regularly, along with hardy bicycle trekkers and those in personal vehicles.
The 'Boathouse' near the lodge rents canoes, kayaks and row boats in summer and cross-country skis and snowshoes in winter. No motors are allowed on any of the lakes in Yoho National Park. Fishing guides can be arranged to fish for the rainbow trout and brook char that inhabit the lake. Most winters, weather permitting, an ice fishing and ice skating area is cleared on the ice for winter sports enjoyment. Fishing permits may be purchased by the week. A swimming area is available, but only the most adventurous attempt a dip in the cold glacial waters.
A popular trail circles the lake, although not at the shoreline; the sloping banks force a more reasonable path. The 3.5-mile trail is mostly flat and accessible by the handicapped along part of its length. More physically-fit visitors often take one of the side trails that branch off the Emerald Lake Loop, such as the Emerald Basin Trail that leads up steep slopes to overlook the entire basin. Other trails lead around the east side of the President Range, a hike of considerable distance and requiring some back-country skills to navigate. A good trail map is necessary for the more difficult trails, since there are hundreds of miles of trails in the Yoho National Park that lead to peaks, glaciers and yet more trails. Fifty miles of fire roads are available for bicycles. One guided hike that many Emerald Lake visitors will want to take is the hike to the Burgess Shale Fossil fields. Here, one of the world's largest groupings of ancient fossils is exposed to view. Some of the fossils found include a few rare specimens of soft-bodied sea creatures along with the more common trilobites (extinct marine arthropods).
The second-highest waterfall in Canada, Takakkaw Falls on the Kicking Horse River, is only five minutes away from the Emerald Lake main parking area. Another spectacular geologic feature many want to see is the Natural Bridge, the overhanging portion of a former waterfall that eventually wore through the base of its natural dam. Of interest to railroad buffs, the Spiral Tunnels nearby offer a glimpse of the engineering feats early railroad builders accomplished to solve the problems of grade increases that were difficult to climb.
Visitors not staying at the lodge along the shore can find a great many types of lodgings available in the surrounding area. The little Village of Field functions as headquarters for the park and unofficial greeting party to all who come to Yoho. A number of bed-and-breakfasts, small resort lodges, private guest cabins and camping facilities are located nearby. Many are open in winter for cross-country skiers and winter sports enthusiasts. Some back-country camping is available that is not accessible by car. A general store and a couple of specialty restaurants are located in the little town. Horseback trekking can be arranged, usually with a guide. White-water rafting is available on the Kicking Horse River, and fishing for trout is popular in several streams in the area.
A Park Pass is necessary for entrance to the park, although not to those simply driving through on the Trans-Canadian Highway or the Icefield Parkway. The other two national parks and beautiful glacial lakes are within a short driving distance. Visitors will find Emerald Lake area a convenient home-base for a vacation of several days in the Canadian Rockies. No better place exists to gaze in awe at nature's spectacular handiwork than among the glaciers and peaks in Yoho National Park. Emerald Lake is one of those 'not-to-be-missed' destinations that should be on every nature-lover's bucket list!
* There are no published statistics for Emerald Lake.
Custom Emerald Lake house decor
Read our full review of these personalized lake house signs.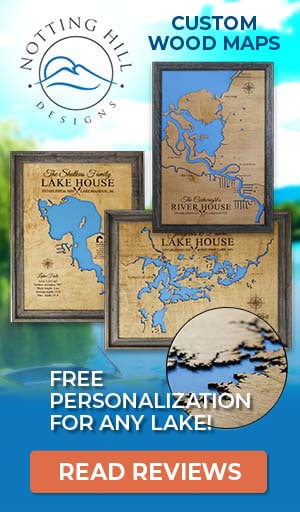 Things to do at Emerald Lake
Vacation Rentals
Fishing
Ice Fishing
Boating
Swimming
Canoeing
Kayaking
Camping
Cabin Rentals
Hiking
Ice Skating
Biking
Cross-Country Skiing
Snowshoeing
Horseback Riding
Waterfall
Wildlife Viewing
Birding
National Park
Fish species found at Emerald Lake
---
Best hotels and vacation rentals at Emerald Lake
The Emerald Lake map shown above is a simple and stress-free way to search for trip accommodations. But if you want to take a deeper dive to find the ideal waterfront home, cabin, condo, hotel or resort, visit our favorite lodging partners by clicking the buttons below.
Note: These are affiliate links so we may earn a small commission if you book through them. While there is no extra cost to you, it helps provide resources to keep our site running (thank you)! You can read our full disclosure policy here.
---
Emerald Lake photo gallery
New photos coming soon!
Emerald Lake statistics & helpful links
We strive to keep the information on LakeLubbers as accurate as possible. However, if you've found something in this article that needs updating, we'd certainly love to hear from you! Please fill out our Content Correction form.
Advertise your Emerald Lake vacation rental
LakeLubbers will soon offer homeowners and property managers the opportunity to to showcase their vacation rentals to the thousands of lake lovers searching our site daily for accommodations. If you'd like additional details, please contact our advertising team here.
Looking for the Emerald Lake forum?
LakeLubbers previously offered visitors the ability to create accounts and participate in lake forums. When we overhauled the site's content management system in 2021 we had to disable those features. We're evaluating options and welcome your comments and feedback here.
We also encourage you to join our lake-lovin' community on Facebook and Instagram!
Spread the word! Share our Emerald Lake article with your fellow Lake Lubbers!