Elephant Butte Lake, New Mexico, USA
Lake Locations:
USA - Southwest - New Mexico - Southwest -
Also known as:  The Butte, Elephant Butte Reservoir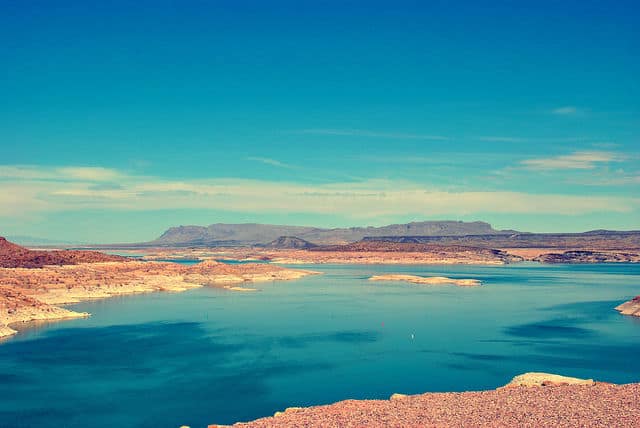 With limited lake options in New Mexico, Elephant Butte Lake is a popular destination for water enthusiasts and nature lovers alike in the Land of Enchantment. Nearly 40-miles long, it is a reservoir lake made from the damming of the Rio Grande River. Often referred to as The Butte, the reservoir has over 200 miles of shoreline when at full capacity, making it the largest lake in the state. The lake is named for a rock formation that resembles an elephant. The formation is an island in the lake near the dam and is actually the eroded core of an ancient volcano.
This high desert lake has somewhat of an hourglass shape with an upper and lower section and fluctuating water levels. The shallow upper basin has an average depth of about 20 feet, while the deeper lower basin averages nearly 80 feet and is where most of the lake's facilities are located. The average width of Elephant Butte Lake is 1.5 miles. The sections are connected by a four-mile stretch of the Rio Grande called The Narrows. The varied water levels are due in part to the fact that Elephant Butte Lake serves as a hydroelectric reservoir on the Rio Grande River and was constructed to provide power and irrigation to south-central New Mexico and west Texas. According to numerous sources, it was the largest manmade reservoir of its time when it was completed in 1916.
Over the years, Elephant Butte Reservoir has become a haven for boating, fishing, water skiing, windsurfing, canoeing, swimming, scuba diving, bird watching, camping and hiking. The lake is part of Elephant Butte Lake State Park and has more than 200 developed campsites and 150 RV hook-up sites along with three full-service marinas to provide support for watercraft of all types. The lake's well-stocked waters offer fishing enthusiasts a wide variety of fish including bluegill, walleye, crappie, and catfish as well as largemouth bass, smallmouth bass, striped bass and white bass.
Concerts, fishing tournaments and drag boat races throughout the year along with several annual events keep Elephant Butte Lake busy as well. They include:
* Fly Freedom's Flag Parade – A relatively new event held Memorial Day Weekend to honor men and women in the armed services. Includes official military services, Air Force fly-by, and a parade of boats.
* 4th of July Fireworks – Includes concerts and one of the largest fireworks displays in the state, noted for the beautiful reflections off the water.
* Balloon Regatta – Usually the second week of September, this event combines the beauty of the lake with that of colorful hot air balloons.
* Floating Lights Parade & Luminaria Walk – A holiday treat in early December that includes a parade of boats decked out in lights along with thousands of luminarias lining the shoreline.
At full pool elevation of 4,407 feet above sea level, Elephant Butte Reservoir covers about 36,500 acres with a storage capacity of over two million acre-feet. The Upper Rio Grande Basin received plentiful water during the 1980s and 1990s, so water levels remained high. However, severe drought conditions over the last decade in the Upper Rio Grande Basin lowered water levels at the reservoir to a 40-year low in 2013. Water levels have risen slowly since 2013 but are still low. During the first quarter of 2015, the reservoir covered about 10,500 acres at an elevation of 4,328 feet with storage of 350,000 acre-feet of water. Due to prolonged drought, New Mexico State Parks assisted concessionaires by moving facilities closer to the shoreline.
Elephant Butte Lake is located in the southern part of the state, five miles north of the small town of Truth or Consequences and can be seen just off I-25. For out-of-state visitors flying in, the lake is about a two-hour drive from either Albuquerque, NM or El Paso, TX. With a mild climate year-round, a full roster of events and activities, plus majestic views everywhere you look, Elephant Butte Lake is a wonderful destination any time of year.
Things to do at Elephant Butte Lake
Vacation Rentals
Fishing
Fishing Tournaments
Boating
Swimming
Canoeing
Water Skiing
Scuba Diving
Camping
Hiking
Birding
State Park
Fish species found at Elephant Butte Lake
Bass
Black Bass
Bluegill
Catfish
Crappie
Largemouth Bass
Perch
Smallmouth Bass
Striped Bass
Sunfish
Walleye
White Bass
---
Elephant Butte Lake Photo Gallery
Elephant Butte Lake Statistics & Helpful Links
Spread the word! Share our Elephant Butte Lake article with your fellow Lake Lubbers!