Devils Lake, Michigan, USA
Lake Locations:
USA - Midwest - Michigan - Southeast -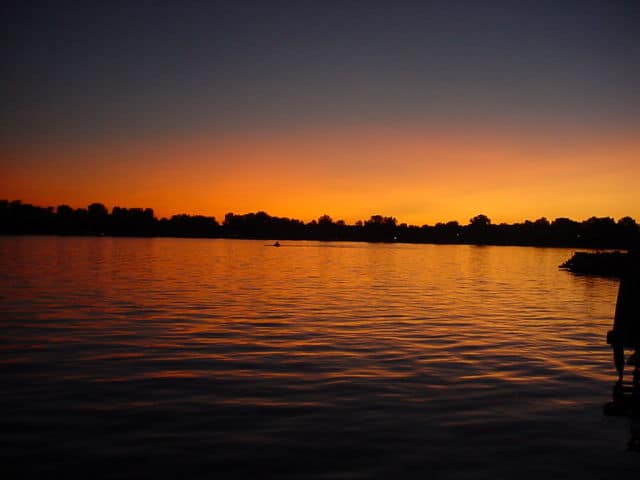 Devils Lake is a 1,330-acre recreational lake in southeastern Michigan near the Ohio border. Devils Lake lies in a region that was once inhabited by a Native American tribe known as the Potawatomi. According to legend, the lake was named by a Potawatomi leader who believed that the waters were inhabited by evil spirits when his daughter drowned in the lake and her body was never recovered. Pioneer settlers later developed Devils Lake into a resort area in the early 1830s. A resort remains in operation on the shoreline, and the lake is still popular with summer vacationers. The community of Devils Lake lies at the northern end of the lake, and the community of Manitou Beach lies at the southwest end. This area of Lenawee County is well known in Michigan for its "Irish Hills."
A short distance north of Devils Lake, the Irish Hills are named for the lush green hills that roll across the landscape in this area of Michigan. Summer in the Irish Hills is a great time for recreation on the water. Boating is a favorite activity because of the many clear blue lakes. Devils Lake is a popular destination for water skiing and sailing. Autumn in Southern Michigan is alive with fiery orange trees. In winter, the snow-covered Irish Hills are welcoming to cross-country skiing and other cold weather activities such as ice fishing.
Devils Lake is used as both a warm and cold-water fishery by the Michigan Department of Natural Resources. Bluegills and yellow perch are commonly caught during the winter. Largemouth bass are a popular summer catch, as well as Bluegill, Crappie, Northern Pike, and Perch. It is worth noting, however, that the lake is heavily used for recreation during the summer months. Fishing is best during the very early morning hours, although anglers have reported good fishing despite the boats and water sports.
The primary inlet to Devils Lake is Horton Creek at the northwest end, and Bean Creek is the outlet at the southwest end. A small concrete dam keeps the Devils Lake water level about a foot above Bean Creek. Devils Lake is the initial source for the Bean Creek/Upper Tiffin Watershed that runs through several towns in northern Ohio. The lake lies beside a smaller body of water, Round Lake. Though Round Lake is connected to Devils Lake by a channel, the small channel is too shallow for boating between the two lakes.
The Michigan Department of Natural Resources provides a public boat launch with 60 parking spaces. This public access is located off Devils Lake Highway on the southwestern end of the lake. Because Devils Lake is so popular, and in order to avoid overcrowding, the number of boats allowed on the lake during the weekend is limited by the number of available parking spaces and an entry fee.
The shoreline of Devils Lake is highly developed with residential properties. There are private lakefront homes and cottages available for purchase or rent. The homes along the lakeshore are used for summer vacations and permanent residences. Several communities beyond Devils Lake also have residential properties available. The Village of Onsted and the town of Adrian are to the east of Devils Lake. Toledo, Ohio is less than one hour southeast of Devils Lake and is the nearest metropolitan area.
Things to do at Devils Lake MI
Vacation Rentals
Fishing
Ice Fishing
Boating
Sailing
Swimming
Beach
Water Skiing
Cross-Country Skiing
Fish species found at Devils Lake MI
Bass
Black Bass
Bluegill
Crappie
Largemouth Bass
Northern Pike
Perch
Pike
Sunfish
Yellow Perch
---
Devils Lake MI Photo Gallery
Devils Lake MI Statistics & Helpful Links
At LakeLubbers.com, we strive to keep our information as accurate and up-to-date as possible, but if you've found something in this article that needs updating, we'd certainly love to hear from you!
Please let us know about it on our Content Correction form.
Spread the word! Share our Devils Lake MI article with your fellow Lake Lubbers!