Cuyuna Lakes, Cuyuna Country State Recreation Area, Minnesota, USA
Also known as:  Blackhoof Lake, Mahnomen Lake, Little Mahnomen Lake, Pascoe Lake, June Lake, Portage Lake, Serpent Lake, Sagamore Mine Lake, Huntington Mine Lake, Pennington Mine Lake, Portsmouth Mine Lake, Mahnomen Mine Lakes #1 and #2 and other small lakes
Welcome to the ultimate guide for history, statistics, local fun facts and the best things to do at Cuyuna Lakes, Cuyuna Country State Recreation Area.
If you're considering Cuyuna Lakes, Cuyuna Country State Recreation Area vacation rentals, we've made it super easy to explore accommodations and nearby hotels using the interactive map below. Simply click on a listing to compare similar properties, best rates and availability for your dates. Or keep scrolling to read our Cuyuna Lakes, Cuyuna Country State Recreation Area guide!
Cuyuna Lakes, Cuyuna Country State Recreation Area visitor and community guide
Little known but extra special are the many lakes within the Cuyuna Country State Recreation Area in central Minnesota. Nature lovers and recreational activity fans, particularly those who enjoy mountain biking, are hearing more and more about this group of lakes and their beautiful scenic setting. One of the 5000-acre Recreation Area's major features is the 25 miles of world-class, IMBA certified mountain bike trails. Located 15 miles northeast of Brainerd, the mountain bike trails weave in among the over 20 Cuyuna Lakes, the ridges of the Cuyuna Iron Range, and past several scenic overlooks in a wilderness setting. Unless visitors check the history of the lakes and the area, they would not be aware that most of these lakes are abandoned iron mines filled with crystal-clear water.
Natural lakes are prevalent in this area of glacial pothole lakes near the Upper Mississippi River. Blackhoof Lake, Mahnomen Lake, Little Mahnomen Lake, Pascoe Lake, June Lake, Portage Lake and nearby Serpent Lake are all natural lakes, some of considerable size. Sagamore Mine Lake, Huntington Mine Lake, Pennington Mine Lake, Portsmouth Mine Lake, Armour #2 Mine Lake, Yawkey Mine Lake, Manuel Mine Lake, Mahnomen Mine Lakes #1 and #2, Hopkins Mine Lake, Louise Mine Lake, Arco Mine Lake, Mangan Mine Lake, Joan Mine Lake, Moroco Mine Lake, Virginia Mine Lake and Alstead Mine Lake are all relatively new additions to the landscape, created when the local iron mining industry collapsed around 1960. Together, they have produced over 25 miles of scenic shoreline supplied by many trails. Officially, there are six natural lakes and 16 mine lakes, but several other lakes are partially within the recreation area's borders, bringing the total to more than 22 lakes.
After mining ended, the Cuyuna Lakes area was allowed to produce natural regrowth forests, and the remaining mine pits soon filled with water up to 525 feet deep. The Minnesota Department of Natural Resources designated several of them trout lakes and stocked them with rainbow trout and brook trout. Wildlife, including nesting bald eagles, white-tailed deer, cottontail rabbit, snowshoe hare, raccoon, red fox, coyote, mink, muskrat and beaver all inhabit the recreation area. Great blue heron, kingfishers, loons, turkey vultures, ruffed grouse, and red-tailed hawks live here. The waters are a refuge for many waterfowl species including redhead ducks, northern shoveler ducks, mallard ducks, ring-necked ducks, blue and green-winged teal, wood duck, several types of mergansers, snow geese, Canada geese and white-fronted geese. It is truly a natural paradise, much of which is the result of human utilization of natural resources coupled with the recovery processes evoked by nature.
Fishermen can enjoy angling for bass, crappie or sunfish. Some lakes hold walleye and northern pike. Those who enjoy fly fishing will find the rainbow and brook trout eager and plentiful. A trout stamp is required, along with the usual Minnesota fishing license. Several of the lakes have shoreline fishing spots, and the larger lakes have concrete boat ramps. Other areas are suitable for carried boats only. Boaters are limited to a 10 mile-per-hour speed limit, keeping the lakes placid enough to be enjoyed by those with canoes and kayaks. A channel between Mahnomen Mine Lake #1 and Pennington Mine Lake opens up 267 acres of continuous water surface, including six mine lakes for pleasurable paddling and fishing. Bird watching by canoe is a favorite pastime during the summer months, with a short hike from the lakeshore to one of several look-out points a special treat.
One small campground is located on Portsmouth Mine Lake with limited amenities; 18 campsites have electricity while another seven do not. Reservations are accepted only for group camping. Minnesota State Park passes are required within the recreation area, and camping fees are reasonable. There is no designated swimming area; mine pit lakes are usually considered too dangerous for swimming, as the walls of the former pits are often nearly vertical with little or no shallow water. Other campgrounds can be found on nearby natural lakes outside of the Cuyuna Country State Recreation Area which offer safe swimming beaches. The recreation area abuts sections of the Crow Wing State Forest on the north, opening up even more area for recreation. The mine pit lakes are favorites among scuba divers; historic remnants of the mining industry remain beneath hundreds of feet of clear water and include railroads, mining machinery and building foundations.
The mountain bike trails are among a number of trail systems developed within the Cuyuna Country State Recreation Area. A paved, nearly seven-mile trail winds along the shore of several lakes and is suitable for walking or beginner cycling. In winter, some of these are groomed for cross-country skiing and snowshoeing, while a main snowmobile trail crosses the area to connect with other central Minnesota trails. The BMX-certified trails are divided into easy, intermediate and difficult trails, some of which are considered extremely difficult for experienced riders only. The trails have marked GPS locations and access for emergency vehicles in case of accident. Over 30 geocache locations are found within the recreation area.
The growing popularity of the mountain bike trails has generated a Mountain Bike Festival in June at nearby Crosby Memorial Park on the shore of Serpent Lake. The full weekend festival features the Trailblazer Bike's Cross Country Mountain Bike Race with beginner, sport and advanced divisions, an Easy Rider Bike's $250 Poker Ride, children's bike races, live music, spaghetti dinner, Fantasy Factory BMX Show, rock climbing wall and a variety of entertaining activities focusing on mountain biking. Proceeds go to groups involved in developing the sport of mountain biking in the area and maintenance of the trails.
Cuyuna Lakes gain their title from the Cuyuna Iron Range, in turn named for the man who first discovered iron ore here. The name is a contraction of Cuyker Adams and his St. Bernard dog, Una. Several small cities and towns in the area share their pride in the Cuyuna Country State Recreation Area. Crosby, Ironton and Deerwood all hug the shoreline of Serpent Lake, and all work hard to make visitors' stay here enjoyable. A Tourist Information Center at Deerwood is open May to September. Numerous campgrounds, bed-and-breakfasts, motels, hotels, resorts and guest cottages offer a variety of lodgings to vacationers. Restaurants, artists' shops and eclectic shopping join several annual festivals, historical points of interest and beautiful scenery to make any visit complete.
One not-to-be-missed attraction is the Croft Mine Historical Park just outside Cuyuna Country State Recreation Area. This historic mine closed in 1936 and is now offering guided simulated underground mining tours. The on-site museum has mining artifacts of interest to history buffs. The nearby upper reaches of the Mississippi River are good for canoeing. A number of entertainment venues, including a nearby casino, golf course and local sports teams mean there is always something for every family member to do. Real estate can even be found for sale locally, sometimes with lake frontage on nearby lakes. Only two hours from the Twin Cities area, Cuyuna Lakes area is the ideal spot for the annual vacation, a winter ski-cation, or even a year-round home.
* Few statistics are available for most of the lakes. Those listed are Mahnomen Lake, one of the natural lakes.
Custom Cuyuna Lakes, Cuyuna Country State Recreation Area house decor
Read our full review of these personalized lake house signs.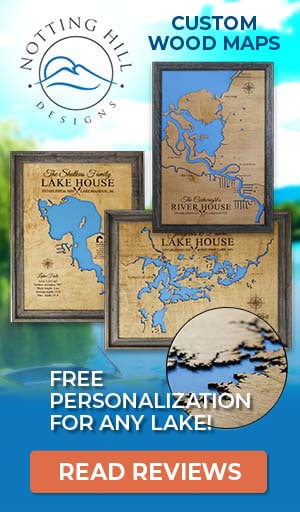 Things to do at Cuyuna Lakes, Cuyuna Country State Recreation Area
Vacation Rentals
Fishing
Boating
Swimming
Beach
Canoeing
Kayaking
Scuba Diving
Golf
Camping
Campground
Hiking
Rock Climbing
Biking
Cross-Country Skiing
Snowmobiling
Wildlife Viewing
Birding
State Park
State Forest
Museum
Shopping
Casino Gambling
Fish species found at Cuyuna Lakes, Cuyuna Country State Recreation Area
Bass
Brook Trout
Crappie
Northern Pike
Perch
Pike
Rainbow Trout
Sunfish
Trout
Walleye
---
Best hotels and vacation rentals at Cuyuna Lakes, Cuyuna Country State Recreation Area
The Cuyuna Lakes, Cuyuna Country State Recreation Area map shown above is a simple and stress-free way to search for trip accommodations. But if you want to take a deeper dive to find the ideal waterfront home, cabin, condo, hotel or resort, visit our favorite lodging partners by clicking the buttons below.
Note: These are affiliate links so we may earn a small commission if you book through them. While there is no extra cost to you, it helps provide resources to keep our site running (thank you)! You can read our full disclosure policy here.
---
Cuyuna Lakes, Cuyuna Country State Recreation Area photo gallery
New photos coming soon!
Cuyuna Lakes, Cuyuna Country State Recreation Area statistics & helpful links
We strive to keep the information on LakeLubbers as accurate as possible. However, if you've found something in this article that needs updating, we'd certainly love to hear from you! Please fill out our Content Correction form.
Advertise your Cuyuna Lakes, Cuyuna Country State Recreation Area vacation rental
LakeLubbers will soon offer homeowners and property managers the opportunity to to showcase their vacation rentals to the thousands of lake lovers searching our site daily for accommodations. If you'd like additional details, please contact our advertising team here.
Looking for the Cuyuna Lakes, Cuyuna Country State Recreation Area forum?
LakeLubbers previously offered visitors the ability to create accounts and participate in lake forums. When we overhauled the site's content management system in 2021 we had to disable those features. We're evaluating options and welcome your comments and feedback here.
We also encourage you to join our lake-lovin' community on Facebook and Instagram!
Spread the word! Share our Cuyuna Lakes, Cuyuna Country State Recreation Area article with your fellow Lake Lubbers!