Capilano Lake, British Columbia, Canada
Also known as:  Capilano Reservoir
Welcome to the ultimate guide for history, statistics, local fun facts and the best things to do at Capilano Lake.
If you're considering Capilano Lake vacation rentals, we've made it super easy to explore accommodations and nearby hotels using the interactive map below. Simply click on a listing to compare similar properties, best rates and availability for your dates. Or keep scrolling to read our Capilano Lake guide!
Capilano Lake visitor and community guide
One of the most beautiful lakes in British Columbia is uninhabited Capilano Lake. The reservoir was created when Cleveland Dam was built across the Capilano River in 1954 just outside North Vancouver. The lake provides about 40% of the North Vancouver area's drinking water, so the lake and the immediate watershed are not open to the public except for a small picnic area near the dam.
This doesn't mean that there aren't plenty of ways to enjoy Capilano Lake views from nearby parks and attractions. The trail over the top of Cleveland Dam provides a most memorable viewpoint for overlooking the evergreen-rimmed lake to the north and the breathtaking spillway as the water tumbles down into the canyon below. The Lions Mountains towering above the long, narrow lake offer a serene, wild landscape less than 10 minutes from downtown Vancouver. "Exhilarating' is the term most often used to describe the experience.
Capilano Lake is familiar to television and movie fans as it has been used, with special permission, by a handful of television series and a few movies. Because the lake itself is off-limits to the public, efforts have been made to make other parts of the waterway accessible and attractive to area visitors. The southern part of Capilano Lake is enclosed within Capilano River Regional Park, part of the Metro Vancouver Parks system. Various landscapes are offered within the park, from dazzling cliff heights to the cool, coastal rainforest at the canyon floor. In spring the Capilano River tumbles and roars down the rocky canyon, reducing to a slow trickle in late summer.
More than 17 miles of trails are available within Capilano River Regional Park for hiking and leisurely nature walks, with a couple of miles allowing bicycles. A number of bridges cross the canyon, all offering scenic viewpoints for picture-taking and simply quiet contemplation. A five-mile hiking trail connects Capilano River Regional Park with West Vancouver. The park is often included in organized sightseeing tours. Plenty of parking and picnic areas are built into the park, making it a popular spot with locals for dog-walking, jogging and unwinding after a day at work. A group camping area with dormitories is available by reservation, but other camping is prohibited. Park interpreters are on hand as scheduled to lead nature observation walks, teach school children about various aspects of the natural environment, and lead group tours of the Capilano watershed.
Because the construction of Cleveland Dam interrupted a historic salmon run, a hatchery has been constructed near the dam to replenish the salmon supply in the area. Fishing for trout and salmon is possible in the deeper downstream pools. All required provincial permits and regulations apply, along with special regulations for some species. The hatchery itself raises Coho salmon, Chinook salmon and steelhead salmon for local use and for transport to other locations. A fish ladder is constructed to assist the salmon in traveling upstream to Capilano Lake, and facilities have been built to allow eye-level viewing of the salmon's spectacular leaps from level to level. The dam itself is an impressive structure with a nearly 300-foot spillway. A spectacular waterfall is produced when the dam releases water down to the canyon far below. The public areas around Cleveland Dam and the salmon hatchery are served by bus service from Vancouver.
Two other privately-operated park and recreation areas near Capilano Lake are also huge tourist attractions and worth a visit to enjoy the mountains, lake and river canyon. Capilano Suspension Bridge Park is just downstream from Capilano River Regional Park and showcases the canyon in spectacular ways. A suspension bridge hundreds of feet above the river has been attracting visitors since the first bridge was installed before 1900. From the original hemp rope supports attached to logs, the 450-foot walkway is now constructed with steel cables connected to concrete anchors and sways gently over 250 feet above the river below. Capilano Suspension Bridge Park also features a 'cliff walk', a narrow, cantilevered walkway anchored to the face of the canyon's cliffs. The park also offers a 'treetops' adventure walk between mid-levels of 1300-year-old Douglas firs up to 100 feet above the ground.
Capilano Suspension Bridge Park holds a Totem Park, with totem poles gifted to the park by local First Nations tribes since the 1930s and which are kept in their original colors and configurations. The Kia'Palano section offers a glimpse into First Nations culture and its connections to the natural world. A 'living forest' exhibit showcases the lush rain forest canopy, the natural features of the forest floor, and the unique geology of the area via guided tours. Special children's activities explore nature, observe raptors during the summer months, and investigate a tree house. The park offers dining choices from a fudge shop to a grill and a formal restaurant located among beautiful gardens in the former home of the first suspension bridge owner. And in December, a large section of the canyon is decorated with lit trees in a riot of holiday color. Shuttle buses run regularly from four downtown Vancouver hotels to Capilano Suspension Bridge Park.
A second popular attraction near Capilano Lake is Grouse Mountain with its spectacular gondola rides. The views of the lake and the surrounding mountains are unforgettable. Immensely popular among the younger visitors are the zip line tours across Grouse and Dam mountains. A high-definition theater shows wildlife in a way that cannot be seen by the casual observer. A viewing capsule atop a working wind turbine offers 360-degree vistas only feet from the massive turbine blades. A full-fledged snow park in winter, Grouse Mountain offers sleigh rides, ice skating, snowshoe trails and instruction, ski slopes and all the amenities of a ski resort, including fine dining. Regular bus service brings visitors from Vancouver.
Vancouver itself has a full range of attractions and activities to please any visitor. The city's location along the Pacific allows for ocean beaches and all sorts of sea-going adventures and tours. One of the most popular attractions is the VanDusen Botanical Gardens. Bloedel Conservatory in Queen Elizabeth Park holds a tropical paradise under glass at Vancouver's highest point. Hundreds of tropical birds, flowering plants and koi ponds deliver a slice of the tropics in sight of snow-covered peaks. The 1927-era refurbished theater, 'The Orpheum' hosts performances by Vancouver Symphony Orchestra, Vancouver Bach Choir, Vancouver Chamber Choir, Vancouver Academy of Music and other groups. Street performers are common in the parks and on streets lined with unique shops and restaurants. Long a 'destination city', Vancouver holds all types of lodgings and plenty of hotels to accommodate travelers. Real estate is also available nearby, although not on the lake itself. Near Capilano Lake and the Capilano River canyon, bed & breakfasts, guest cottages and small inns offer overnight lodgings for those wishing a suburban location.
A vacation near Capilano Lake is total immersion into the coastal rain forest environment. Sturdy hiking boots are a good idea, but many of the shorter trails are suitable for nearly anyone. All members of the family will find plenty to keep their interest near Vancouver and Capilano Lake. Vancouver deserves a spot on everyone's 'bucket list' of dream vacations.
Custom Capilano Lake house decor
Read our full review of these personalized lake house signs.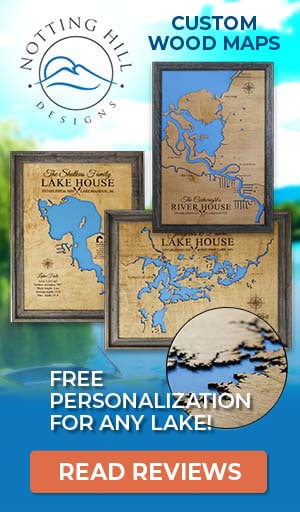 Things to do at Capilano Lake
Vacation Rentals
Fishing
Beach
Picnicking
Hiking
Ice Skating
Biking
Waterfall
Wildlife Viewing
Birding
Fish species found at Capilano Lake
Chinook Salmon
Coho Salmon
Salmon
Steelhead Trout
Trout
---
Best hotels and vacation rentals at Capilano Lake
The Capilano Lake map shown above is a simple and stress-free way to search for trip accommodations. But if you want to take a deeper dive to find the ideal waterfront home, cabin, condo, hotel or resort, visit our favorite lodging partners by clicking the buttons below.
Note: These are affiliate links so we may earn a small commission if you book through them. While there is no extra cost to you, it helps provide resources to keep our site running (thank you)! You can read our full disclosure policy here.
---
Capilano Lake photo gallery
New photos coming soon!
Capilano Lake statistics & helpful links
We strive to keep the information on LakeLubbers as accurate as possible. However, if you've found something in this article that needs updating, we'd certainly love to hear from you! Please fill out our Content Correction form.
Advertise your Capilano Lake vacation rental
LakeLubbers will soon offer homeowners and property managers the opportunity to to showcase their vacation rentals to the thousands of lake lovers searching our site daily for accommodations. If you'd like additional details, please contact our advertising team here.
Looking for the Capilano Lake forum?
LakeLubbers previously offered visitors the ability to create accounts and participate in lake forums. When we overhauled the site's content management system in 2021 we had to disable those features. We're evaluating options and welcome your comments and feedback here.
We also encourage you to join our lake-lovin' community on Facebook and Instagram!
Spread the word! Share our Capilano Lake article with your fellow Lake Lubbers!