Crystal Lake, Vermont, USA
Lake Locations:
USA - New England - Vermont - Northeast Kingdom -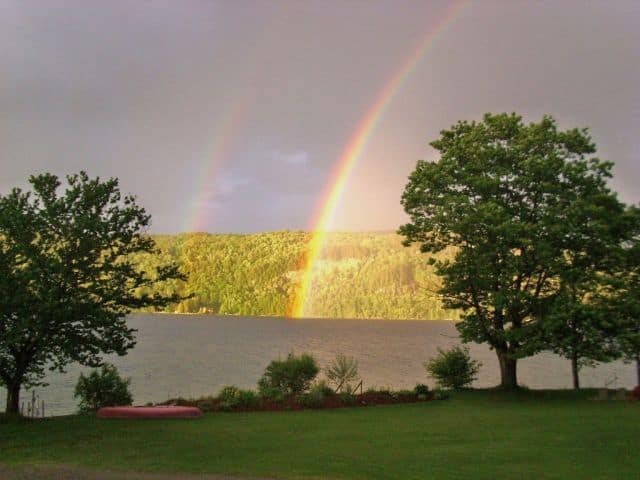 Crystal Lake is an outstanding jewel in Vermont's Northeast Kingdom. For those who are not native to Vermont, hearing that there is a Northeast Kingdom in the state is a surprise. Located in the northeast corner of the state near New Hampshire and the Canadian border, Vermont's Northeast Kingdom is a vacation wonderland. Crystal Lake was originally called Belle Lac or Belle Pond by early French settlers, which is a very descriptive term for its sparkling clear water.
Crystal Lake is a 778-acre glacial lake located near the Town of Barton, just a few miles from Interstate 91. The Crystal Lake area was settled sooner than many parts farther west in the state, and industry began in Barton before 1800. Although Crystal Lake has several small inflows, the main outflow-the Barton River-heads down into Barton in a series of beautiful waterfalls that were utilized very early to drive the belts and gears of industry. At one time, Barton was a thriving industrial center, with several mills, clothing factories, a piano parts factory and other heavy industry all powered by the Barton River and the Falls of Crystal Lake.
Crystal Lake is about 3 miles long and a mile wide. The original dam, built in 1860, acted as water storage for down-river hydro power purposes. Now, the dam acts only as an unregulated spillway, the use of waterfall power downstream a distant memory. The clear, deep lake has been home to summer visitors for well over a century. The sand beaches and lovely scenery made the lake a favored vacation spot to generations of visitors. Crystal Lake is surrounded with small cottages and homes. Hardy souls arrive for the winter sports season, which includes ice fishing, snowmobiling, cross-country skiing, downhill skiing, ice sailing, ice climbing, ice skating, sled dog tours, and sleigh rides. In the early spring, maple sugaring activities can be observed, and there is always a jug of Vermont's finest maple syrup for sale nearby. Fall brings the majestic color parade of leaves as the hills and mountains become a sea of gold, red and orange.
But, it is summer when Crystal Lake really shines. The sandy beaches make swimming a joy. The lake is large enough to afford plenty of room for boating, sailing, water skiing, jet skiing, windsurfing, canoeing, scuba diving and kayaking. Hiking and bicycling trails are numerous in the surrounding area. Wildlife and bird watching are popular pastimes. Ospreys and Bald Eagles are often observed around the lake. Horseback riding, hayrides, rock climbing and golf assure that every member of the family can find something of interest to do.
Two parks on Crystal Lake provide access for the day visitor. Crystal Lake State Park provides over a mile of sandy beach and boasts a bath house of local granite that was built by the Civilian Conservation Corps and is on the National Register of Historic Places. Pageant Park also provides swimming and a boat launch. The cold water fishery is a fisherman's dream, providing rainbow trout, yellow perch, lake trout, smallmouth bass, chain pickerel, and pumpkinseed. Several campgrounds are located convenient to the lake.
For those occasional rainy days, a visit to the museums of Barton and the surrounding area is a change-of-pace treat. The Old Stone House Museum, six miles downstream in Orleans, is a 55-acre complex with restored buildings and a historical walk back in time to the early 1800s. An interesting historical perspective is presented by the Crystal Lake Historical Society in Barton, who offers a walking tour through the ruins of the once bustling industrial complex along the river. The power of hydro is on exhibit here as the force that allowed the development of industry in the Northeast well before the common use of electricity.
Barton also provides all the necessities to make either camping or cottage dwelling comfortable and convenient. Whether you prefer a quick sandwich or a candlelit dinner in an old country inn, Barton and the surrounding area offer a wide range of restaurant choices. And, as nights can get cool this far north, going back to a roaring campfire or fireplace can be a fitting end to a fun-filled day. Come to Crystal Lake and see for yourself. You'll love it here.
Things to do at Crystal Lake VT
Vacation Rentals
Fishing
Ice Fishing
Boating
Sailing
Swimming
Beach
Canoeing
Kayaking
Jet Skiing
Water Skiing
Scuba Diving
Golf
Camping
Campground
Hiking
Ice Skating
Rock Climbing
Ice Climbing
Biking
Downhill Skiing
Cross-Country Skiing
Snowmobiling
Horseback Riding
Waterfall
Wildlife Viewing
Birding
State Park
Museum
Ruins
Fish species found at Crystal Lake VT
Bass
Black Bass
Chain Pickerel
Lake Trout
Perch
Pickerel
Pike
Pumpkinseed
Rainbow Trout
Smallmouth Bass
Sunfish
Trout
Yellow Perch
---
Crystal Lake VT Photo Gallery
Crystal Lake VT Statistics & Helpful Links
Spread the word! Share our Crystal Lake VT article with your fellow Lake Lubbers!