Crescent Lake, Oregon, USA
Lake Locations:
USA - West - Oregon - Central -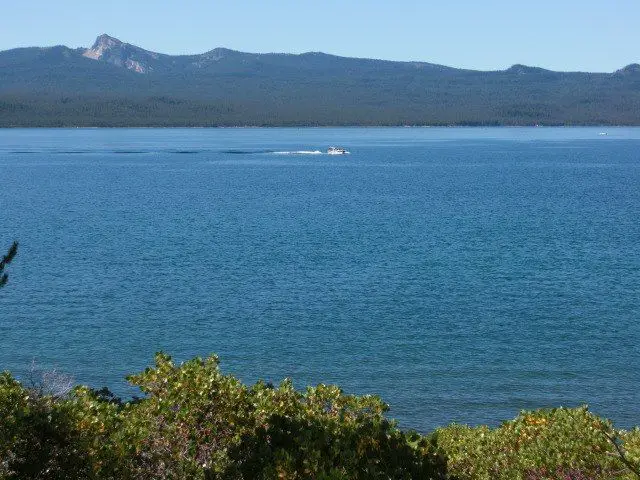 Crescent Lake, aptly named for its shape, lies on the eastern slope of the Cascade Mountains, in the northwest corner of Klamath County, Oregon. With 4,008 acres of sparkling blue water, and over 12 miles of wooded shoreline and sandy beaches, the lake offers visitors plenty of opportunity for outdoor recreation and family fun.
Crescent Lake is located within the Deschutes National Forest. The densely wooded area features many challenging trails for hiking, horseback riding, mountain biking, and areas for off-road vehicles. There are also boat ramps that provide opportunities for sailing, water skiing, windsurfing, fishing, and swimming. Fish species found in the lake include kokanee salmon, lake trout, rainbow trout, brown trout and mountain whitefish. Lake trout caught in the lake consistently run in the five- to 10-pound range with an occasional 20-pounder. In 1993, a 30-pound lake trout was pulled from Crescent Lake. Note: Although most fish taken from Oregon lakes and streams are safe to eat, refer to the Oregon Fish Consumption Guidelines (link below) before eating fish caught from any Oregon waterway.
A small wooden dam constructed across Crescent Lake in 1922 was replaced by a 40 foot-high concrete dam in 1956 by the Bureau of Reclamation. During the summer months, Crescent Lake is used for irrigation, and the water level can drop as much as 15 feet. With an average depth of 124 feet, the drop in water level is barely noticeable to boaters and anglers.
Families who like to camp when they vacation will find a number of campgrounds around Crescent Lake, nearby Odell Lake, and within the Deschutes National Forest. Crescent Lake stretches five miles long and four miles wide for plenty of private spots to set up tents or trailers. In addition to campsites, visitors can pick from many private vacation rentals and real estate in the surrounding area.
For non-water related outdoor activities, the Deschutes National Forest offers over one million acres for exploration. Within the Forest there are five wilderness areas, six scenic rivers, the Metolius Conservation Area, the Oregon Cascades Recreation Area, and the Newberry National Volcanic Monument. Crescent Lake is located within the Crescent Ranger District Wilderness Area. The Newberry National Volcanic Monument contains over 50,000 acres of lakes, obsidian fields, lava formations and waterfalls. Although the road to the monument's highest point, Paulina Peak at 7985 feet, is narrow and unpaved, it is the showcase of the Newberry Volcano crater. In the winter, the crater offers more than 100 miles of snowmobile trails. Over seven million people visit the Deschutes National Forest every year.
Crescent Lake is approximately 75 miles southeast of Eugene off State Highway 58 and 65 miles southwest of Bend from State Highway 97. Eugene is one of the state's largest cities and is home to the University of Oregon. Rated as one of the top ten cycling cities in the U.S., Eugene offers mile after mile of biking, walking and jogging paths. The city is also known for its cultural events and alternative lifestyles, with reminders of the 1960s seen throughout the area. Bend is a friendly and inviting town nestled between the snow-covered peaks of the Cascade Mountains. Known for its year-round outdoor activities, visitors to Bend enjoy skiing, snowboarding, golfing, fishing, hiking, biking and rafting. Vacation rentals, shopping and all the latest amenities can be found in both towns.
Whether you're into challenging hikes or just laid-back wildlife watching, the Crescent Lake area is home to countless, year-round outdoor recreation opportunities. Anglers can enjoy world-class stream, lake, and ice fishing in the area's many rivers and lakes. For outdoor lovers, hundreds of miles of trails to transport riders and hikers into vast, unspoiled wilderness and a diverse range of wildlife makes the Deschutes National Forest a premier destination for anglers, bird-watchers, and photographers alike.
Things to do at Crescent Lake OR
Vacation Rentals
Fishing
Ice Fishing
Boating
Sailing
Swimming
Beach
Water Skiing
Golf
Camping
Campground
Hiking
Biking
Snowboarding
Snowmobiling
Horseback Riding
Waterfall
Wildlife Viewing
National Forest
Shopping
Fish species found at Crescent Lake OR
Brown Trout
Kokanee Salmon
Lake Trout
Rainbow Trout
Salmon
Trout
Whitefish
---
Crescent Lake OR Photo Gallery
Crescent Lake OR Statistics & Helpful Links
Spread the word! Share our Crescent Lake OR article with your fellow Lake Lubbers!